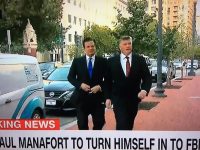 New disclosure statement: As you all know, I provided information to the FBI on issues related to the Mueller investigation, so I'm going to include disclosure statements on Mueller investigation posts from here on out. I will include the disclosure whether or not the stuff I shared with the FBI pertains to the subject of the post. 
On Tuesday, Mueller's team gave Paul Manafort the contents of Rick Gates' electronic devices for the first time. Yesterday, after receiving another large dump of evidence, Manafort moved to delay his July 25 trial, a motion the Mueller team objected to.
Those are just a few of the details revealed by a slew of filings submitted in Manafort's EDVA case yesterday. Those filings include:
It's the first and the fourth items that I'm interested in here.
emptywheel's Continuing Obsession with Paul Manafort's 404(b) Notice
Folks seem to pretty much understand my continuing obsession with Paul Manafort's iPod habit (or rather, his efforts to deem the seizure of his eight iPods improper). Perhaps less obviously interesting is my continuing obsession with the 404(b) notices in his two cases, which are the way lawyers fight over whether evidence of related crimes can be admitted in trial. In Manafort's case, I think this fight may reveal something about how Mueller sees the various pieces of the puzzle fitting together.
As I previously noted, the government fought to delay disclosure of 404(b) in the DC case until June 15. When they did submit the 404(b) notice in that case, the government said they want to include evidence of three other crimes, two of which happen to be New York State crimes (the apartment in question is a Trump Tower one) that might be charged in the state.
Here's the 404(b) motion. Mueller wants to introduce three things:

Evidence that one reason that Manafort and others arranged for [Skadden Arps] to be retained for the de minimis sum of approximately $12,000—even though they knew at the time that Law Firm A proposed a budget of at least $4 million—was to avoid certain limitations imposed by Ukrainian public procurement law.
Evidence that Manafort was treating a NYC apartment as a business property with the IRS but as a personal dwelling with a lender.
Evidence that Manafort structured intra-Cypriot funds to hide income.

The first of those two, of course, involve crimes in NY state.
In the EDVA case, I had suspected that the government asked TS Ellis to issue a discovery order to make it clear they wouldn't provide 404(b) notice in this case until a week before trial — I got the date wrong but I think it'd be July 18 — but can move to avoid any pretrial notice.
So maybe that's what Mueller's trying to get Manafort to agree to. The EDVA standard order he's trying to get him to use would require 404(b) notice by July 17, but permits the government to request avoiding such pretrial notice.

It is further ORDERED that, no later than seven calendar days before trial, the government shall provide notice to the defendant, in accordance with FED. R. EVID. 404(b), of the general nature of any evidence of other crimes, wrongs, or acts of defendant which it intends to introduce at trial, except that, upon motion of the government and for good cause shown, the court may excuse such pretrial notice.
Yesterday's opposition to Manafort's bid to limit what it can say about the Trump campaign and the DC case confirms I was (at least partly) correct — the government wanted a discovery order so they can avoid telling Manafort what they want to raise at trial.
The defendant's request to preclude evidence relating to the District of Columbia case is a premature effort to preclude evidence under Rule 404(b). See Doc. 93 at 5 n.1 ("[T]his motion is being filed in the event that the Special Counsel seeks at trial to introduce evidence or advance arguments concerning 'other act' evidence."). The standard practice in the Eastern District of Virginia, as referenced in the Government's proposed discovery order (Doc. 83 at 7), is that the government provide notice of Rule 404(b) evidence it intends to introduce at trial seven days before trial. Although the defendant has not responded to the Government's Motion for Entry of Discovery Order, the government intends to follow the District's standard practice with respect to Rule 404(b) notice. It nevertheless bears noting that contrary to the defendant's characterization, there is substantial overlap between the evidence in District of Columbia case and the one before this Court. The Superseding Indictment in the District of Columbia alleges tax fraud that overlaps with the substantive tax charges in the Eastern District of Virginia.
In other words, in a filing arguing that the government should be able to bring in details about both the Trump campaign (because some of the loans he's being tried for he only obtained by getting the banker a position on the Trump campaign) and about Gates' guilty plea in DC (but not about the crimes that Manafort allegedly committed while on bail that got him thrown in prison), Mueller's team makes it clear they intend to wait to tell Manafort what other crimes they might mention at the EDVA trial until July 18.
In any case, this opposition motion would seem to limit how much Mueller can mention about the collusion case in chief to a description of that loan. So it's probably just that Mueller has some other activity, akin to the NY based crime they plan to introduce in the DC case, perhaps some criminal activity that can be charged in VA, that they plan to introduce at trial. In any case, they're not going to release it for another 10 days or so.
The big discovery dump
Sometime after 6:28 yesterday, Manafort submitted his motion to delay his trial to sometime after his other one. Now, as Josh Gerstein noted in response to my pestering him to review Manafort's "rocket docket" strategy of splitting this trial from his DC one, Manafort lawyer Kevin Downing always wanted to do the DC one first.
Manafort attorney Kevin Downing requested the Virginia case be set for sometime in November, after the Washington trial. Downing told Ellis the defense needs time to assemble legal motions in both cases and to prepare for the back-to-back trials.

"This is a massive indictment," the defense attorney said. "We were envisioning a trial in this case in November, following the case in D.C."
So effectively, what Manafort did was wait until the very last minute, and then ask for what they wanted in the first place, this trial to go second. To justify the delay, his lawyers are citing the difficulties posed by him being in jail (which is a fair reason, but one most similarly situated defendants don't get concessions for).
But I'm interested in the depiction of the latest discovery received that they also use to make the request.
Indeed, in terms of discovery, defense counsel has continued to receive voluminous amounts from the Special Counsel up-to-the-moment. Thus far, there have been twenty-three (23) discovery productions, the most recent of which was produced to the defense at 6:28 p.m. today, July 6, 2018 (i.e., the same date that this motion for a continuance is being filed)—a mere 19 days before the scheduled trial in this case. The Special Counsel's production today appears to contain approximately 50,000 pages of new documents. Indeed, this is despite the Special Counsel's representations earlier this year that discovery was complete, or nearly complete.4 In fact, since May the defense has received seven discovery productions which include at least 140,000 pages of material. The Special Counsel's next most-recent disclosure—coming on July 3, 2018 (a mere 22 days prior to the scheduled trial)—includes data obtained from the primary cooperating witness's personal electronic devices and will require extensive review and analysis. (This is the same witness who resolved his case in the District of Columbia in February of this year.) Moreover, defense counsel's review of the discovery produced to date has been unusually timeconsuming because discovery relevant to this case has often been co-mingled with discovery that appears relevant solely to the D.C. Case. As the Court observed at the recent motions hearing, this is primarily a documents case, and defense counsel require additional time to thoroughly review and analyze with their client the voluminous documents produced by the Special Counsel. It is critically important for the defense to have sufficient time to review the discovery with Mr. Manafort because he understands many of the relevant documents (and their context) better than anyone else.

4 See, e.g., Doc. 20 (filed Feb. 28, 2018) at 7 ("[W]e believe that almost all of the relevant discovery in this matter in our possession has already been produced in the course of the District of Columbia prosecution."); see also D.C. Case, Doc. 146 (filed Jan. 12, 2018) at 1 ("As of the date of this filing, the government has completed a substantial portion of the discovery in this case.").
Now, I await Mueller's response to this, as I suspect Manafort is obscuring that, to the extent it pertains to this trial, this recent discovery has more to do with Mueller's obligations to give Manafort discovery on incriminating evidence against people who will be witnesses at the trial. He's also obscuring how discovery happened in this case, which started coming 20 days after he was indicted in DC in October and for which the most pertinent materials were identified as "hot." The full context of the document he cites in that footnote reads,
In addition, we believe that almost all of the relevant discovery in this matter in our possession has already been produced in the course of the District of Columbia prosecution. The government made its first production on November 17, 2017, which included: (1) foreign bank account records for the accounts in Cyprus and Saint Vincent & the Grenadines; (2) domestic financial records; and (3) documents from Manafort's tax preparer that were identified by the government as particularly relevant. In ensuing ten productions, the government has produced a range of emails, financial documents and other records, as well as materials obtained from a number of different devices and media. 4 As of February 28, 2018, the government had made eleven separate discovery productions to the defendant. In addition, the government also has produced for the defendant documents that it identified as "hot."
So Manafort had 7 months to review the most important discovery in this case working from home confinement. Manafort is also, surely, obscuring how much of this discovery pertains to the DC case (which is still two months away), not this EDVA one.
These motions were due on Friday in any case, and as Gerstein pointed out, Downing always wanted to do this trial after the DC one, so it's unlikely this request for a continuance is a response to the discovery he got last week. And the late filing might be best explained by a late edit to incorporate yesterday's production in the motion. The motion for a continuance is far, far better drafted than the goofy venue change one.
But I do find it interesting that Mueller is just now showing Manafort what he found in Rick Gates' electronic devices. I wonder if, in doing so, he expected Manafort to rethink his willingness to run interference for Donald Trump? If so, then the request for a continuance would be rather interesting.
https://www.emptywheel.net/wp-content/uploads/2017/10/unnamed-e1509370597628.jpg
150
200
emptywheel
https://www.emptywheel.net/wp-content/uploads/2016/07/Logo-Web.png
emptywheel
2018-07-07 15:19:05
2018-07-07 15:57:19
Some Issues of Timing Revealed by Manafort's Filings