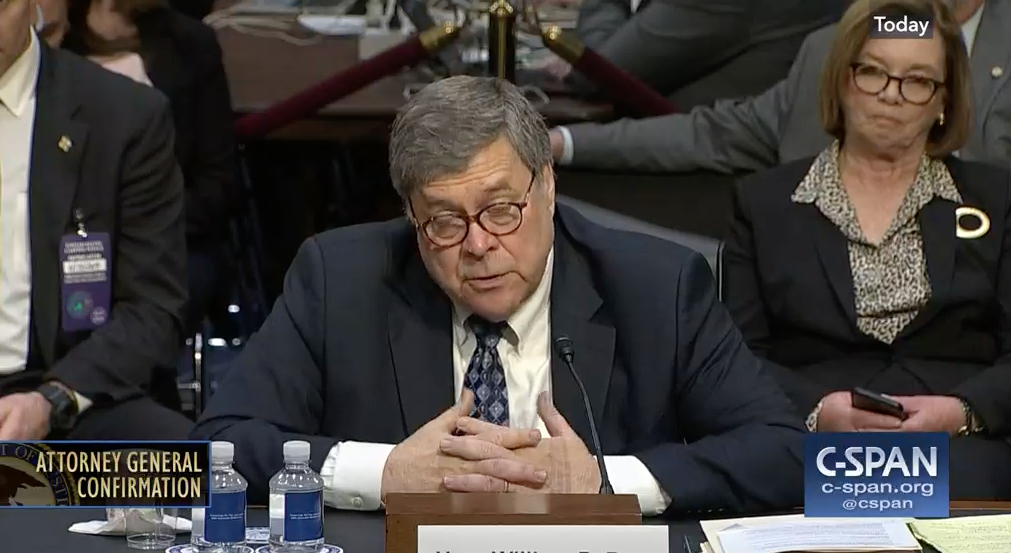 The Mueller Report Redactions and the Claims about "Collusion"
On Volume II page 121 of the Mueller Report, a partial transcript of the call Trump's lawyer (WaPo says this is John Dowd) placed to Mike Flynn's lawyer on November 22, 2017 appears, along with even more damning details about a follow-up call from the following day.
In late November 2017, Flynn began to cooperate with this Office. On November 22, 2017, Flynn withdrew from a joint defense agreement he had with the President.833 Flynn's counsel told the President's personal counsel and counsel for the White House that Flynn could no longer have confidential communications with the White House or the President.834 Later that night, the President's personal counsel left a voicemail for Flynn's counsel that said:

I understand your situation, but let me see if I can't state it in starker terms. . . . [I]t wouldn't surprise me if you've gone on to make a deal with … the government. … [I]f . .. there's information that implicates the President, then we've got a national security issue, . . . so, you know, . . . we need some kind of heads up. Um, just for the sake of protecting all our interests ifwe can …. [R]emember what we've always said about the ' President and his feelings toward Flynn and, that still remains …. 835

On November 23, 2017, Flynn's attorneys returned the call from the President's personal counsel to acknowledge receipt of the voicemail.836 Flynn 's attorneys reiterated that they were no longer in a position to share information under any sort of privilege.837 According to Flynn's attorneys, the President's personal counsel was indignant and vocal in his disagreement.838 The President's personal counsel said that he interpreted what they said to him as a reflection of Flynn's hostility towards the President and that he planned to inform his client of that interpretation.839 Flynn's attorneys understood that statement to be an attempt to make them reconsider their position because the President's personal counsel believed that Flynn would be disturbed to know that such a message would be conveyed to the President.840
This is, of course, the call referenced in Flynn's less redacted cooperation addendum released last week. A whole slew of reporters who have claimed to have read the Mueller Report over the last month claimed that this passage had been redacted in the report, which is something that Quinta Jurecic and I had a bit of a laugh about on Chris Hayes' show Friday night.
In fact, there's likely to be very little of great interest submitted when the government complies with Judge Emmet Sullivan's order to submit an unclassified version of the Flynn passages of the report by May 31.

The revelation in Flynn's cooperation addendum that he provided information on close-hold discussions about WikiLeaks means some of those conversations may be unsealed in that production. But aside from that, this redaction on Volume I page 183 — footnoting a discussion of the consideration of whether Flynn was a foreign agent and probably discussing an ongoing counterintelligence investigation into Russians, not Flynn — is the one of the only Flynn-related passages that might be of any interest that is not otherwise grand jury material.

With just a few notable exceptions, the redactions aren't that nefarious.
Using Grand Jury redactions to protect the President from political pressure
I've noted two exceptions to that. One is the way DOJ used grand jury redactions to hide the details of how both Donald Trumps refused to testify (even while Jr continues to be willing to testify before congressional committees that don't have all the evidence against him).
There are two redactions hiding details of what happened when Jr was subpoenaed.
Volume I page 117 on the June 9 meeting:

Volume II page 105 on President Trump's involvement in writing the June 9 statement.

And there are two redactions hiding the discussion of subpoenaing Trump.
Volume II page 12 introducing the obstruction of justice analysis.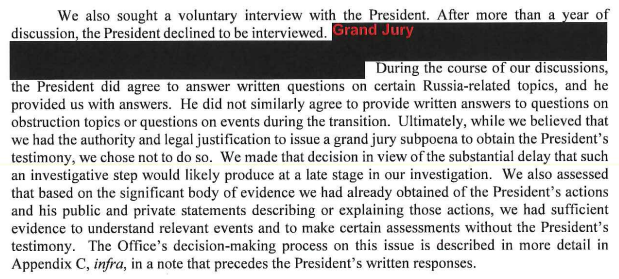 Appendix C introducing Trump's non-responsive answers.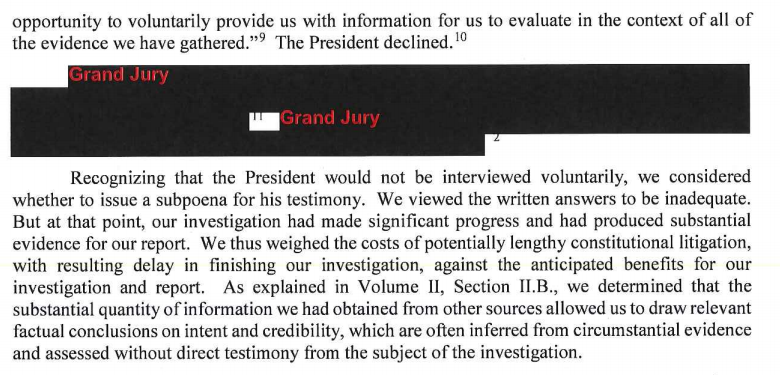 These redactions are all ones that Congress should ask more about. If Don Jr told Mueller he would invoke the Fifth, we deserve to know that (particularly given his willingness to appear with less informed committees). More importantly, the role of Trump's refusal to answer questions (as well as any concerns he had about Don Jr's jeopardy) are necessary parts to any discussion of obstruction of justice.
Plus, the President of the United States should not be able to hide his unwillingness to cooperate with an investigation into his own wrong-doing by claiming it's grand jury material.
The use of "Personal Privacy" to hide central players
In his description of the four types of redactions in the report, Bill Barr described the fourth — "personal privacy" — as relating to "peripheral third parties."
As I explained in my letter of April 18, 2019, the redactions in the public report fall into four categories: (1) grand-jury information, the disclosure of which is prohibited by Federal Rule of Criminal Procedure 6(e); (2) investigative techniques, which reflect material identified by the intelligence and law enforcement communities as potentially compromising sensitive sources, methods, or techniques, as well as information that could harm ongoing intelligence or law enforcement activities; (3) information that, if released, could harm ongoing law enforcement matters, including charged cases where court rules and orders bar public disclosure by the parties of case information; and (4) information that would unduly infringe upon the personal privacy and reputational interests of peripheral third parties, which includes deliberation about decisions not to recommend prosecution of such parties.
Some of the PP redactions do pertain to genuinely peripheral players.
For example, sometimes they hide the random people with whom Russian trolls communicated.

In others, they hide the names of other victims of GRU hacking (including Colin Powell, who is not a private person but is peripheral to this discussion).

In other places, they hide the names of genuinely unrelated people or businesses.

But as I have noted, Mueller treated this category as a declinations decision, not a privacy one.
I previously sent you a letter dated March 25, 2019, that enclosed the introduction and executive summary for each volume of the Special Counsel's report marked with redactions to remove any information that potentially could be protected by Federal Rule of Criminal Procedure 6(e); that concerned declination decisions; or that related to a charged case. [my emphasis]
Among the people Barr claims are "peripheral" players who have been investigated but not charged are Don Jr in the second redaction in this passage: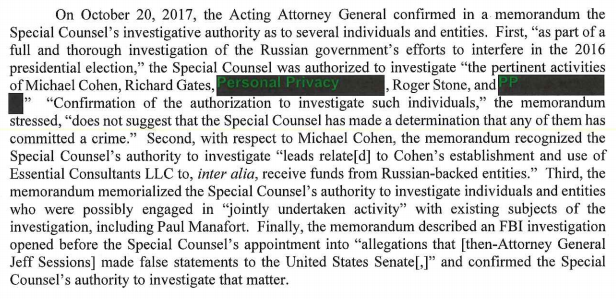 And KT McFarland and several other key players on page 199.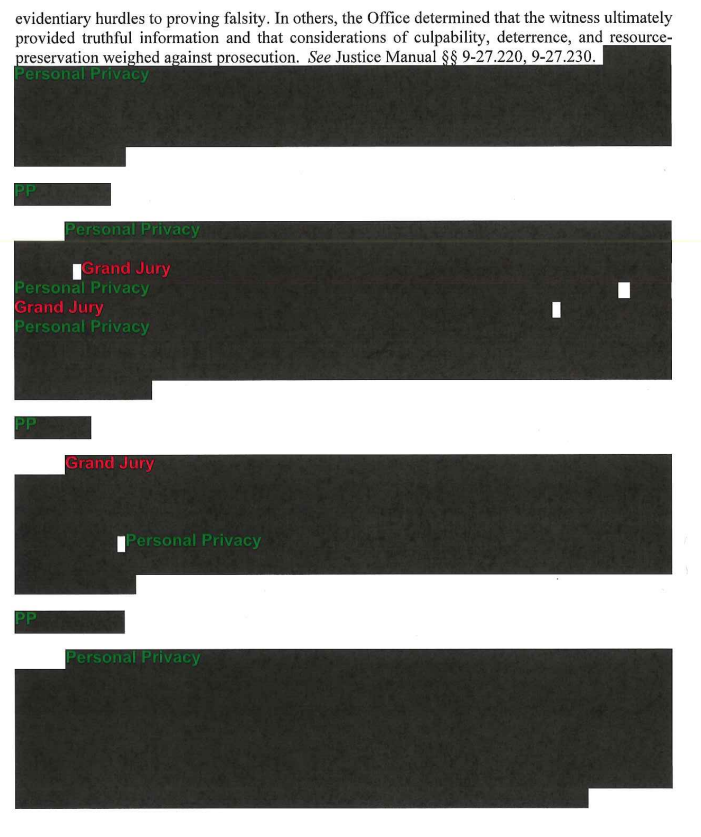 Don't get me wrong: I think these redactions are absolutely proper. The description of them, however, is not. Barr is pretending these people are "peripheral" to avoid having to admit, "in addition to Trump's Campaign Manager, Deputy Campaign Manager, Personal Lawyer, Life-Long Rat-Fucker, National Security Advisor, and Foreign Policy Advisor who have either pled guilty to, been found by a judge to have, or been indicted for lying in an official proceeding, Mueller seriously considered charging at least three other Trump associates with lying."
The expansive redactions pertaining to WikiLeaks and Roger Stone
So aside from the grand jury redactions hiding how Trump Sr and Jr dodged testifying and the way Barr describes the declinations redactions, I think the redactions are generally pretty judicious. I'm less certain, though, about the redactions pertaining to Roger Stone, the bulk of which appear in Volume I pages 51 to 59, 188 to 191, 196 to 197. and Volume II, pages 17 to 18 and 128 to 130.
There are two reasons to redact this information: most importantly, to comply with the gag order imposed by Amy Berman Jackson that prohibits lawyers on either side from making statements that "pose a substantial likelihood of material prejudice" to Stone's case, or to hide information from Stone that he doesn't otherwise know.
Except that we know he has already gotten the latter category of information in discovery. In a filing opposing Stone's bid to get an unredacted copy of the Mueller Report, prosecutors noted that "disclosable information that may have been redacted from the public version of the Special Counsel's report to the Attorney General is already being provided to the defendant in discovery."
And it seems highly likely that some of the information in these redacted passages is stuff that would only prejudice Stone's case by raising the import of it to Trump.
Consider, for starters, that (unless I'm mistaken) not a word from Stone's indictment appears in this Report. For example, the descriptions of how Stone asked Jerome Corsi to ask Ted Malloch to find out what WikiLeaks had coming and a follow-up email reflecting knowledge that John Podesta would be targeted must be reflected on pages 55 and 56.
On or about July 25, 2016, STONE sent an email to Person 1 with the subject line, "Get to [the head of Organization 1]." The body of the message read, "Get to [the head of Organization 1] [a]t Ecuadorian Embassy in London and get the pending [Organization 1] emails . . . they deal with Foundation, allegedly." On or about the same day, Person 1 forwarded STONE's email to an associate who lived in the United Kingdom and was a supporter of the Trump Campaign.

On or about July 31, 2016, STONE emailed Person 1 with the subject line, "Call me MON." The body of the email read in part that Person 1's associate in the United Kingdom "should see [the head of Organization 1]."

On or about August 2, 2016, Person 1 emailed STONE. Person 1 wrote that he was currently in Europe and planned to return in or around mid-August. Person 1 stated in part, "Word is friend in embassy plans 2 more dumps. One shortly after I'm back. 2nd in Oct. Impact planned to be very damaging." The phrase "friend in embassy" referred to the head of Organization 1. Person 1 added in the same email, "Time to let more than [the Clinton Campaign chairman] to be exposed as in bed wenemy if they are not ready to drop HRC. That appears to be the game hackers are now about. Would not hurt to start suggesting HRC old, memory bad, has stroke – neither he nor she well. I expect that much of next dump focus, setting stage for Foundation debacle."
Page 56 actually includes new proof that Stone and Corsi had confirmed that Podesta's emails were coming. Malloch describes Corsi telling him about Podesta's emails, not vice versa.
Malloch stated to investigators that beginnin in or about Au ust 2016, he and Corsi had multiple Face Time discussions about WikiLeaks [redacted] had made a connection to Assange and that the hacked emails of John Podesta would be released prior to Election Day and would be helpful to the Trump Campaign. In one conversation in or around August or September 2016, Corsi told Malloch that the release of the Podesta emails was coming, after which "we" were going to be in the driver's seat.221
Likewise, the indictment makes it clear that Stone was talking to the campaign about WikiLeaks releases.
ROGER JASON STONE, JR. was a political consultant who worked for decades in U.S. politics and on U.S. political campaigns. STONE was an official on the U.S. presidential campaign of Donald J. Trump ("Trump Campaign") until in or around August 2015, and maintained regular contact with and publicly supported the Trump Campaign through the 2016 election.

During the summer of 2016, STONE spoke to senior Trump Campaign officials about Organization 1 and information it might have had that would be damaging to the Clinton Campaign. STONE was contacted by senior Trump Campaign officials to inquire about future releases by Organization 1.

[snip]

By in or around June and July 2016, STONE informed senior Trump Campaign officials that he had information indicating Organization 1 had documents whose release would be damaging to the Clinton Campaign. The head of Organization 1 was located at all relevant times at the Ecuadorian Embassy in London, United Kingdom.

After the July 22, 2016 release of stolen DNC emails by Organization 1, a senior Trump Campaign official was directed to contact STONE about any additional releases and what other damaging information Organization 1 had regarding the Clinton Campaign. STONE thereafter told the Trump Campaign about potential future releases of damaging material by Organization 1.
We see outlines of precisely who those references are to in the report.
Most notably, after describing Trump's enthusiasm after Stone told Trump while Michael Cohen was listening on the speaker phone that the DNC emails would drop in a few days just before they did (which Cohen described in his testimony to Oversight), these two paragraphs, appear to to describe Manafort and Trump's enthusiasm after the DNC release, with Manafort telling both Stone directly and Gates that he wanted to be kept informed via Stone of what was coming. And having gotten some indication of what was coming, the campaign started making plans to optimize those releases. It appears that Gates, like Cohen before him, witnessed a Stone-Trump call where the rat-fucker told the candidate what was coming.


These pages also have more background about how important all this was to Trump, who was frustrated that Hillary's deleted emails hadn't been found (something also told, in Flynn's voice, in the Peter Smith section).
The references to Stone in these passages may well be appropriately redacted. But the descriptions of conversations between Trump and Manafort or Gates should not impact Stone's defense — unless you want to argue that Trump's personal involvement in Stone's rat-fucking might change the deliberations for a jury. They don't serve to hide Stone's actions. They hide Trump's enthusiasm for using materials stolen by Russia to win.
This affects the "collusion" discussion
All of this has particular import given the basis on which Attorney General Bill Barr tried to exonerate the President for obstruction. In Barr's 4-page summary of the report, Barr emphasized that Trump did not conspire or coordinate with the Russian government, even going so far as to suggest that no Trump associate "conspired or coordinated with the Russian government on these efforts," efforts which in context include, "publicly disseminat[ing hacked] materials through various intermediaries, including WikiLeaks."
As the report states: "[T]he investigation did not establish that members of the Trump Campaign conspired or coordinated with the Russian government in its election interference activities."

[snip]

In assessing potential conspiracy charges, the Special Counsel also considered whether members of the Trump campaign "coordinated" with Russian election interference activities. The Special Counsel defined "coordinated" as an "agreement–tacit or express–between the Trump Campaign and the Russian government on election interference."

[snip]

The second element involved the Russian government's efforts to conduct computer hacking operations designed to gather and disseminate information to influence the election. The Special Counsel found that Russian government actors successfully hacked into computers and obtained emails from persons affiliated with the Clinton campaign and Democratic Party organizations, and publicly disseminated those materials through various intermediaries, including WikiLeaks. Based on these activities, the Special Counsel brought criminal charges against a number of Russian military officers for conspiring to hack into computers in the United States for purposes of influencing the election. But as noted above, the Special Counsel did not find that the Trump campaign, or anyone associated with it, conspired or coordinated with the Russian government in these efforts, despite multiple offers from Russian-affiliated individuals to assist the Trump campaign.
Of course, that leaves off coordinating with WikiLeaks because WikiLeaks is not the Russian government, even while in context it would be included.
Similarly, in Barr's "no collusion" press conference, he again emphasized that Trump's people were not involved in the hacking. Then he made a remarkable rhetorical move [I've numbered the key sentences].
But again, the Special Counsel's report did not find any evidence that members of the Trump campaign or anyone associated with the campaign conspired or coordinated with the Russian government in its hacking operations.  In other words, there was no evidence of Trump campaign "collusion" with the Russian government's hacking.

The Special Counsel's investigation also examined Russian efforts to publish stolen emails and documents on the internet.  The Special Counsel found that, after the GRU disseminated some of the stolen materials through its own controlled entities, DCLeaks and Guccifer 2.0, the GRU transferred some of the stolen materials to Wikileaks for publication.  Wikileaks then made a series of document dumps.  [1] The Special Counsel also investigated whether any member or affiliate of the Trump campaign encouraged or otherwise played a role in these dissemination efforts.  [2] Under applicable law, publication of these types of materials would not be criminal unless the publisher also participated in the underlying hacking conspiracy.  [3] Here too, the Special Counsel's report did not find that any person associated with the Trump campaign illegally participated in the dissemination of the materials.
Given what we know to be in the report, those three sentences look like this:
Mueller asked, did any Trump affiliate encourage or otherwise play a role in WikiLeaks' dissemination?
By the way, if a Trump affiliate had played a role in the dissemination it wouldn't be illegal unless the Trump affiliate had also helped Russia do the hacking.
After finding that a Trump affiliate had played a role in the dissemination, Mueller then determined that that role was not illegal.
Again, "collusion" is not a legal term. It describes coordination — legal or not — in sordid activities. What these three sentences would say, if Barr had been honest, is that Mueller did find coordination, but because Stone (via yet unidentified means) coordinated with WikiLeaks, not Russia itself, Mueller didn't find that the coordination was illegal.
Note that even Bill Barr, who's a pretty shameless hack, still qualified the "no collusion" judgment on which he presents his obstruction analysis as pertaining to Russia.
After finding no underlying collusion with Russia, the Special Counsel's report goes on to consider whether certain actions of the President could amount to obstruction of the Special Counsel's investigation.  As I addressed in my March 24th letter, the Special Counsel did not make a traditional prosecutorial judgment regarding this allegation.  Instead, the report recounts ten episodes involving the President and discusses potential legal theories for connecting these actions to elements of an obstruction offense.

After carefully reviewing the facts and legal theories outlined in the report, and in consultation with the Office of Legal Counsel and other Department lawyers, the Deputy Attorney General and I concluded that the evidence developed by the Special Counsel is not sufficient to establish that the President committed an obstruction-of-justice offense.
Barr bases his obstruction analysis on "collusion," not conspiracy. But his 1-2-3 gimmick above lays out that non-criminal "collusion" did happen, only that it happened with WikiLeaks.
For his part, Mueller points to those same passages that get redacted in the first discussion in his background discussion for the obstruction volume.

Importantly, the redaction in this footnote makes it clear that the campaign was relying on what they were learning from Stone to plan their communication strategy for upcoming releases.

Remember, in his charging decisions on campaign finance, Mueller didn't actually say no crime had been committed. He said the evidence was not sufficient to obtain and sustain a criminal conviction.
The Office similarly determined that the contacts between Campaign officials and Russia-linked individuals either did not involve the commission of a federal crime or, in the case of campaign-finance offenses, that our evidence was not sufficient to obtain and sustain a criminal conviction.
There are multiple places where the report makes it clear that, in addition to the June 9 meeting, the campaign finance crimes reviewed included the WikiLeaks releases, including the Table of Contents.

Indeed, the paragraph describing why Trump may have wanted to fire Jim Comey focuses closely on the campaign's response to the WikiLeaks releases.
In addition, the President had a motive to put the FBI's Russia investigation behind him. The evidence does not establish that the termination of Comey was designed to cover up a conspiracy between the Trump Campaign and Russia: As described in Volume I, the evidence uncovered in the investigation did not establish that the President or those close to him were involved in the charged Russian computer-hacking or active-measure conspiracies, or that the President otherwise had an unlawful relationship with any Russian official. But the evidence does indicate that a thorough FBI investigation would uncover facts about the campaign and the President personally that the President could have understood to be crimes or that would give rise to personal and political concerns. Although the President publicly stated during and after the election that he had no connection to Russia, the Trump Organization, through Michael Cohen, was pursuing the proposed Trump Tower Moscow project through June 2016 and candidate Trump was repeatedly briefed on the progress of those efforts.498 In addition, some witnesses said that Trump was aware that [redacted] at a time when public reports stated that Russian intelligence officials were behind the hacks, and that Trump privately sought information about future WikiLeaks releases.499 More broadly, multiple witnesses described the President's preoccupation with press coverage of the Russia investigation and his persistent concern that it raised questions about the legitimacy of his election.500 [my emphasis]
And a more general discussion of Trump's motives later in the obstruction discussion raises it — and the possibility that it would be judged to be criminal — explicitly.
In this investigation, the evidence does not establish that the President was involved in an underlying crime related to Russian election interference. But the evidence does point to a range of other possible personal motives animating the President's conduct. These include concerns that continued investigation would call into question the legitimacy of his election and potential uncertainty about whether certain events–such as advance notice of WikiLeaks's release of hacked information or the June 9, 2016 meeting between senior campaign officials and Russians–could be seen as criminal activity by the President, his campaign, or his family. [my emphasis]
The most damning revelations about the President's own actions during the campaign in this report pertain to his exploitation of the WikiLeaks releases. They go directly to the question of criminal liability (which Mueller says he couldn't charge for evidentiary reasons, not because he didn't think it was a crime), and if you want to talk "collusion" as opposed to "conspiracy" — as the President does — it goes to "collusion."
And in the guise of protecting Roger Stone's right to a fair trial — and possibly with an eye towards preserving the President's ability to pardon Stone before a trial reveals even more of these details — DOJ used a heavy hand on the redactions pertaining to Trump's own personal involvement in exploiting the benefit his campaign received from WikiLeaks releasing emails that Russia stole from Hillary. These details are the bulk of what DOJ is hiding by offering just a small number of members of Congress to review the less-redacted version of the report.
Perhaps Mueller agreed with all these redactions; it's a question I hope he gets asked when he finally testifies. But the redactions serve to hide what was clearly a close call on prosecution and one of the most damning explanations for Trump's obstruction, an explanation that involved his own actions on the campaign.
As I disclosed last July, I provided information to the FBI on issues related to the Mueller investigation, so I'm going to include disclosure statements on Mueller investigation posts from here on out. I will include the disclosure whether or not the stuff I shared with the FBI pertains to the subject of the post. 
https://www.emptywheel.net/wp-content/uploads/2019/03/Screen-Shot-2019-03-26-at-2.35.58-PM.png
553
1011
emptywheel
https://www.emptywheel.net/wp-content/uploads/2016/07/Logo-Web.png
emptywheel
2019-05-20 17:00:43
2019-05-20 18:15:05
The Mueller Report Redactions and the Claims about "Collusion"