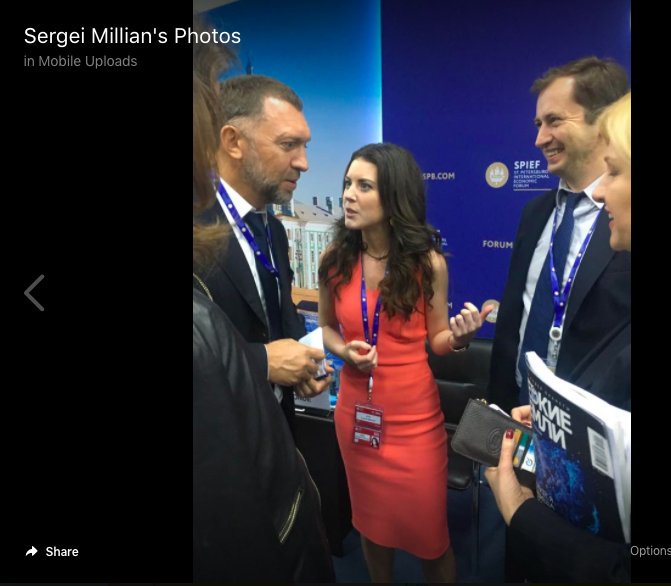 Former Daily Caller Editor Reveals He Was Forced to Publish Oleg Deripaska
In the wake of the Senate Intelligence Report's scathing description of Oleg Deripaska's key role in Russia's 2016 election interference, a former editor from the Daily Caller, Eric Owens, reveals that his bosses — Tucker Carlson and Neil Patel — forced him to publish an Oleg Deripaska column that he recognized as sloppy propaganda.
Back in 2018, I was the opinion editor for The Daily Caller. I had worked for the website for about five years as a journalist and editor. I really believed in what we were doing. I believed in what founders Tucker Carlson and Neil Patel said they were building. (More on that later.)

In early March 2018, Deripaska submitted an opinion piece to The Daily Caller. He didn't submit it directly to me or through the Caller's conventional submissions process. Presumably, villainous Russian billionaires are above such hoi polloi procedures. Instead, Daily Caller publisher Patel contacted me directly one day saying he had received Deripaska's op-ed. He wanted to know how I felt about it.

I hated it. Anyone with a passing knowledge of European politics would know who Deripaska is and what he represents. I had been in the U.S. foreign service for a bit, so, of course, I knew.

More importantly, Deripaska's op-ed itself was—and remains—an extraordinary exercise in audacious Russian propaganda.

[snip]

[I]n the case of the 2018 Deripaska op-ed, which I myself published and placed despite my own doubts and qualms, The Daily Caller was the plaything of a Russian billionaire working directly with Russian spies who used conservative media to spout completely false and fabulous conspiracy theories.
At the time, I suggested Deripaska's column seemed to be an attempt to get ahead of disclosures like we saw in the DOJ IG and SSCI Reports, which make it clear that Deripaska was working both sides of the dossier, ratcheting up the legal pressure on Paul Manafort even while sending Konstantin Kilimnik on errands of "collusion" with him.
Then, after explaining on what authority he is sharing all this information — "My lawyer testified these facts to the Senate Intelligence Committee on Nov. 3," — Deripaska claims third hand that Jones told his lawyer that Fusion is a "shadow media organization helping the government," funded by a "group of Silicon Valley billionaires and George Soros."

Among other things then, this is a very crafty attempt to get information submitted to the close-lipped SSCI, but probably not to SJC or HPSCI where everything leaks, into the public.

So Deripaska, presumably using one hell of a ghost writer, manages to spin a Paul Singer funded effort as a Soros cabal.

As noted above, there's good reason to believe that Deripaska is the mastermind of the entire strategy of discrediting the dossier as a way to discredit the Mueller investigation. The last time he tried to discredit the investigation directly, prosecutors dinged Paul Manafort for violating the gag rule in the DC case; any bets they have the red line of this effort? Yet the name Manafort doesn't appear here, so perhaps (especially as Manafort is officially on the clock in EDVA after his arraignment today as well as DC) Deripaska's just getting around the gag.

As you read this work of art (really!), keep the following in mind: for all that Deripaska puts the focus on Jones and Nuland, he never gets around to explaining why Chuck Grassley thinks he had a role in the dissemination of the dossier, too. Or why he demanded immunity to testify to SSCI. At that level this may be an attempt to get ahead of disclosures about his role in the dossier.
Kudos to Owens for revealing the back story to this column and for disavowing the swamp of frothy right wing media.
The Daily Caller is no longer an alternative news organization. Breitbart is no way in hell any kind of alternative news organization.

These aren't alternative news websites. Too many times, they are alternative realities, complete with alternate sets of facts. It's an epistemological nightmare.
But the available evidence suggests Owens is wrong when he attributes the placement to clickbait.
I can't speak for Patel or for Carlson, who had largely left The Daily Caller for cable-news stardom by then, but the general sentiment at the Caller always seemed to be that all publicity—and, of course, all those precious, precious page views—was wonderful. The throng of page views was certainly good for my little opinion section, which had been downright beleaguered before I took over.
As I noted at the time, Deripaska's column was entirely coherent with one of the Daily Caller's most assiduous journalistic efforts, Chuck Ross' efforts to make everything about the Russia story into the dossier and the dossier into a discredited rag, with absolutely no reflection on the implications if it got filled with disinformation. Chuck Ross' journalistic project has been, for years, to fulfill precisely the strategy that Paul Manafort pitched after returning from a meeting with one of Deripaska's GRU-linked aides, to conflate the dossier with the Russian investigation and as it became increasingly clear that the dossier had been soaked in disinformation, thereby discredit the entire effort to protect America from people like Deripaska.
It's important that Owens reveal that the people running the Daily Caller forced him to publish obvious propaganda.
It just raises questions about the continuity between that decision and the non-stop focus pretending the dossier equals the Russian investigation.
https://www.emptywheel.net/wp-content/uploads/2019/01/Milliam-Deripaska.jpg
586
671
emptywheel
https://www.emptywheel.net/wp-content/uploads/2016/07/Logo-Web.png
emptywheel
2020-08-26 11:51:44
2020-08-26 11:57:32
Former Daily Caller Editor Reveals He Was Forced to Publish Oleg Deripaska