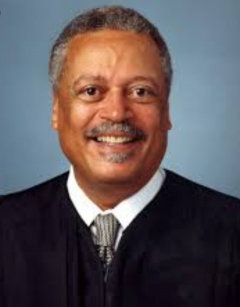 In this post, I showed how Billy Barr justified a lenient sentence for Roger Stone in part by treating threats against judges as a technicality.
As I laid out in this post, prosecutors asked for the following enhancements:

8 levels for the physical threats against Randy Credico
3 levels for substantial interference
2 levels for the substantial scope of the interference
2 levels for obstructing the administration of justice

The last of these, per the original sentencing memo, had to do with Stone's threats against ABJ.

Finally, pursuant to U.S.S.G. § 3C1.1, two levels are added because the defendant "willfully obstructed or impeded, or attempted to obstruct or impede, the administration of justice with respect to the prosecution of the instant offense of conviction." Shortly after the case was indicted, Stone posted an image of the presiding judge with a crosshair next to her head. In a hearing to address, among other things, Stone's ongoing pretrial release, Stone gave sworn testimony about this matter that was not credible. Stone then repeatedly violated a more specific court order by posting messages on social media about matters related to the case.

This enhancement is warranted based on that conduct. See U.S.S.G. § 3C1.C Cmt. 4(F) ("providing materially false information to a magistrate or judge"); see, e.g., United States v. Lassequ, 806 F.3d 618, 625 (1st Cir. 2015) ("Providing false information to a judge in the course of a bail hearing can serve as a basis for the obstruction of justice enhancement."); United States v. Jones, 911 F. Supp. 54 (S.D.N.Y. 1996) (applying §3C1.1 enhancement to a defendant who submitted false information at hearing on modifying defendant's conditions of release).

Barr's memo got to the outcome he wanted by eliminating the 8-point enhancement for physically threatening Credico and the 2-point enhancement for threatening ABJ.

The memo suggested the 8-level enhancement shouldn't apply, first, because doing so would double Stone's exposure.

Notably, however, the Sentencing Guidelines enhancements in this case—while perhaps technically applicable— more than double the defendant's total offense level and, as a result, disproportionately escalate the defendant's sentencing exposure to an offense level of 29, which typically applies in cases involving violent offenses, such as armed robbery, not obstruction cases. Cf. U.S.S.G. § 2B3.1(a)-(b). As explained below, removing these enhancements would have a significant effect on the defendant's Guidelines range. For example, if the Court were not to apply the eight-level enhancement for threatening a witness with physical injury, it would result in the defendant receiving an advisory Guidelines range of 37 to 46 months, which as explained below is more in line with the typical sentences imposed in obstruction cases.

[snip]

Then, Barr's memo argued (and this is the truly outrageous argument) that Stone's attempts to obstruct his own prosecution overlapped with his efforts to obstruct the HPSCI investigation.

Second, the two-level enhancement for obstruction of justice (§ 3C1.1) overlaps to a degree with the offense conduct in this case. Moreover, it is unclear to what extent the [defendant's obstructive conduct actually prejudiced the government at trial.]

Effectively, this language treated threats against a judge as unworthy of enhancement.

The Attorney General of the United States found a way to go easy on the President's life-long rat-fucker by downplaying the importance of threats against those participating in trials.
After an anti-feminist Trump supporter allegedly targeted the family of federal judge Esther Salas in July, Barr claimed to care about such attacks on judges, even though he had treated the threat against ABJ as a technicality.
Unbelievably, the very next week, when Barr lied under oath about treating threats to judges as a technicality, he would have known of another threat against a judge.
Not just any judge.
Another judge presiding over a case against a Trump flunky, Emmet Sullivan. In August, a Long Island man, Frank Caporusso, was charged for threats left on Sullivan's Chambers phone.
On May 15, 2020, Deputy United States Marshal Louie McKinney, Jr. discovered threatening statements made against Victim One and his staff while listening to voicemails left on Victim One's Chambers' telephone line. One voicemail, which recorded a male caller speaking for approximately 30-31 seconds, stated:

We are professionals. We are trained military people. We will be on rooftops. You will not be safe. A hot piece of lead will cut through your skull. You bastard. You will be killed, and I don't give a fuck who you are. Back out of this bullshit before it's too late, or we'll start cutting down your staff. This is not a threat. This is a promise.

[snip]

Investigation also revealed social media accounts that appear to belong to the defendant. These accounts, primarily a Twitter account, contain posts and images calling various politicians and celebrities "morons" and "sycophants." The last "tweets" were sent on July 3, 2020. Additionally, a twitter reply was sent at 10:48 p.m. on May 14, 2020 (the same evening the voicemail was left).
WaPo's Ann Marimow first suggested the timing of the threat suggested it was Sullivan and Newsday confirms it.
According to sources, Caporusso accessed the "dark web," including sites that encouraged people to take action against the judge for his overall handling of the Flynn case.
So after Bill Barr treated a threat against a judge presiding over a Trump associate as a technicality, an apparent QAnon nutter with a long gun responded to Sullivan's actions in QAnon supporter Mike Flynn's case by threatening to assassinate Sullivan.
https://www.emptywheel.net/wp-content/uploads/2020/05/Screen-Shot-2020-05-07-at-3.10.49-PM-e1588889850879.png
307
240
emptywheel
https://www.emptywheel.net/wp-content/uploads/2016/07/Logo-Web.png
emptywheel
2020-09-18 13:28:01
2020-09-18 13:31:16
After Bill Barr Minimized Roger Stone's Threat against Amy Berman Jackson, Emmet Sullivan Got Threatened by a Mike Flynn Supporter