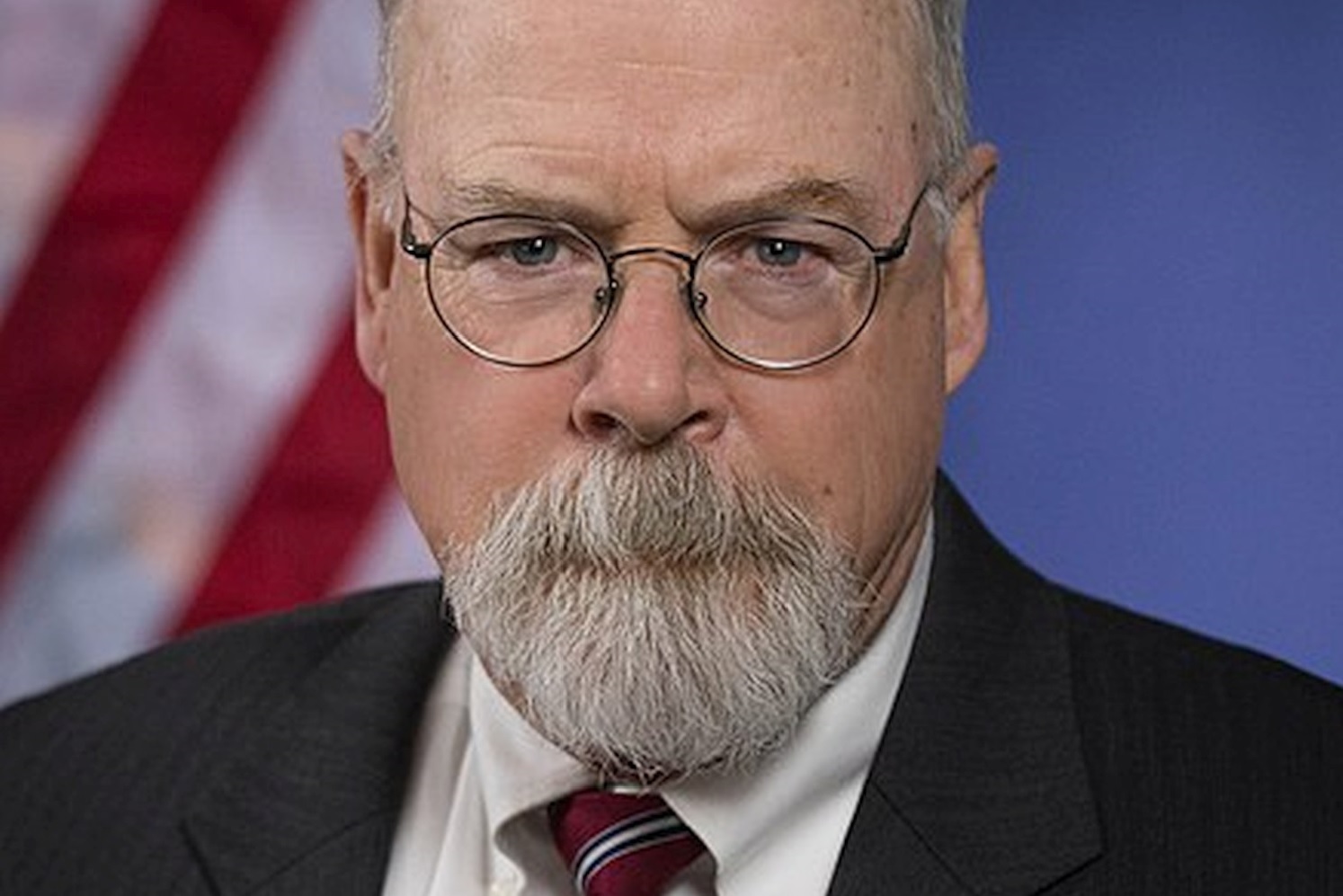 John Durham didn't have much to say after being called out for making baseless accusations that their source Kash Patel lied about, leading the former President to suggest Michael Sussmann should be killed.
They're not responsible for the death threats, the attorney who filed a notice of appearance in the wake of Friday's stunt, Brittain Shaw, insists.
If third parties or members of the media have overstated, understated, or otherwise misinterpreted facts contained in the Government's Motion, that does not in any way undermine the valid reasons for the Government's inclusion of this information.
She said this even while acknowledging it might be prudent to take measures against death threats in the future.
That said, to the extent the Government's future filings contain information that legitimately gives rise to privacy issues or other concerns that might overcome the presumption of public access to judicial documents – such as the disclosure of witness identities, the safety of individuals, or ongoing law enforcement or national security concerns – the Government will make such filings under seal. United States v. Hubbard, 650 F. 2d 293, 317-323 (D.C. Cir. 1980) (setting forth factors for considering whether the presumption of public access is overridden, including (1) the need for public access to the documents at issue; (2) the extent of previous public access to the documents; (3) the fact that someone has objected to disclosure, and the identity of that person; (4) the strength of any property and privacy interests asserted; (5) the possibility of prejudice to those opposing disclosure; and (6) the purposes for which the documents were introduced during the judicial proceedings.) The Government respectfully submits that no such issues or concerns are implicated here. [my emphasis]
The former President implied the defendant and a witness should be killed. But it's not Durham's fault and so he doesn't have to deal with the fact that it happened!!
This is factually specious. Kash Patel, who was among the first to make egregiously false claims, is not a "third party." He is the originator of this inquiry, and he knew well his statements to be false. Donald Trump, who suggested Sussmann and others should be killed, is not a "third party." He was Durham's boss and his demands for prosecutions are what led to Durham being appointed Special Counsel in the first place.
Plus, Durham's team have already made the identities of some grand jury witnesses public in discovery filings.
The claim that the architects of this mob are neutral "third parties" is all the more pathetic given the excuse Shaw provides for including the false insinuation that Rodney Joffe spied on Trump's White House rather than tried to keep the White House safe from hackers at the time it happened to be occupied by Barack Obama.
The reason they mentioned the White House, you see (Shaw claims), is because of one of the conflicts they raised.
The Government included two paragraphs of limited additional factual detail in its Motion for valid and straightforward reasons. First, those paragraphs reflect conduct that is intertwined with, and part of, events that are central to proving the defendant's alleged criminal conduct. Second, the Government included these paragraphs to apprise the Court of the factual basis for one of the potential conflicts described in the Government's Motion, namely, that a member of the defense team was working for the Executive Office of the President of the United States ("EOP") during relevant events that involved the EOP. [my emphasis]
Shaw here argues that events in February 2017 are "intertwined" with an alleged crime that took place five months earlier.
She also suggests that the reason they raised the White House is because one of Sussmann's team members worked there (Charlie Savage has now IDed the lawyer as Michael Bosworth).
I mean, so did Kash Patel, a central player in the false claims that led to the former President calling for death.
Here's what the actual conflict memo said about that purported conflict.
Based on its review of documents in its investigation and other information, the Special Counsel's Office also has learned that one of the members of the defendant's current defense team ("Defense Team Member-1") previously worked as Special Counsel to the then-FBI Director from 2013 to 2014. In connection with that work, Defense Team Member-1 developed professional and/or personal relationships with several individuals who later were involved with and/or knowledgeable of the FBI's investigation of the Russian Bank-1 allegations. For example, Defense Team Member-1 appears to have developed a professional relationship with the former FBI General Counsel to whom the defendant made his alleged false statement and who will likely be a central witness at trial.4 While it is unlikely that these past interactions and activities will give rise to an actual conflict of interest, the Government respectfully requests in an abundance of caution that the Court inquire with the defense concerning whether Defense Team Member-1's relationships with persons and entities who might be witnesses in this case could give rise to a potential conflict or appearance issue and, if so, whether the defendant waives any such conflict.

4 Following his employment at the FBI, Defense Team Member-1 worked from 2014 to early 2017 as an attorney in the EOP which, as noted above, was involved in certain factual issues that the Government expects will be relevant at trial and any sentencing proceedings. Latham has represented to the Government that while employed at the EOP, Defense Team Member-1 had no role in the aforementioned events or arrangements involving Tech Executive-1, Internet Company1, and/or allegations involving the purported use of Russian-made phones. The Government similarly has not seen evidence to suggest that Defense Team Member-1 had any role in, or direct knowledge of, the Russian Bank-1 allegations or the FBI's ensuing investigation. [my emphasis]
It's the tie to Jim Comey and through him to James Baker, not the subsequent job at the White House, that Durham's team presented as a potential conflict — and even then, Durham's team admits this is not likely a conflict. By this standard, several members of the prosecutorial team, not to mention the guy from whom this allegation came from, Kash Patel, have a conflict. John Durham was hired by Donald Trump; that's a more serious conflict than anything his team spins up as one.
The White House will not be called to the stand at Sussmann's trial. None of this is actually about the White House. As Andrew DeFilippis noted in his filing making wild claims of conflict, the White House job was not one of those conflicts. Indeed, this is yet another marker of Durham's dishonesty. This team member, as described, was a victim of Rodney Joffe's purportedly vicious efforts to make sure the Obama White House was not hacked. The team member only has an adversarial relationship if one believes that protecting against hacks is an adversarial stance. But that's not how they describe the purported conflict which even they admit is not one.
Which is a pretty big hint their understanding of conflicts here is whacked beyond all reason.
Even in a terse four page motion (which I guess is one way she's an improvement over DeFilippis), Shaw still had room for bullshit.
Having given a transparently bogus excuse for raising the White House, she then says that raising it in a conflict memo is cool because Durham plans to later raise these issues in a motion in limine (pre-trial motions about what can and cannot be presented during the trial).
In light of the above, there is no basis to strike any portion of the Government's Motion. Indeed, the Government intends to file motions in limine in which it will further discuss these and other pertinent facts to explain why they constitute relevant and admissible evidence at trial. Pursuant to caselaw and common practice in this and other districts, the filing of documents containing reference to such evidence on the public docket is appropriate and proper, even in highprofile cases where the potential exists that such facts could garner media attention. See, e.g., United States v. Stone, 19 Cr. 18 (D.D.C. October 21, 2019) (ABJ), Minute Order (addressing the Government's publicly-filed motion in limine seeking to admit video clip from the movie "Godfather II" that defendant sent to an associate and permitting admission of a transcript of the video); United States v. Craig, 19 Cr. 125 (D.D.C. July 10, 2019) (ABJ), Minute Order (addressing Government's publicly-filed Rule 404(b) motion to offer evidence of defendant's efforts to assist Paul Manafort's relative in obtaining employment); United States v. Martoma, S1 12 Cr. 973, 2014 WL 164181 (S.D.N.Y. January 9, 2014) (denying defendant's motion for sealing and courtroom closure relating to motions in limine concerning evidence of defendant's expulsion from law school and forgery of law school transcript);1 see also Johnson v. Greater SE Cmty. Hosp. Corp., 951 F. 2d 1268, 1277 (D.C. Cir. 1991) (holding that there is a "strong presumption in favor of public access to judicial proceedings"). Moreover, any potential prejudice or jury taint arising from such media attention can effectively and appropriately be addressed through the voir dire process during jury selection.

1 The publicly-filed evidentiary motions and judicial rulings in each of the above-cited cases received significant media attention. See, e.g., Prosecutors Can't Show Godfather II Clip at Roger Stone Trial, Judge Rules, CNN, October 21, 2019 (https://www.cnn.com/2019/10/21/politics/godfather-ii-roger-stone/index.html; Greg Craig Pushed to Hire Manfort's Relative at Skadden, Prosecutors Say, POLITICO, May 10, 2019 (https://www.politico.com/story/2019/05/10/greg-craig-hire-manaforts-relative-1317600); SAC's Martoma Tried to Cover Up Fraud at Harvard, Documents Show, REUTERS, January 9, 2014 (https://www.reuters.com/article/us-sac-martoma-harvard/sacs-martoma-tried-to-cover-up-fraudat-harvard-documents-show-idUSBREA081C720140109).
Roger Stone Roger Stone Roger Stone and Mueller, she throws in for good measure.
This is a fairly bald admission that the time to raise these issues, pretending they were relevant, would be the later 404(b) fight (over whether evidence of related conduct can be admitted at trial to help prove the case), not now, on a totally separate issue. That this might be a relevant issue later (which is itself admission that these topics are not direct evidence about Sussmann's alleged lie and must first demonstrate relevance to even be admitted at trial) is not an excuse to use them in untimely and off-purpose fashion.
And yet that's Durham's excuse for saying a bunch of things that predictably led to calls for death.
According to John Durham's logic of conflicts, he is the one with an unwaivable conflict. The guy who hired him to this job is the same guy suggesting, based off Durham's filing, that the guy he is prosecuting should be executed.
Updated for clarity.
Update: Corrected Bosworth's last name.
https://www.emptywheel.net/wp-content/uploads/2021/10/John_H._Durham_magazine-1500pxw.jpg
997
1494
emptywheel
https://www.emptywheel.net/wp-content/uploads/2016/07/Logo-Web.png
emptywheel
2022-02-17 18:26:41
2022-02-19 16:14:18
Durham Says It's Not His Fault His Former Boss Called for the Death of His Defendant