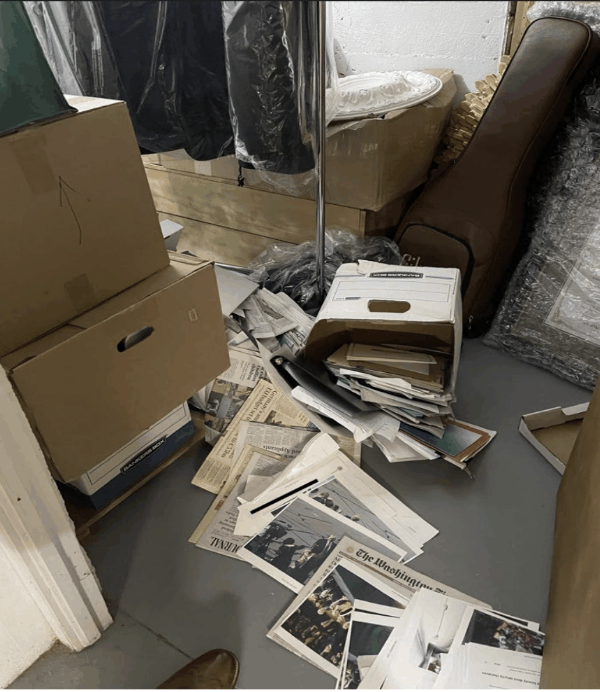 DOJ Invites Aileen Cannon to Avoid Another Reversible Error
Nine pages into the twelve page reply regarding DOJ's request that Judge Aileen Cannon hold a Garcia hearing to explain to Walt Nauta the potential hazards of Stan Woodward's conflicts in the stolen document case, DOJ warns Judge Cannon that if she does what Woodward wants her to do, it will be (reversible) error.
In his response, Woodward had suggested that rather than hold a hearing to explain to Nauta the potential conflict and hazards to his defense, Judge Cannon should just exclude the testimony of Yuscil Taveras, the IT guy who testified against Nauta and Carlos De Oliveira.
To do that, DOJ argued, would be unprecedented, particularly given that Woodward had advance notice of this conflict.
III. It Would Be Error to Suppress Trump Employee 4's Testimony

Nauta contends (ECF No. 126 at 4-5) that if the Court finds a conflict, it should preclude Trump Employee 4 from testifying at trial, rather than employ more routine remedies. That proposed remedy is contrary to precedent and—except for the district court ruling reversed in United States v. Messino, 181 F.3d 826 (7th Cir. 1999)—would appear to be unprecedented.

Courts have rejected exclusion of evidence as a remedy to avoid a conflict of interest, concluding that evidence that is "relevant to the Government's case" should not "be excluded to accommodate a defendant's choice of counsel." United States v. Urbana, 770 F. Supp. 1552, 1559 n.17 (S.D. Fla. 1991); see Messino, 181 F.3d at 830; United States v. Lech, 895 F. Supp. 586, 592- 93 (S.D.N.Y. 1995). Exclusion of probative testimony "is an extreme sanction and would only harm the interests of justice." Lech, 895 F. Supp. at 592. A "defendant's choice of counsel" should not "take precedence over the Government's discretion in deciding what charges to prosecute and how to present its case." United States v. Pungitore, 910 F.2d 1084, 1142-43 (3d Cir. 1990).

[snip]

Nauta has not identified any case, and the Government is unaware of one, in which a court has excluded evidence to avoid a conflict on facts remotely similar to this case, where the Government put Mr. Woodward on notice long ago about potential conflicts, and he is now seeking to affirmatively use those conflicts to gain a tactical advantage at trial by excluding highly incriminating evidence to the benefit of not only his own client but also a co-defendant (Trump) whose PAC is paying his legal fees. The Court should not countenance this maneuver. [my emphasis]
Before they provided this implicit warning that if she makes such a decision, DOJ laid out how and why Taveras testified in DC, after the original indictment obtained in Florida. As I predicted, it's because he had made false claims in an earlier appearance before the grand jury — one Woodward (who was still representing him) knew about.
In March, DOJ claims, Taveras gave false testimony to the grand jury about this, denying all knowledge of an attempt to destroy surveillance footage.
Before that, DOJ raised Woodward's conflict, but he said he was not aware of one.
Then, after the June 8 indictment in Florida, DOJ warned Taveras, through Woodward, he was a target, and served two more subpoenas for surveillance footage. After serving the target letter, DOJ got DC Chief Judge James Boasberg involved and told Judge Cannon about it. Woodward raised no objection to a review of the conflict in DC. And that's when Judge Boasberg assigned a public defender to advise Taveras, which led him to revise his testimony against Nauta and De Oliveira.
The target letter to Trump Employee 4 crystallized a conflict of interest arising from Mr. Woodward's concurrent representation of Trump Employee 4 and Nauta. Advising Trump Employee 4 to correct his sworn testimony would result in testimony incriminating Mr. Woodward's other client, Nauta; but permitting Trump Employee 4's false testimony to stand uncorrected would leave Trump Employee 4 exposed to criminal charges for perjury. Moreover, an attorney for Trump had put Trump Employee 4 in contact with Mr. Woodward, and his fees were being paid by Trump's political action committee (PAC). See In re Grand Jury Investigation, 447 F. Supp. 2d 453, 460 (E.D. Pa. 2006) (explaining that potential conflicts can be "further heightened by the financial dynamics of the joint representation," where, for example, a client "did not independently select the" attorney but instead had the attorney "pre-selected for them by the attorney to the [person] who is the central focus of the grand jury proceedings").

On June 27, 2023, consistent with its responsibility to promptly notify courts of potential conflicts, and given the prospective charges Trump Employee 4 faced in the District of Columbia, the Government filed a motion for a conflicts hearing with the Chief Judge of the United States District Court for District of Columbia (Boasberg, C.J.), who presides over grand jury matters in that district. The Government notified this Court on the same day, by sealed notice, of the filing in the District of Columbia. See ECF Nos. 45, 46. Mr. Woodward raised no objection to proceeding in the District of Columbia regarding Trump Employee 4. In fact, he responded that he "welcome[d] the Court's inquiry into [his] representation of" Trump Employee 4, Response at 1, In re Grand Jury Subpoena, No. 23-GJ-46 (D.D.C. June 30, 2023), but asserted that he had no "information to support the Government's claim that [Trump Employee 4] has provided false testimony to the grand jury," and that "even if [Trump Employee 4] did provide conflicting information to the grand jury such that could expose him to criminal charges, he has other recourse besides reaching a plea bargain with the Government. Namely, he can go to trial with the presumption of innocence and fight the charges as against him." Id. at 3. According to Mr. Woodward, if Trump Employee 4 "wishes to become a cooperating Government witness, he has already been advised that he may do so at any time." Id.

Chief Judge Boasberg made available independent counsel (the First Assistant in the Federal Public Defender's Office for the District of Columbia) to provide advice to Trump Employee 4 regarding potential conflicts. On July 5, 2023, Trump Employee 4 informed Chief Judge Boasberg that he no longer wished to be represented by Mr. Woodward and that, going forward, he wished to be represented by the First Assistant Federal Defender. Immediately after receiving new counsel, Trump Employee 4 retracted his prior false testimony and provided information that implicated Nauta, De Oliveira, and Trump in efforts to delete security camera footage, as set forth in the superseding indictment. [my emphasis]
Because Taveras' false statements to the grand jury were in DC, venue would have been DC.
Not only was it appropriate to use the grand jury to investigate false statements by Trump Employee 4 and De Oliveira, it was appropriate to use the grand jury in the District of Columbia, where the statements were made and where venue for any false-statement charges would be proper. See United States v. John, 477 F. App'x 570, 572 (11th Cir. 2012) (unpublished) (concluding that venue for a violation of 18 U.S.C. § 1001 is "proper only in the district or districts where the defendant made the false statement"); United States v. Paxson, 861 F.2d 730, 733-34 (D.C. Cir. 1988) (upholding conviction for perjurious grand jury testimony in the District of Columbia material to antitrust charges subsequently brought in the Northern District of Georgia). And it was necessary to bring to the attention of the Chief Judge in that district the potential conflict that arose from Mr. Woodward's representation of Trump Employee 4 in those proceedings. As "an incident of [its] supervisory power, a court has jurisdiction" to consider potential conflicts of interest that "relate[] to a grand jury proceeding within that court's control," and when the Government discerns such a potential conflict of interest, it "is not only authorized but is in fact obligated to bring the problem to that court's attention." In re Gopman, 531 F.2d 262, 265-66 (5th Cir. 1976)
The term of that grand jury ended on August 17.
Judge Cannon has already been reversed by the 11th Circuit in humiliating fashion on this matter once.
DOJ is trying to help her avoid a second reversal.
Meanwhile, twice in this filing (bolded above), DOJ notes that Woodward is being paid by Trump's PAC. DOJ is inching closer to raising that as a separate conflict in his representation of Nauta.
https://www.emptywheel.net/wp-content/uploads/2023/06/Screenshot-2023-06-10-at-08.02.55.png
692
600
emptywheel
https://www.emptywheel.net/wp-content/uploads/2016/07/Logo-Web.png
emptywheel
2023-08-22 17:56:42
2023-08-22 18:07:56
DOJ Invites Aileen Cannon to Avoid Another Reversible Error