Blind American Concern Troll Finds Nut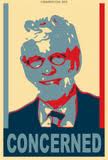 You may not be able to say this every day, but hats off to the Washington Post's Richard Cohen. In an op-ed for Tuesday's print edition that first hit the online version late Monday, Cohen analogizes the Masters of the Universe on Wall Street to scummy used car salesmen:
As a mere youth, I bought a used car in New York to drive to California to be with the woman of my dreams. Inexplicably, she decided to rush back to New York, so I promptly took the car back to the dealer. He made a shockingly low offer. The car had been in an accident, he explained. The chassis was bent. I was flabbergasted. I had just bought the car from him. If the chassis was bent, it was bent when I bought it. The salesman offered me a take-it-or-leave-it shrug. He probably now works on Wall Street.

That the morality of the used car lot has been adopted by Wall Street is now abundantly clear. Citigroup recently settled a civil complaint in which it was accused of selling mortgage-related investments that it knew were dogs. It was so certain that the investments were the financial equivalent of my used car that it bet against them — heads I win, tails you lose — and even selected the investments themselves, choosing from a cupboard of depleted and exhausted financial instruments. An investment in the Brooklyn Bridge would have been safer.
Go read the whole piece. Seriously.
Cohen punches Wall Street, Goldman Sachs, outrageously crooked and belligerent New York cops, Citigroup, JP Morgan Chase and the SEC. It is a once in a lifetime thing of Cohen beauty.
Next thing you know America's Concern Troll will be slinging hash down at Zuccotti Park with the #OWS denizens.
https://www.emptywheel.net/wp-content/uploads/2016/07/Logo-Web.png
0
0
bmaz
https://www.emptywheel.net/wp-content/uploads/2016/07/Logo-Web.png
bmaz
2011-11-01 09:09:50
2011-11-01 09:09:50
Blind American Concern Troll Finds Nut