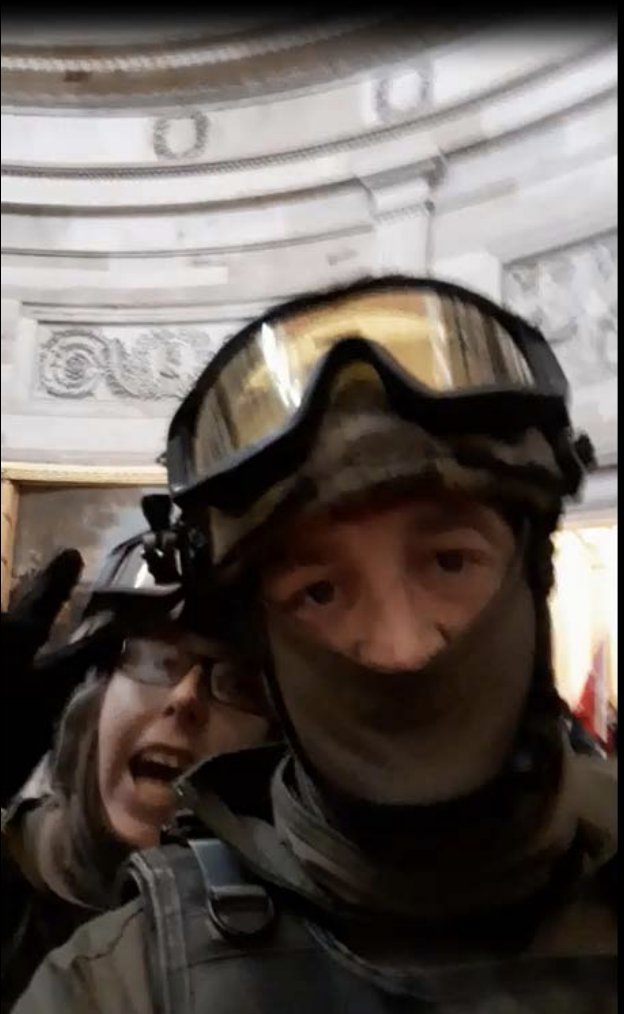 Yesterday, DOJ indicted the three members of the Oath Keepers previously charged with a conspiracy: Thomas Edward Caldwell, Donovan Ray Crowl, and Jessica Marie Watkins.  I would be shocked if this indictment didn't serve as a building block for a larger — potentially much larger — conspiracy. Which is why I'm interested in what the indictment includes and excludes in this first release.
The indictment adds details describing the planning and intent of the conspiracy. It shows Watkins planning around the inauguration as early as November 9, the day Trump's enablers were claiming his efforts to undermine the election might serve as an "off-ramp."
On November 9, 2020, WATKINS sent text messages to a number of individuals who had expressed interest in joining the Ohio State Regular Militia. In these messages, WATKINS mentioned, among other things, that the militia had a week-long "Basic Training class coming up in the beginning of January," and WATKINS told one recruit, "I need you fighting fit by innaugeration." [sic] WATKINS told another individual, "It's a military style basic, here in Ohio, with a Marine Drill Sergeant running it. An hour north of Columbus Ohio[.]"
She also spoke in apocalyptic terms about a Biden presidency.
I can't predict. I don't underestimate the resolve of the Deep State. Biden may still yet be our President. If he is, our way of life as we know it is over. Our Republic would be over. Then it is our duty as Americans to fight, kill and die for our rights.

[snip]

[I]f Biden get the steal, none of us have a chance in my mind. We already have our neck in the noose. They just haven't kicked the chair yet.
The indictment also includes language making it clear that Watkins believed she was responding to Trump's instructions.
On December 29, 2020, CROWL and .WATKINS exchanged the following text messages:

WATKINS: You still going to Illinois? We plan on going to DC on the 6th, weather permitting.

CROWL: No . …. What's going on on the 6th?

WATKINS: DC. Trump wants all able bodied Patriots to come. I'm sure Tom would love to see us as well.

WATKINS: If Trump activates the Insurrection Act, I'd hate to miss it[.]
Because of that and the way the indictment lays out the conspiracy, it makes the details not included in the indictment far more interesting.
The indictment includes a remarkably clear description of the goal and means of the conspiracy. The goal of the conspiracy was to stop Congress' certification of the vote.
Purpose of the Conspiracy

18. The purpose of the conspiracy was to stop, delay, and hinder Congress's certification of the Electoral College vote.

Manner and Means

19. CALDWELL, CROWL, and WATKINS, with others known and unknown, carried out the conspiracy through the following manner and means, among others, by:

a. Agreeing to participate in and taking steps to plan an operation to interfere with the official Congressional proceeding on January 6, 2021 (the "January 6 operation");

b. Using social media, text messaging, and messaging applications to send incendiary messages aimed at recruiting as large a following as possible to go to Washington, D.C., to support the January 6 operation;

c. Coordinating in advance with others, including members of the Oath Keepers from other regions, and joining forces with these individuals and groups to further the January 6 operation;

d. Using a walkie-talkie-like application, and creating a channel on it named "Stop the Steal J6," to make plans for and to communicate during the January 6 operation;

e. Traveling to and meeting up in Virginia, and continuing together into Washington, D.C., for the January 6 operation;

f. Bringing and contributing paramilitary gear and supplies for the January 6 operation;

g. Forcibly storming past exterior barricades, Capitol Police, and other law enforcement officers, and entering the Capitol complex in furtherance of the January 6 operation; and,

h. After January 6, 2021, concealing evidence of their involvement in the January 6 operation and attack on the Capitol.
While many of the means included military planning, the first two items were simply planning to interfere with the certification and "recruiting as large a following as possible" to participate.
Remember: under conspiracy law, each member of a conspiracy need only agree on a common goal, agree to participate in it, and take an overt act in furthering the conspiracy — an act that doesn't even, by itself, have to be illegal.
And Watkins, here, not only cites Trump's goal of wanting, "all able bodied Patriots to come" to DC, but she also describes the plan pushed by Mike Flynn, the invocation of the insurrection act.
Trump and Flynn conveyed those plans on Twitter. They both,
Us[ed] social media, text messaging, and messaging applications to send incendiary messages aimed at recruiting as large a following as possible to go to Washington, D.C., to support the January 6 operation;
It would be child's play to include them in this conspiracy (though the manner and means would likely be expanded to include other steps the two of them took). Indeed, laid out like this, not eventually including at least those around Trump in this indictment would require some lengthy explanation.
Then there's this passage that was included in the complaint but not included in the indictment, easily the most chilling language from the complaint.
On January 6, 2021, while at the Capitol, CALDWELL received the following Facebook message: "All members are in the tunnels under capital seal them in . Turn on gas". When CALDWELL posted a Facebook message that read, "Inside," he received the following messages, among others: "Tom take that bitch over"; "Tom all legislators are down in the Tunnels 3floors down"; "Do like we had to do when I was in the core start tearing oit florrs go from top to bottom"; and "Go through back house chamber doors facing N left down hallway down steps."
It's possible DOJ excluded that paragraph from the indictment because they learned it was not actually part of the conspiracy (which would be surprising, given that it was sent while Caldwell was in the Capitol).
It's also possible that this language reflects coordination with people against whom the case still must be developed. Whoever it was not only appears to have had a detailed understanding of the Capitol, but may have had updates about the movement of members of Congress.
Just as one possibility, this person might have been one of the people who allegedly got a Capitol tour the day before the insurrection. This person may have been getting updates from insiders — up to and including Lauren Boebert, who twice tweeted about Nancy Pelosi's movements during the riot.
In other words, this person appears to be a pivot between the terrorists and those giving them inside instruction. DOJ will likely keep what it knows about that part of the operation under wraps until it develops it much further.
Then there are three other people alluded to in the indictment:
PERSON ONE, who the conspirators expected might, but did not, provide leadership for this operation. He is referred to as "Stewie" in the complaint, which DOJ took to be a reference to the head of the Oath Keepers, Stewart Rhodes.
PERSON TWO, who appears to be Caldwell's spouse. She joined him in breaching the Capitol, and if prosecutors wanted to pressure him to plead, they could threaten to include her.
PERSON THREE appears to be the lead of a group of North Carolina Oath Keepers who came to DC on a bus. That person and the people he or she brought are likely to be added to this indictment.
Those three people, including to those who directed the Oath Keepers how to navigate the Capitol and the Trump associates who incited them to come might all one day be included in this or a related indictment.
Again, I'm not guaranteeing that DOJ will be brave enough to name Trump in this conspiracy. But if they don't, there will be real question how they avoided it.
https://www.emptywheel.net/wp-content/uploads/2021/01/Screen-Shot-2021-01-28-at-4.34.53-PM.png
1014
624
emptywheel
https://www.emptywheel.net/wp-content/uploads/2016/07/Logo-Web.png
emptywheel
2021-01-28 12:28:02
2021-01-29 11:56:42
Tunnels and Trump: The Missing Details in the Oath Keeper Conspiracy