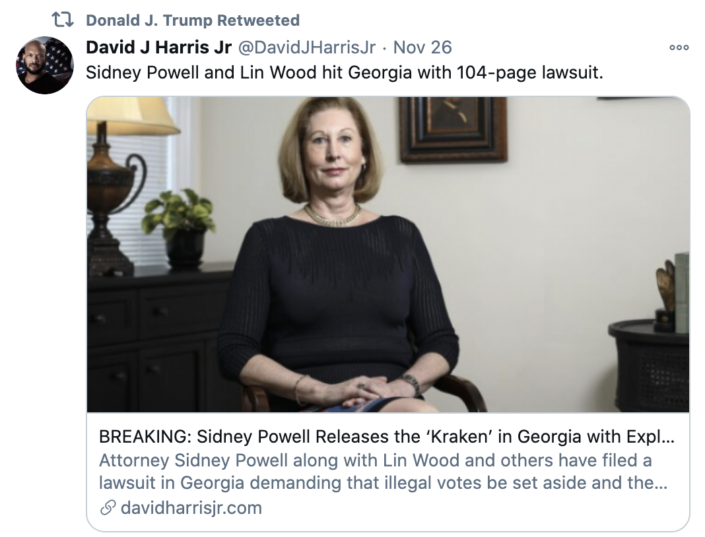 Trump's Federated Conspiracies and Racketeering: How Georgia and the Federal Charges May Interact
The Georgia indictment and Trump's federal indictment tell the same story. But those stories have some key differences, that will create an interesting prisoner's dilemma for those involved. The different exposure of Sidney Powell in both and the different treatment of Ruby Freeman show how they're different.
Sidney Powell's lawsuits and alleged hacking
The last overt act described in the federal indictment against Donald Trump describes how, at 3:41AM, Mike Pence certified the election for Joe Biden.
123. At 3:41 a.m. on January 7, as President of the Senate, the Vice President announced the certified results of the 2020 presidential election in favor of Biden.
But two of the charged conspiracies — the 18 USC 371 conspiracy to defraud the US and the 18 USC 241 conspiracy against rights — go through January 20. Since they are charged as conspiracies, anything Trump's co-conspirators said and did after January 6 can also be used to prove the case against Trump.
That's particularly notable for Trump's Crazy Kraken Conspirator, Sidney Powell. As noted, the only overt act of hers described in Trump's federal indictment has to do with her lawsuits targeting Dominion.
Those lawsuits don't figure in the Georgia indictment at all — not even the November 25 one against Georgia explicitly described in the federal indictment. Instead, Powell's primary criminal exposure in the Georgia indictment has to do with her conspiracy to get access to Dominion data from Coffee County, a conspiracy that — the Georgia indictment alleges — started on December 1, continued through their access of the data on January 7, after which the data continued to be exploited until at least April. Powell's larger effort to exploit Dominion data, even that obtained in Michigan, plays a part in the RICO conspiracy.
In the federal case, Powell's lawsuits serve both to justify backstopping of the electoral certification (meaning, you had to have lawsuits to justify having fake electors) and to prove that Trump was magnifying fraud claims from someone — Powell — everyone openly labeled as batshit. If and when Jack Smith ever adds charges — against Powell, Trump, or his PAC — for fraudulent fundraising, his embrace of claims sourced to Powell will be important to prove he knew he was lying in his fundraising.
In the Georgia case, by contrast, she is charged with outright conspiracy to illegally access computers and election fraud associated with accessing the Dominion data.
The overall arc of the conspiracies is the same; the criminal exposure is radically different.
Death threats and interstate entrapment efforts
Paragraph 26 of the federal indictment describes how Rudy Giuliani lied in a Georgia hearing, including but not limited to about Ruby Freeman and Shaye Moss, which resulted in death threats.
26. On December 10, four days before Biden's validly ascertained electors were scheduled to cast votes and send them to Congress, Co-Conspirator 1 appeared at a hearing before the Georgia House of Representatives' Government Affairs Committee. Co-Conspirator 1 played the State Farm Arena video again, and falsely claimed that it showed "voter fraud right in front of people's eyes" and was "the tip of the iceberg." Then, he cited two election workers by name, baselessly accused them of "quite obviously surreptitiously passing around USB ports as if they are vials of heroin or cocaine," and suggested that they were criminals whose "places of work, their homes, should have been searched for evidence of ballots, for evidence of USB ports, for evidence of voter fraud." Thereafter, the two election workers received numerous death threats.
Prosecutors are well aware of the import of Trump's bullying — they made it part of their bid for a protective order. But, probably in an effort to stave off any real claim about charging First Amendment protected speech, such bullying is not charged, not even Trump's targeting of Mike Pence.
The Georgia indictment, as Rick Hasen also notes, focuses much more on crimes targeting Freeman and Moss.
Rudy is charged for the lies he told on December 10 in Count 7. He and Ray Stallings are charged with soliciting Georgia Representatives to violate their oaths in Count 6.
But in addition to that, Lutheran minister Steve Lee is charged with two counts for trying to trick Freeman, once on December 14 and again on December 15, into confessing to voter fraud that didn't happen. And he is charged along with Kanye's publicist, Trevian Kutti, and Black Votes for Trump official Harrison Floyd with another attempt to get her to confess to voter fraud on January 4 and an attempt to get her to lie to the state.
These are alleged crimes that arise from Freeman's status as a Fulton County election worker and as such are properly the concern of Fani Willis, not Jack Smith.
All of which is to say that even though both the RICO charge and Trump's conspiracies map the same conduct, they tie to different crimes, with different kinds of exposure for different people.
Prisoner's Dilemma: Already Charged Co-Conspirators versus Not-Yet Charged Co-Conspirators
One way the Georgia and federal indictments will interact is in the relative pressure between already being charged, in a state with strict pardon rules, and being not-yet charged, in a venue where Trump has pardoned his way out of criminal trouble in the past.
Five people are named as co-conspirators in both: Rudy (CC1 in the federal indictment), John Eastman (CC2), Powell (CC3), Jeffrey Clark (CC4) and Ken Chesebro (CC5).
Some of these people, like Sidney Powell, Trump might not consider pardoning in any case. Plus, Trump's closest associates have spent the last week or so throwing her under the bus. But thus far at least, Powell's personal legal risk is far greater in Georgia than federally.
Others, though, may think seriously about how much harder it would be to get a pardon for Georgia than a Federal indictment, where the next Republican President, possibly including Donald Trump, would be able to pardon them.
In other words, if people who are likely to be indicted by Jack Smith think the charges in Georgia are at all serious, they may flip sooner rather than later, which will likely lead them to cooperate in the DC case as well.
There's a reason why prisoner's dilemma is the basis for so much game theory. The way these two competing indictments intersect may rewrite that doctrine, something called Trump defendant dilemma.
Then consider the timing. Later this month — potentially on August 28, three days after all Willis defendants have to turn themselves in — Jack Smith's prosecutors will fight for a January 2 trial date, which is ambitious. Last night, Fani Willis said she wanted to bring all 19 defendants to trial within 6 months, which would be late February or March.
Even if one or both of those dates would hold, it might require Alvin Bragg be willing to reschedule his own trial on the hush payment cover-up.
But if even just one of these trials goes forward on such an ambitious schedule, it would mean that this Trump defendant dilemma will be playing out even as GOP primary voters go to the polls.
The Bubble Three
One of the most interesting other ways the Georgia indictment and the federal one will interact is in how the three men on the bubble — Mike Roman, Boris Epshteyn, and Mark Meadows — respond. While we're not yet sure whether Boris or Roman is CC6 in the federal indictment, there's more support right now for it being Boris. Both men had their phones seized by DOJ in September. Both men sat (or said they'd sit) for proffers with Jack Smith's team; neither has been (publicly) charged by DOJ yet.
Roman is charged in the Georgia indictment, both with the RICO charge and the Trump side of each of the fake elector charges. He's the guy who was interacting directly with people in Georgia (and with CC4, Robert Sinners, who cooperated even with the January 6 Committee). If Roman actually did start cooperating with Jack Smith's team, there'd be no down-side to doing so with Willis' team, either.
Boris, by contrast, is almost certainly CC3; Act 109, describing a Chesebro email to Eastman and CC3 matches this passage from the January 6 Report.
By that point, Chesebro and Eastman were coordinating their arguments about the fake-elector votes and how they should be used. On January 1, 2021, Chesebro sent an email to Eastman and Epshteyn that recommended that Vice President Pence derail the joint session of Congress. In it, he raised the idea of Vice President Pence declaring "that thereare two competing slates of electoral votes" in several States, and taking the position that only he, or possibly Congress, could "resolve any disputes concerning them."122
So Boris is not facing the charges that can't be pardoned but may he facing the charges that can be.
Finally, there is Meadows. The slim exposure for Meadows in this indictment — he is charged in the RICO charge and the solicitation charge tied to the Raffensperger call — may explain why he was not listed as a co-conspirator, yet, for the Jack Smith indictment. The most damning acts attributed to him in the indictment were:
Sometime in December: Meeting with Johnny McEntee and asking him for a plan to throw out half the electoral votes in some states
December 22: Unsuccessfully attempting to enter the audit site in Georgia
December 27: Offering Trump campaign funds if it would help get signature verification done by January 6
Other than that, Meadows' actions entail setting up phone calls on which Trump lied and solicited unlawful acts. Meadows has a superb lawyer and might try his luck with these charges.
If any of these men cooperated — if any already is (though I really think Meadows is not) — then it would provide both prosecutors a pivotal person in the conspiracies (and, in Boris' case, the stolen documents conspiracy as well).
As I said above, the interaction of these two indictments, along with the uncertainty as Jack Smith continues to investigate, creates a fierce game of prisoner's dilemma. And that's before Smith charges any financial crimes tied to fraudulent fundraising.
Update: Meadows has moved to remove the charges against him to federal court — a move he may have more success doing than Trump.
https://www.emptywheel.net/wp-content/uploads/2021/12/Powell.png
537
705
emptywheel
https://www.emptywheel.net/wp-content/uploads/2016/07/Logo-Web.png
emptywheel
2023-08-15 13:28:57
2023-08-15 17:42:45
Trump's Federated Conspiracies and Racketeering: How Georgia and the Federal Charges May Interact