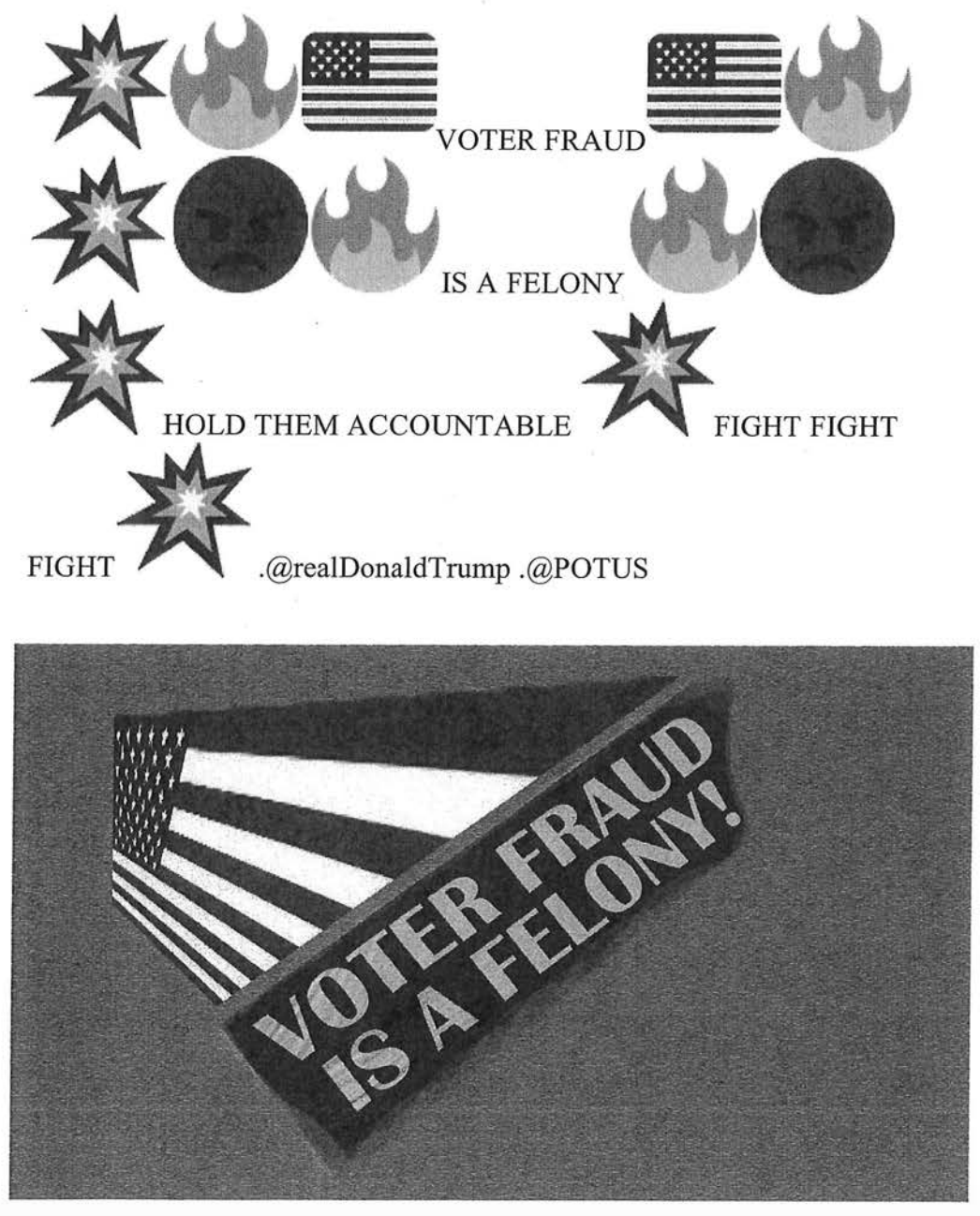 Trump's New Appellate Argument about His 100 Million Imaginary Friends
Judge Tanya Chutkan issued her order denying Trump a stay of her gag order on October 29.
That was admittedly a Saturday. Nevertheless, it took Trump four days before he ran to the DC Circuit to cry about an emergency infringement on the First Amendment rights of him and his mob.
He took those four days even as he demanded that the DC Circuit — which had been expecting Trump's initial brief on November 8 — rule on this motion by November 10.
The Court should stay the Gag Order pending appeal. In addition, President Trump respectfully requests that the Court enter a temporary administrative stay pending resolution of this motion and issue its ruling by November 10, 2023. If the Court denies this motion, President Trump requests that the Court extend its administrative stay for seven days to allow him to seek relief from the U.S. Supreme Court.
During those four days that Trump didn't file for a stay, John Lauro found time to file three different things (one, two, three) in Judge Chutkan's docket. In those four days, Trump posted a slew of attacks on Joe Biden, the 2020 election, and his prosecution (though admittedly many of the recent posts targeted Arthur Engoron), many of them attacks that — he claims — this gag prevents him from making.
I'll leave it to smarter people to explain the posture that leaves this case.
What I'm more interested in are the arguments that Trump makes that should not withstand prolonged scrutiny, at least not at the DC Circuit, arguments that are surely designed to trigger the interest of Sam Alito and Clarence Thomas.
In his appeal, Trump argues — substantially for the first time — that his gag subjects him to viewpoint discrimination. There's a very short section dedicated to the topic, citing an inapt precedent.
7. The Gag Order reflects forbidden viewpoint discrimination.

By forbidding speech that "target[s]" certain individuals, the Gag Order prohibits only (vaguely defined) negative speech about them. See infra, Part I.C. In Matal v. Tam, the Supreme Court held that prohibiting only negative or "disparaging" speech constitutes forbidden viewpoint discrimination. 582 U.S. 218, 243 (2017) (plurality opinion). Such a prohibition "constitutes viewpoint discrimination—a form of speech suppression so potent that it must be subject to rigorous constitutional scrutiny." Id. at 247 (Kennedy, J., concurring in part and concurring in the judgment). To prohibit "disparaging" speech "reflects the Government's disapproval of a subset of messages it finds offensive. This is the essence of viewpoint discrimination." Id. at 249; see also R.A.V., 505 U.S. at 391- 92. The Gag Order violates these principles
Trump lards the rest of the discussion with claims that a gag tied to the crimes alleged against Trump amounts to censorship of right wing views.
Based this speculation, the district court entered a sweeping, viewpoint-based prior restraint on the core political speech of a major Presidential candidate, based solely on an unconstitutional "heckler's veto." The Gag Order violates the First Amendment rights of President Trump and over 100 million Americans who listen to him.

[snip]

President Trump's viewpoint and modes of expression resonate powerfully with tens of millions of Americans. The prosecution's request for a Gag Order bristles with hostility to President Trump's viewpoint and his relentless criticism of the government—including of the prosecution itself. The Gag Order embodies this unconstitutional hostility to President Trump's viewpoint. It should be immediately stayed.

[snip]

As a viewpoint-based prior restraint on the core political speech of a Presidential candidate to an audience of over 100 million Americans, the Gag Order is virtually per se invalid.
There are nine appearances of the word "viewpoint" in the entire appendix. All appear in Trump's filings bidding for a stay, not his underlying opposition to the gag. But all of those also appear as part of an argument about political speech — an important argument, but one largely divorced from the circumstance of this gag, not as a free-standing argument about the free speech of nutjob right wingers.
That argument is closely related to (and builds on) another argument that Trump belatedly raised: that gagging his speech harms the First Amendment rights of his 100 million followers.
4. The Gag Order violates the rights of tens of millions of Americans to receive President Trump's speech.

The First Amendment's "protection afforded is to the communication, to its source and to its recipients both." Va. State Bd. of Pharmacy v. Va. Citizens Consumer Council, Inc., 425 U.S. 748, 756 (1976) (citing many cases); Packingham v. North Carolina, 582 U.S. 98, 104 (2017) (recognizing the right to "speak and listen, and then … speak and listen once more," as a "fundamental principle of the First Amendment"); Red Lion Broad. Co. v. F.C.C., 395 U.S. 367, 390 (1969). A restriction on President Trump's speech inflicts a reciprocal injury on the rights of over 100 million Americans who listen to him, irrespective of their political beliefs.

This right of listeners to receive President Trump's message has its "fullest and most urgent application precisely to the conduct of campaigns for political office," especially for the Presidency. Susan B. Anthony List, 573 U.S. at 162. Ford emphasized that, if Congressman Ford were silenced, "reciprocally, his constituents will have no access to the views of their congressman on this issue of undoubted public importance." 830 F.2d at 601. Likewise, Brown stated that "[t]he urgency of a campaign … may well require that a candidate, for the benefit of the electorate as well as himself, have absolute freedom to discuss his qualifications…." 218 F.3d at 430.
In Trump's appeal, he doesn't cite evidence supporting this number, but — as I already noted — the underlying motion relies on garbage double counting of bots on the Twitter platform Trump no longer uses. Given that this argument is based on fraudulent numbers, it amounts to a defense of the First Amendment rights to listen of Trump's imaginary friends, including the Russian bots the now-deceased Yevgeniy Prigozhin deployed to fuck with US politics.
The problem with this argument is, as DOJ noted in its response to Trump's bid for a gag, Trump misrepresented the record on that point.
11 The defendant did not invoke these interests in his response to the Government's motion for an order under Local Criminal Rule 57.7(c). And while the defendant claims to have invoked these interests at the hearing, only to have been unfairly interrupted by the Court (ECF No. 110 at 17), his citations mischaracterize the record. For example, he asserts (id.) that the Court interrupted him in response to his statement, "And what the government is proposing here is an order not just directed against President Trump but against the American electorate that wants to hear from President Trump under these circumstances." The Court did not, in fact, interject in response to that point. See ECF No. 103 at 44. Rather, it was only several sentences later, after defense counsel returned to his oft-repeated talking point that "[t]his is the first time we've had a sitting administration prosecute a political opponent" that the Court responded, "I'm going to interrupt you. . . . You have said that. You have said it repeatedly. I have heard it." Id. Likewise, the defendant asserts (ECF No. 110 at 17) that, when counsel said, "The American people are entitled to understand that and understand the consequences of that," the Court simply responded, "No." The Court did no such thing. After defense counsel's comment, the Court asked why the defendant "is entitled to suggest that an appropriate punishment would be death." ECF No. 103 at 59-60. When defense counsel invoked the First Amendment in response, the Court said, "No. As part of that. But again, the First Amendment protections must yield to the administration of justice and the protection of witnesses." Id.
In a footnote of Judge Chutkan's order denying the stay, she agreed.
Defendant's Motion argues that his speech restrictions are inconsistent with the "right of listeners to receive President Trump's message." Motion to Stay at 15. Defendant did not squarely raise that argument in his opposition brief to the government's original motion; the closest he came to identifying any authority for it was an unrelated "see also" citation to United States v. Ford, 830 F.2d 596, 598 (6th Cir. 1987), a case that he now quotes to support his right-of-listeners argument. Compare ECF No. 60 at 5, with Motion to Stay at 16. But the court expressly addressed and distinguished that case. Order at 2–3. In any event, the argument does not alter the fundamental principle that First Amendment rights, whether those of the speaker or the listener, may be curtailed to preclude statements that pose sufficiently grave threats to the integrity of judicial proceedings.
Undeterred by that footnote, Trump argues that Chutkan's failure to address something he didn't raise is her reversible error, not a waiver on his part.
Though the issue was raised repeatedly, A159-60, A165, A178; A47, A62-63, the district court gave the First Amendment rights of President Trump's audiences no meaningful consideration. The Gag Order does not mention them, see A1-3, and the district court declined to consider them when President Trump raised them, e.g., A47, A62-63. That is reversible error.
I've linked two of the spots in the record, above, where John Lauro imagines he raised this — A47, which he cites twice, was in the oral arguments, not the underlying brief. None was a substantive argument about his imaginary 100 million friends. Here's the appendix if you want to see if you can find what other things he is citing to.
There are other problems with this appeal. Trump doesn't address the part of Chutkan's order that explicitly permits Trump to attack, "the current administration or the Department of Justice." Trump does not engage, at all, with the evidence DOJ submitted of expected trial witnesses testifying under oath about how mobs started threatening them after Trump tweeted mean things. Notably, Trump's citations to the government's examples of threats that Trump made between August 2 and September 26 doesn't cite to the footnotes in the government response that reference the threat — made the day after the linked threat, "if you come after me I'm coming after you" — to Judge Chutkan herself.
By the time the Gag Order was entered, the case had been pending for almost three months, and President Trump had often spoken about it. The prosecution provided seventeen examples of public statements by President Trump between August 2 and September 26, 2023, that it considered objectionable. A140-46; A190- 91. However, it did not produce any evidence that any prosecutor, witness, or court staffer experienced "threats" or "harassment" after President Trump's speech. Likewise, it did not produce any evidence that any witness or prosecutor felt threatened or intimidated by President Trump's speech—however subjectively—during three months of President Trump's public commentary on the case. See A140-46; A190-91.
Lauro claims DOJ didn't present any evidence that anyone, including court staffers but not the judge herself, felt intimidated by threats that followed on Trump's incitement and simply ignores that footnote. But someone in Judge Chutkan's chambers alerted the Marshals after that threat, and the FBI deemed it sufficiently dangerous to arrest Abigail Jo Shry for making it.
So there are other problems with this appeal, exhibiting the same obstinate refusal to address the record as it stands that Judge Chutkan described in her opinion refusing the stay.
But the key dynamic, in my opinion, is that Trump is trying to refashion his argument to trigger the known biases of Sam Alito and Clarence Thomas. But he's doing so — launching a bid to protect the First Amendment rights of his imaginary friends — after the fact.
This is not a frivolous argument. The legal arguments should bear the weight of the historic decision that ultimately will result.
But instead of making serious arguments, John Lauro has pitched the Supreme Court's right wing justices an argument about Trump's imaginary Twitter friends.
Update: A DC Circuit panel of 3 Democratic appointees (Obama, Obama, Biden) has stayed the gag and ordered and set an expedited briefing that is quick enough SCOTUS is unlikely to have any reason to intervene.
PER CURIAM ORDER [2025399] filed considering motion to stay case [2025149-2], ORDERED that the district court's October 17, 2023, order be administratively stayed pending further order of the court. Further ordered that his case be expedited. setting briefing schedule: APPELLANT Brief due 11/08/2023, at 5:00 p.m.. APPENDIX due 11/08/2023, at 5:00 p.m.. APPELLEE Brief due on 11/14/2023, at 5:00 p.m., APPELLANT Reply Brief due 11/17/2023, at 12:00 p.m., scheduling oral argument on Monday, 11/20/2023. Before Judges: Millett, Pillard and Garcia. [23-3190] [Entered: 11/03/2023 05:06 PM]
https://www.emptywheel.net/wp-content/uploads/2018/10/Screen-Shot-2018-10-20-at-10.11.16-AM.png
1298
1046
emptywheel
https://www.emptywheel.net/wp-content/uploads/2016/07/Logo-Web.png
emptywheel
2023-11-03 10:33:51
2023-11-03 17:24:37
Trump's New Appellate Argument about His 100 Million Imaginary Friends