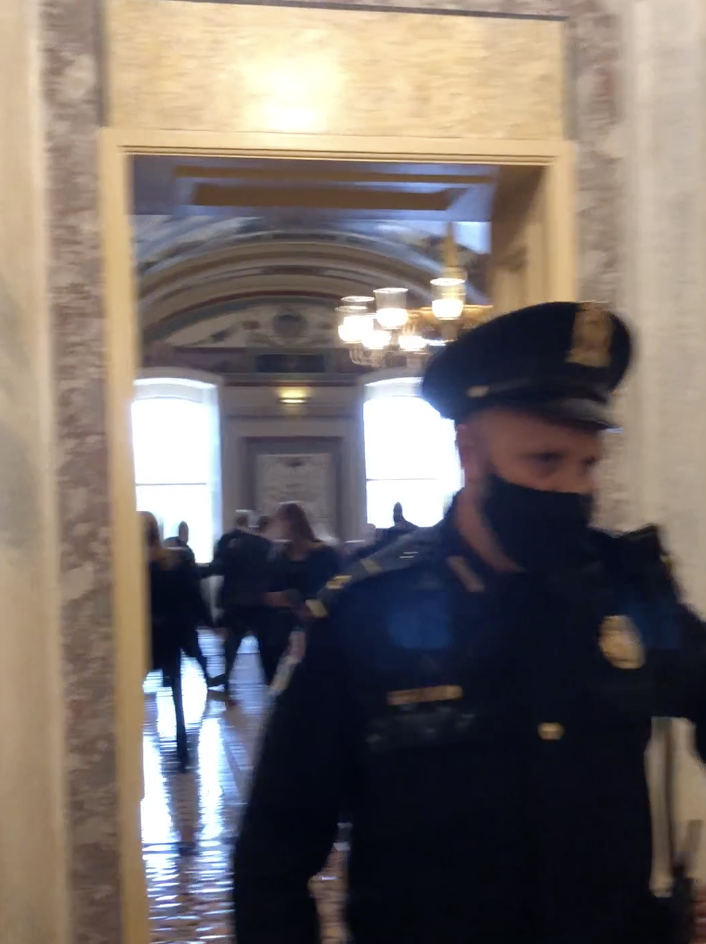 In response to Tucker Carlson's misleading propaganda claiming that Jacob Chansley was just a peaceful tourist escorted at all times by his own dedicated cop, a number of January 6 defendants are demanding mistrials because of claimed Brady violations.
Dominic Pezzola's attorneys, for example, argued that the video released by Tucker shows that the Senate never had to recess, which (they claim) undermines the government's obstruction claim against the Proud Boys.
Never during this trial has there been any evidence of any raucous or extremely disruptive or violent demonstration in the Senate chamber. (There have been a few images of demonstrators sitting on chairs or standing in the well of the Senate.)

Then came the Tucker Carlson show on the evening of March 6, 2023.

On March 6, Tucker Carlson released shocking footage from January 6th, 2021 that showed "QAnon Shaman" Jacob Chansley walking calmly through the halls of the Capitol with two Capitol Police officers. At one point, one of the officers appears to try opening a door or elevator, and then turns and leads Chansley in another direction. Later in the video clips, Chansley is seen walking past nine police officers gathered in a hallway intersection. Chansley and his police escorts walk right past the nine officers without any resistance.

And then the Tucker Carlson show presented footage of officers calmly escorting Chansley (and apparently other protestors) into the Senate chamber. The Washington Post wrote that Albert Watkins, Chansley's attorney through sentencing in November 2021, said he had been provided many hours of video by prosecutors, but not the footage which Carlson aired Monday night. He said he had not seen video of Chansley walking through Capitol hallways with multiple Capitol Police officers.

"What's deeply troubling," Watkins said Tuesday, "Is the fact that I have to watch Tucker Carlson to find video footage which the government has, but chose not to disclose, despite the absolute duty to do so. Despite being requested in writing to do so, multiple times." [emphasis original]
The government's response lays out that, in fact, both Chansley's attorneys and Pezzola's received this video in global discovery (there was a 10-second segment not released until January that was not exculpatory, which likely shows a Senator fleeing even as Pezzola stands just feet away — see below).
Pezzola's motion describes "shocking footage" of Chansley "walking calmly through the halls of the Capitol" with two police officers who purportedly "escort[] Chansley (and apparently other protestors) into the Senate chamber." ECF 679, at 4. Pezzola quotes Chansley's former attorney for the proposition that the government "withheld" this footage from discovery in Chansley's and Pezzola's cases. Id. The footage is not shocking, and it was not withheld from Pezzola (or Chansley, in any material respect, for that matter).

The footage in question comes from the Capitol's video surveillance system, commonly referred to as "CCTV" (for "closed-circuit television"). The Court will be familiar with the numerous CCTV clips that have been introduced as exhibits during this trial. The CCTV footage is core evidence in nearly every January 6 case, and it was produced en masse, labeled by camera number and by time, to all defense counsel in all cases.3 With the exception of one CCTV camera (where said footage totaled approximately 10 seconds and implicated an evacuation route), all of the footage played on television was disclosed to defendant Pezzola (and defendant Chansley) by September 24, 2021.4 The final 10 seconds of footage was produced in global discovery to all defense counsel on January 23, 2023. Pezzola's Brady claim therefore fails at the threshold, because nothing has been suppressed. United States v. Blackley, 986 F. Supp. 600, 603 (D.D.C. 1997) ("For an item to be Brady, it must be something that is being 'suppress[ed] by the prosecution.'") (quoting Brady v. Maryland, 373 U.S. 83, 87 (1963)).

While discovery in this case is voluminous, the government has provided defense counsel with the necessary tools to readily identify relevant cameras within the CCTV to determine whether footage was produced or not. Accordingly, the volume of discovery does not excuse defense counsel from making reasonable efforts to ascertain whether an item has been produced before making representations about what was and was not produced, let alone before filing inaccurate and inflammatory allegations of discovery failures.

3 The productions excluded a limited set of footage that the Capitol Police designated as security information, such as X-Ray machine feeds and views of evacuation routes and Sensitive Compartmented Information Facility ("SCIF") office lobbies.

4 The remaining CCTV was disclosed in global discovery on January 23, 2023. It similarly – as with other CCTV – depicts defendant Chansley outside of the Senate Chamber with law enforcement, after his initial breach of the Chamber.
It's hard to overstate how much this exchange vindicates DOJ's decision to make all the January 6 video available to all defendants, which delayed trials for probably six months, but which ensured that at the moment defendants like Chansley and Pezzola started claiming they didn't get something, DOJ could point to when they in fact did receive it.
DOJ rebuts Pezzola's argument that any of this is exculpatory, relying, in part, on former Army Staff Sergeant Joe Biggs' description of overwhelming the Capitol.
Pezzola's argument seems to be that the snippets of Chansley's movements that were televised by Carlson establish that there was no emergency necessitating the suspension of proceedings. The televised footage lacks the context of what occurred before and after the footage. Chansley entered the building as part of a violent crowd that gained access as a result of Pezzola's destruction of a window and he traveled with Pezzola during the initial breach. And just as Defendant Biggs had recounted in a recorded statement after January 6, 2021, by the time Pezzola forcibly breached the Capitol and Chansley rode his coattails, the mob—through the sheer force of its size and the violence of those within it—had wrested control of portions of the Capitol grounds and the Capitol itself from a vastly outnumbered U.S. Capitol Police force. 5 As a result, for a period that afternoon, those defending the Capitol were in triage mode—trying to deal with the most violent element of those unlawfully present, holding those portions of the Capitol that had not yet been seized by rioters, and protecting those Members and staffers who were still trapped in the Capitol.

5 Biggs stated, in part: "When you're holding a position, like a fort, and you're being overrun, if there's three of you or four of you, and you're outnumbered a hundred to one, are you gonna sit there and just go, 'I'm holding the door'? No, you're just gonna get your ass beat. That's already gone. if that many people show up to your house, there's nothing you can do about it." Gov't Ex. 611B. Biggs later continued, "You're gonna stand up to [] tens of thousands of people storming that? No, that's stupid. You step [] aside. That puts less chance of anyone getting hurt or anything like that, and you allow it to happen." Id.
DOJ also lays out specifically how Tucker chose to release only video from after the damage — in the form of the violent breach of the Capitol and the decision to flee the Senate — had been done.
Chansley piggybacking on Pezzola's violent breach of the Capitol provides more than enough evidence of his corrupt intent to interfere with Congress that day. But there is much more evidence of his and others' conduct. The televised footage shows Chansley's movements only from approximately 2:56 p.m. to 3:00 p.m. Prior to that time, Chansley had, amongst other acts, breached a police line at 2:09 p.m. with the mob, entered the Capitol less than one minute behind Pezzola during the initial breach of the building, and faced off with members of the U.S. Capitol Police for more than thirty minutes in front of the Senate Chamber doors while elected officials, including the Vice President of the United States, were fleeing from the chamber. Chansley then entered the Senate Gallery, where he proceeded to scream obscenities while other rioters rifled through the desks of U.S. Senators on the floor below. All these actions were captured by Senate floor and/or CCTV cameras. In sum, Chansley was not some passive, chaperoned observer of events for the roughly hour that he was unlawfully inside the Capitol. He was part of the initial breach of the building; he confronted law enforcement for roughly 30 minutes just outside the Senate Chamber; he gained access to the gallery of the Senate along with other members of the mob (obviously, precluding any Senate business from occurring); and he gained access to and later left the Senate floor only after law enforcement was able to arrive en masse to remove him. It is true that a sole officer, who was trying to de-escalate the situation, was with Chansley as he made his way to the Senate floor after initially breaching the Chamber, as the televised footage reflects.6 But the televised footage fails to show that Chansley subsequently refused to be escorted out by this lone officer and instead left the Capitol only after additional officers arrived and forcibly escorted him out.

6 Notably, this officer's statement regarding these events was also disclosed in discovery to Chansley's attorney on May 19, 2021.
It's a classic lesson in how propaganda is made, by focusing on the least damning part of a story and suppressing the rest. It happens to have been released in the same period where the Dominion lawsuit revealed that Tucker's then investigative producer, Alex Pfeiffer, likened Tucker's own viewers to "dumb," "cousin-fucking" "terrorists."
"Might wanna address this, but this stuff is so f—— insane. Vote rigging to the tune of millions? C'mon," Shah wrote.

Carlson's producer, Alex Pfeiffer, responded: "It is so insane but our viewers believe it so addressing again how her stupid Venezuela affidavit isn't proof might insult them."

Shah advised that Carlson should mention the affidavit noting it was "not new info, not proof" but then quickly "pivot to being deferential."

Pfeiffer, who has since left the network, answered that the delicate dance was "surreal."

"Like negotiating with terrorists," he added, "but especially dumb ones. Cousin f—– types not saudi royalty."
The kerfuffle also gave journalists an opportunity to go back and ask for the video used in the Chansley case to be released to journalists.
One of the videos newly released to journalists shows the mob closing in on the Senate and — I suspect this may be the 10-second clip that was originally withheld — one or more Senators fleeing as a single cop holds off the mob by yelling "back off" repeatedly.
Kyle Cheney, who first pointed to this segment, suspects the fleeing Senator may be Chuck Grassley.
In other words, what we've learned from this incident is that Tucker is the one lying about what happened. DOJ, in fact, had been withholding some of the most damning video from the public but not defense attorneys, and Tucker's propaganda effort has provided yet another glimpse of how many close calls the police managed to avert on January 6.
https://www.emptywheel.net/wp-content/uploads/2023/03/Screenshot-2023-03-14-at-12.28.00.png
944
706
emptywheel
https://www.emptywheel.net/wp-content/uploads/2016/07/Logo-Web.png
emptywheel
2023-03-14 08:37:28
2023-03-14 11:29:15
How Tucker Carlson Duped the People His Producer Called "Dumb … Cousin-Fucking … Terrorists"