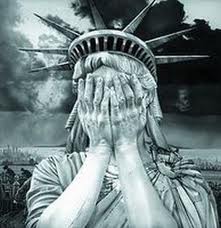 There is only one substantive case left in litigation with the ability to bring tangible accountability for the illegal and unconstitutional acts of the Bush/Cheney Administration's warrantless wiretapping and surveillance program. That case is Al-Haramain v. Bush/Obama. Yes, there is still Clapper v. Amnesty International, but that is a prospective case of a different nature, and was never designed to attack the substantive crimes of the previous Administration.
A little over a couple of hours ago, late morning here in the 9th, the vaunted "most liberal of all Circuit Courts of Appeal", the Ninth Circuit, drove what may be the final stake in the heart of Al-Haramain by declining to conduct an en banc review of its August 7, 2012 opinion. The notice from the court today is brief:
The opinion filed on August 7, 2012, and appearing at 690 F.3d 1089, is hereby amended. An amended opinion is filed concurrently with this order.

With these amendments, the panel has voted to deny the petition for panel rehearing and the petition for rehearing en banc.

The full court has been advised of the petition for rehearing and rehearing en banc and no judge has requested a vote on whether to rehear the matter en banc. Fed. R. App. P. 35.

The petition for panel rehearing and petition for rehearing en banc are DENIED. No further petitions for en banc or panel rehearing shall be permitted.
Before going further with analysis, a word about the "amendments" to the opinion. The "Amended Opinion" is here. You can compare for yourself to the August 7 original opinion linked above, but the difference is pretty slight.
It appears all the court did is delete a few sentences here and there about 18 USC 2712(b). The court did not address, nor change, their erroneous assertion that plaintiffs' Al-Haramain could have sued under 1806(a), or restore the misleadingly-omitted (by elipsis) language from 1806(a). Nor did the Read more →
https://www.emptywheel.net/wp-content/uploads/2016/07/Logo-Web.png
0
0
bmaz
https://www.emptywheel.net/wp-content/uploads/2016/07/Logo-Web.png
bmaz
2012-12-05 15:28:30
2012-12-05 18:48:39
"Liberal" 9th Circuit Deals Death Blow To Al-Haramain Illegal Wiretapping Accountability Case