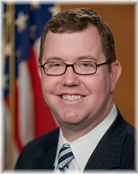 In a piece describing how badly the Administration has botched its treatment of the Anwar al-Awlaki killing, Daniel Klaidman elaborates on his past reporting on why the Administration responded the way it did. Of particular note, he reveals the white paper was written not by anyone in DOJ's Office of Legal Counsel, but by the then Senior Counselor to Eric Holder, Stuart Delery.
A Justice Department lawyer named Stuart Delery set out to produce a stripped down version of the memo. But the White House had still not decided what form the disclosure would take. One proposal was an op-ed piece that would run under Holder's byline, but Delery's document ended up being so long that option was scrapped. Another possibility was releasing a white paper to the public. In the end, the White House settled on letting Holder deliver a so-called "top-wave" speech, an address that would deal with a host of pressing national security issues and would include a section on the legal rationale behind killing American citizens. But, critically, the administration did not give anything separately to Congress.

Soon thereafter, a draft of the speech was sent over to the White House for approval. For reasons that remain unclear, it languished on National Security Adviser Tom Donilon's desk for months. Then, in January 2012, it was circulated by the National Security Council for final approval.
So the white paper was written not by the department that wrote the actual legal memo authorizing killing Awlaki (remember, both Marty Lederman and David Barron were long gone by this point), but in the Office of Attorney General.
With that in mind, consider how grossly unresponsive the Office of Information Policy (which handles FOIA requests involving the OAG) was to the ACLU FOIA for information on the authority for killing Awlaki, which I laid out here and here.
https://www.emptywheel.net/wp-content/uploads/2016/07/Logo-Web.png
0
0
emptywheel
https://www.emptywheel.net/wp-content/uploads/2016/07/Logo-Web.png
emptywheel
2013-03-10 15:38:03
2013-03-10 19:02:16
Is Stuart Delery the One Who Flubbed DOJ's FOIA Response?