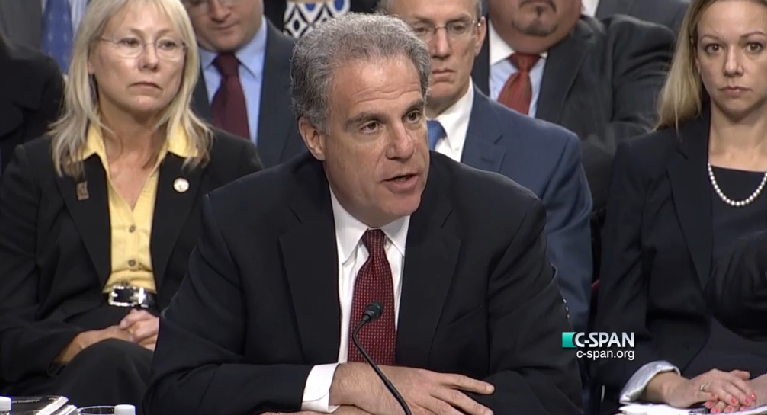 Even before it went live yesterday, I was looking through Marcy's incredibly awesome timeline on Crossfire Hurricane. It is a stunningly important and good thing, not only for those here, but those everywhere. I read things day and night, and have seen many timelines on this subject, but none that approach that which Marcy has produced. That said, if even I have to do double takes on what some of the names and acronyms are, I thought a guide was in order.
So, I thought an enduring glossary would help not even now, but going forward. What follows will be what appears appropriate now, and this post may be supplemented lated as necessary. I hope it helps. Maybe at some point I'll come back an make it alphabetical, but for now I am just going from front to back in order of appearance.
Some are patently obvious and need no explanation, e.g. "CIA" for instance. As to the rest though, away we go:
ASAC: Assistant Agent In Charge, typically of an FBI Field Office.
Zainab Ahmad: Is a seriously kick ass former member of DOJ. Ahmad was a prosecutor with the DOJ who long specialized in investigating and prosecuting terrorism. She served as an AUSA in the Eastern District of New York until 2017, successfully prosecuting several high-profile terrorism cases. In 2017, she was reassigned to the Special Counsel for the United States Department of Justice team. After Mueller closed up shop, Zainab landed as a white collar and cyber security specialist at the NY office of Gibson Dunn.
Evgeny Burykov: A convicted Russian spy. He was arrested on January 26, 2015, charged with, and pleading guilty to, spying on the United States for the Russian Foreign Intelligence Service (SVR). Buryakov was a New York-based Deputy Representative of Vnesheconombank, Russia's state-owned national development bank.
CHS-3: In addition to Steele (CHS-1) and Halper (CHS-2) there was another FBI informant who spoken on a number of occasions with George Papadopoulos. The person's identity is unknown. Papadopoulos told him a version of the Joseph Mifsud in fall 2016.
Anne Conway: Conway is a GHW Bush nominated judge to the Middle District of Florida, and who serves on the FISC, since being do designated by John Roberts in 2016. Judge Conway approved a 2017 FISA Court warrant for Carter Page, a former adviser to the 2016 Trump Campaign.
Raymond Dearie: Is a well respected Senior United States District Court Judge from EDNY originally nominated by Reagan, and served on FISX between July 2012 and July 2019, after appointment by Chief Justice John Roberts.
Oleg Deripaska (Oligarch 1): Paul Manafort's one-time paymaster, and also the client of a lawyer employing Christopher Steele in 2016. In that role, Steele repeatedly offered to broker a meeting at which Deripaska could provide derogatory information on Manafort. FBI belatedly considered whether Deripaska was a source of disinformation for the dossier.
Alexander Downer: Former Australian High Commissioner (ambassador) to the UK (2014-18), former leader of the Australian Liberal Party (1994-95), and former Australian Minister for Foreign Affairs (1996-2007). Definitely not a coffee boy, but met with one over a few drinks in London.
For bmaz, I note that he is a fan of V8 motor racing and has a CMAS racing license. (h/t EH)
Stu Evans: Stuart Evans, deputy assistant attorney general of DOJ's National Security Division. He's the person who insisted on adding a footnote alerting the FISC of Steele's potential bias.
FIFA: The international governing body of soccer. A body Chris Steele gave work and information on to not just US authorities but worldwide ones too.
Michael Gaeta (Handling Agent 1): An FBI agent, previously an attache in Rome and one time handler of Christopher Steele. A specialist in Eastern European organized crime including in the Republic of Georgia, Russia, and Ukraine.
Taushina Gauhar: Is a (former) Deputy Assistant Attorney General (DAAG) in the Department of Justice National Security Division (NSD) and FISA lawyer specialist.
JD Gordan: Gordan is an American communications and foreign policy advisor, who served as a Pentagon spokesman during the Bush Administration and later a National Security Advisor to Donald Trump. He is also a crackpot gadabout on forums such as One America News Network, Fox News, Sky News, The Daily Caller, The Hill, and The Washington Times. He's the guy who ensured that the Republican platform did not incorporate lethal aid to Ukraine.
Stefan Halper (Source 2): Ooof, this could go on even longer, but per Wiki, Halper is an American foreign policy spy and Senior Fellow at the University of Cambridge where he is a Life Fellow at Magdalene College. He served as a White House official in the Nixon, Ford, and Reagan administrations, and was reportedly in charge of the spying operation by the 1980 Ronald Reagan presidential campaign that became known as "Debategate". Through his decades of work for the CIA, Halper has had extensive ties to the Bush family. Through his work with Sir Richard Dearlove he also has ties to the British Secret Intelligence Service MI6. For purposes here, Halper acted as an FBI informant for its investigation into Russian interference in the 2016 United States elections.
Kathleen Kavalec: Former Deputy Assistant Secretary of State who met with Chris Steele in October 2016.
Mary McCord: McCord was the Acting Assistant Attorney General for National Security at the U.S. Department of Justice from 2016 to 2017 and Principal Deputy Assistant Attorney General for the National Security Division from 2014 to 2016. She now teaches at Georgetown and contributes at Lawfare.
Sergei Millian (Person 1): A Belarus born businessman knee deep in everything Russia and a putative source for Chris Steele. He was also the subject of a counterintelligence investigation during 2016-17. Much still not necessarily clear about Millian.
NYFO: New York Field Office of the FBI.
OGC: Office Of General Counsel at the Department of Justice.
OI: The Office of Intelligence at DOJ. They're in charge of writing FISA applications.
Bruce and Nellie Ohr: Bruce Ohr is a United States Department of Justice official. A former Associate Deputy Attorney General and former director of the Organized Crime Drug Enforcement Task Force (OCDETF). He is an expert on transnational organized crime and has spent most of his career overseeing gang and racketeering-related prosecutions, including Russian organized crime. Nellie is Bruce's wife, and a longtime expert on all things Russian. She worked at one point for Fusion GPS as a contractor between October 2015 and September 2016.
Victor Podobnyy: An Russian SVR (foreign intelligence) officer worked under the cover as a banker who was recruiting Carter Page in 2013.
SSA: Supervisory Special Agent.
Scott Schools: Scott Schools was the "highest-ranking career civil servant at the United States Department of Justice", serving as Associate Deputy Attorney General. For those who have been around long enough, he was, for a while, the "new" David Margolis. Schools, a putatively decent chap, is gone now, having been replaces by a Jeff Sessions designated mope named Bradley Weinsheimer.
Glenn Simpson: Former journalist for the Wall Street Journal and co-founder of Fusion GPS.
Paul Singer: An American billionaire hedge fund manager, activist, investor, vulture capitalist, and philanthropist. A hard line Republican promoter and shill, but also a longtime supporter of LGBTQ rights.
Bruce Swartz: Deputy Assistant Attorney General for International Affairs. Key to the story because of a purported effort by Kurt Volker to get Swartz to officially ask Ukraine to investigate the Bidens. He would have been in the loop in any normal requests between the US and Ukraine. Still a lot of questions open as to Swartz.
UCE: An FBI employee working undercover. A woman working under the pseudonym Azra Turk accompanied Stefan Halper on his interviews with George Papadopoulos.
Sally Yates: Former US Attorney for Northern District of Georgia, Deputy Attorney General, and Acting AG.
https://www.emptywheel.net/wp-content/uploads/2015/08/Screen-Shot-2015-08-05-at-1.15.53-PM.png
415
767
bmaz
https://www.emptywheel.net/wp-content/uploads/2016/07/Logo-Web.png
bmaz
2019-12-21 14:11:26
2019-12-24 08:21:40
Crossfire Hurricane Glossary