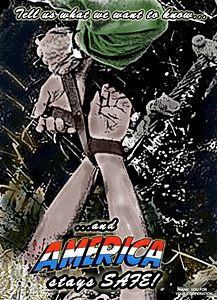 As Marcy noted, Adam Goldman and Matt Apuzzo of the AP have gotten their hands on an early copy of Jose Rodriquez's new screed book, "Hard Measures". The one substantive point of interest in their report involves the destruction of the infamous "torture tapes". What they relate Rodriquez saying in his book is not earth shattering nor particularly new in light of all the reporting of the subject over the years, but it is still pretty pretty arrogant and ugly to the rule of law:
The tapes, filmed in a secret CIA prison in Thailand, showed the waterboarding of terrorists Abu Zubaydah and Abd al-Nashiri.

Especially after the Abu Ghraib prison abuse scandal, Rodriguez writes, if the CIA's videos were to leak out, officers worldwide would be in danger.

"I wasn't going to sit around another three years waiting for people to get up the courage," to do what CIA lawyers said he had the authority to do himself, Rodriguez writes. He describes sending the order in November 2005 as "just getting rid of some ugly visuals."
As you may recall, specially assigned DOJ prosecutor John Durham let the statute of limitations run out on prosecuting Jose Rodriquez, and others directly involved, including four Bush/Cheney White House attorneys (David Addington, Alberto Gonzales, John Bellinger and Harriet Miers) involved in the torture tapes destruction, as well as two CIA junior attorneys, on or about November 9, 2010. There was really never any doubt about what Rodriquez's motivation was in light of the fact he destroyed the tapes of Abu Zubaydah and al-Nashiri within a week of Dana Priest's blockbuster article in the Washington Post on the US "black site" secret prisons.
But, just as there was no doubt, then or now, as to the motivation of Rodriquez and/or the others, there was similarly never any doubt about the legitimate basis for criminal prosecution. The basic government excuse was they could not find any proceeding in which the torture tapes were material to so as to be required to have been preserved. For one thing, Judge Alvin Hellerstein determined the tapes were indeed material to the ACLU FOIA suit and within the purview of their evidentiary hold (even though he refused to hold CIA officials in contempt under the dubious theory they may not have had notice).
More important, however, was the immutable and unmistakable fact that the torture tapes were of specific individuals, al-Qaeda members Abu Zubaydah and Abd al-Rahim al-Nashiri, who, at the time of destruction of the tapes, were in detention awaiting trial, whether it be in an Article III Continue reading →