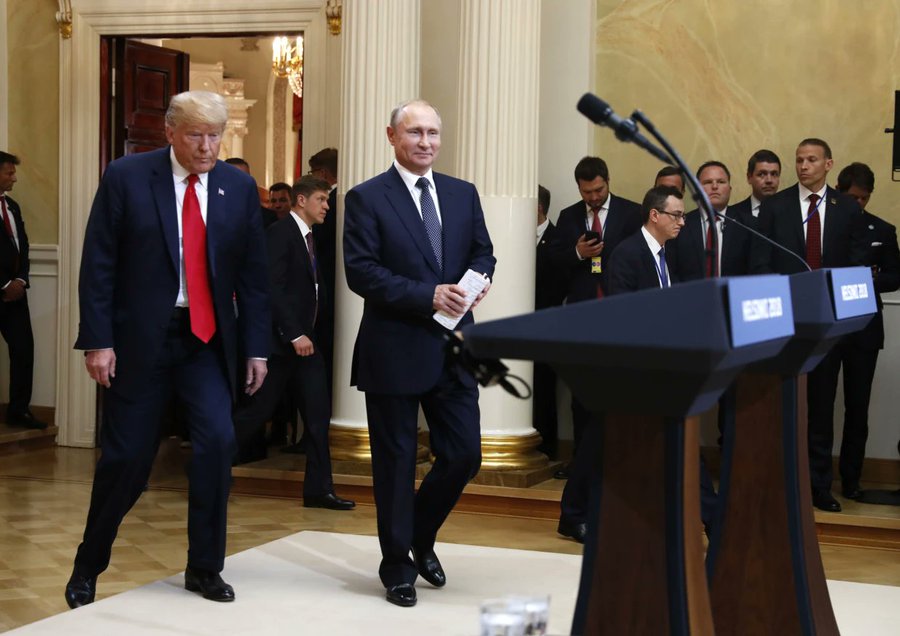 As I've been watching Putin expand his war in Ukraine, I've been thinking a lot about his timing. Why launch it now rather than two years ago, when Trump would have facilitated it, or another year from now, when Republicans are expected to control at least one house of Congress?
I suspect there are a lot of things that dictate the timing. Any invasion was going to come in winter. It's easier for heavy tanks to move, but more importantly, winter temperatures make it easier to use gas prices to impose a cost on Europe.
I think it happened this year, under Biden's first full winter rather than 2021 or even 2020 because, up until Biden's inauguration, Putin's investment in Trump might still have paid off by allowing Putin to achieve his objectives without launching a war. He almost did, in the insurrection, which was undoubtedly led by MAGAts but which included the participation of some key Russian projects (such as Patrick Byrne).
To be sure, there are European reasons, even beyond the gas squeeze. Boris Johnson is fighting to keep power. Angela Merkel's retirement surely led Putin to hope that the EU would be left without a strong leader (or that he could more easily manipulate Emmanuel Macron, especially in an election year).
But I believe this invasion represents the culmination of a plan not just to reassert what he imagines is Russian greatness, but also to end US hegemony, which Putin has pursued for a decade.
Ukraine has been a part of that and starting in 2010, Paul Manafort was useful to giving his puppets the patina of legitimacy. After Viktor Yanukovych's ouster, Ukraine was useful as a testing ground for various kinds of hybrid warfare, most spectacularly with the NotPetya attack in 2018.
Ukraine — the partnership of Konstantin Kilimnik and Oleg Deripaska, along with their leverage over Paul Manafort — was also whence Russian launched its 2016 attack (I need to find the reference, but they knew they could place Manafort as campaign manager before the end of 2015). As I have written (in a piece on my understanding of the role of using the Steele dossier as a vehicle for disinformation), Russia's interference in 2016 is best understood as a win-win. If Hillary won, Roger Stone would have rolled out the same Stop the Steal plan that was used in 2020 back in 2016 to destabilize the US in 2017 rather than 2021, as happened.
Trump's win was an unexpected bonus.
As part of the 2016 operation, Russia also did unprecedented damage to the NSA (through the Shadow Brokers operation) and the CIA (in the way that WikiLeaks rolled out the Vault 7 release).
The failure of Russia's attempt to blame its 2016 interference on a false flag thwarted Russia's best laid plans — which would have involved Kilimnik calling in the quid pro quo made with Manafort on August 2, 2016 and getting Trump to help carve up Ukraine in the same way Russia is currently doing with tanks.
Even still, the Russian investigation paid huge dividends and, given Putin's long game, to date has surely been more than worth it. That's because the FBI-led investigation into Trump's cooperation with Russia, over time, came to train Republicans to trust Putin more than they trust Democrats.
Republicans genuinely believe, falsely, that the FBI deliberately attempted to take Trump out (entirely memory holing Jim Comey's role in getting Trump elected, much less that the FBI Agents running informants on the Clinton Foundation during the election were explicitly anti-Hillary). The dossier disinformation project proved so wildly successful that most Republicans genuinely believe, falsely, that there wasn't abundant proof of cooperation between Trump and Russia, including communications directly with the Kremlin during the election that Michael Cohen lied to hide. Republican members of Congress genuinely came to believe — because they had to! — that criticism of Trump's refusal to spend the money in support of Ukraine they had appropriated was just another Democratic attack on Trump and not an attempt to save the integrity of American democracy. All this culminated in Stop the Steal 2.0, a literal attack on American democracy; Republican fealty to Trump forced them — more reluctantly at first and driven in large part by real terror — to defend an assault on Congress.
By February 13, 2021, the date the Senate voted to acquit Donald Trump of inciting an attack on Congress, Republicans had put loyalty to Donald Trump over defense of the country and the Capitol in which they worked.
Sure, Putin didn't get Trump to carve up Ukraine as President. But he got so much more from Trump's presidency.
Putin did get Trump to do real damage to NATO. He got Trump to largely abandon Syria. Trump made a humiliating deal with the Taliban that would result in the US withdrawing its military from Russia's back door. After years of Russia having to work hard to highlight American hypocrisy on human rights, Trump did things like pardon war criminals, forever tainting America's claim to be exceptional.
And through it all, Trump created his own authoritarian-supporting militias, heavily armed troops inspired by resentment who have the ability to make the United States ungovernable. Trumpist Republicans are making localized efforts to dismantle democracy. Trump's Supreme Court nominees have abandoned legal precedent.
Which brings us to this moment.
I think Putin faced a moment of diminishing returns. Republicans are finally beginning to wake up from their Trump cult. If COVID subsides and the US economy takes off, Democrats might surprise at midterms. I wouldn't be surprised, either, if Russia expected some details of what it has done over the last decade — involving Julian Assange, involving 2016 (with the prosecution of Vladislav Klyushin), possibly even involving Trump — to become public in the near future. And so Putin chose this moment to launch a war to try to solidify the efforts he has made over the last decade.
Thus far, however, things haven't gone Putin's way.
I believe that Putin thought he could demonstrate Five Eyes fragility by conducting war games off the Irish coast without inciting the nationalism of a bunch of Irish fisherman. I believe Putin expected the US and/or Europe would fail to fully incorporate Ukraine in its planning, thereby discrediting Volodymyr Zelenskyy. I believe that Putin expected he would be able to peel away France and Germany (after Olaf Scholz's initial announcement that it is halting Nord Stream 2, there seems to be some hesitation). I believe Putin expected his false flags would work. I believe Putin believed he'd be able to blame someone else for this invasion. I agree with Dan Drezner, thus far Biden has done just about everything right.
I believe that Putin believed his invasion would split NATO, the EU, and the US. Thus far it has had the opposite effect.
Which brings us to the weird pivot that Trump and his top Fox associates: white nationalist Tucker Carlson, Chief of Staff Sean Hannity, and Laura Ingraham.
Yesterday, Trump hailed Putin's actions as genius.
"I went in yesterday and there was a television screen, and I said, 'This is genius.' Putin declares a big portion of the Ukraine — of Ukraine — Putin declares it as independent. Oh, that's wonderful," Trump told conservative podcaster Buck Sexton.

I said, 'How smart is that?' And he's gonna go in and be a peacekeeper. That's strongest peace force… We could use that on our southern border. That's the strongest peace force I've ever seen. There were more army tanks than I've ever seen. They're gonna keep peace all right," Trump continued. "Here's a guy who's very savvy… I know him very well. Very, very well."
Last night, Tucker did a chilling monologue, suggesting that Americans have been trained to hate Vladimir Putin.

Tucker suggested that Putin's invasion is just a border dispute. He's suggesting that Biden is doing this to pay off imagined debts to Ukrainian Oligarchs. Tucker laid out Putin's plan for costs to impose on Americans, in terms of energy costs. Tucker included every single false claim about Ukraine that Russia has been planting since 2016. Every single one.
This is the monologue you'd expect of a man who believes there are two years of records showing Russian and Hungarian sources trying to set up one meeting between him and Putin.
To win this war, Putin needs to achieve both goals at once: splitting the US so that he can take Ukraine. One goal serves the other.
And in days ahead, Putin undoubtedly plans to take great risks to impose some costs on European and American voters. In gas prices, sure, but probably also with some ambitious cyberattacks and efforts to support another insurrection. Those costs, I imagine Putin plans, will lead American and European voters to lose patience with support for Ukraine, to forget that this is about the ability to enjoy real democracy.
But to get away with that, Putin has to ensure that it won't backfire by overcoming the polarization he has invested great effort to encourage in the last five years.
Via whatever means last night, Putin's two biggest assets in the US (speaking in terms of advantages, not recruited assets, but I don't rule it out) went out and reminded Trump supporters that they've been trained to like Putin more than they like their own country.
Update: Philip Bump notes that Republicans like Putin more than Biden.
https://www.emptywheel.net/wp-content/uploads/2022/02/Beaten.jpeg
636
900
emptywheel
https://www.emptywheel.net/wp-content/uploads/2016/07/Logo-Web.png
emptywheel
2022-02-23 09:52:12
2022-02-23 16:36:49
Putin's Playmates Trump and Tucker Remind Trumpsters They've Been Trained to Love Putin