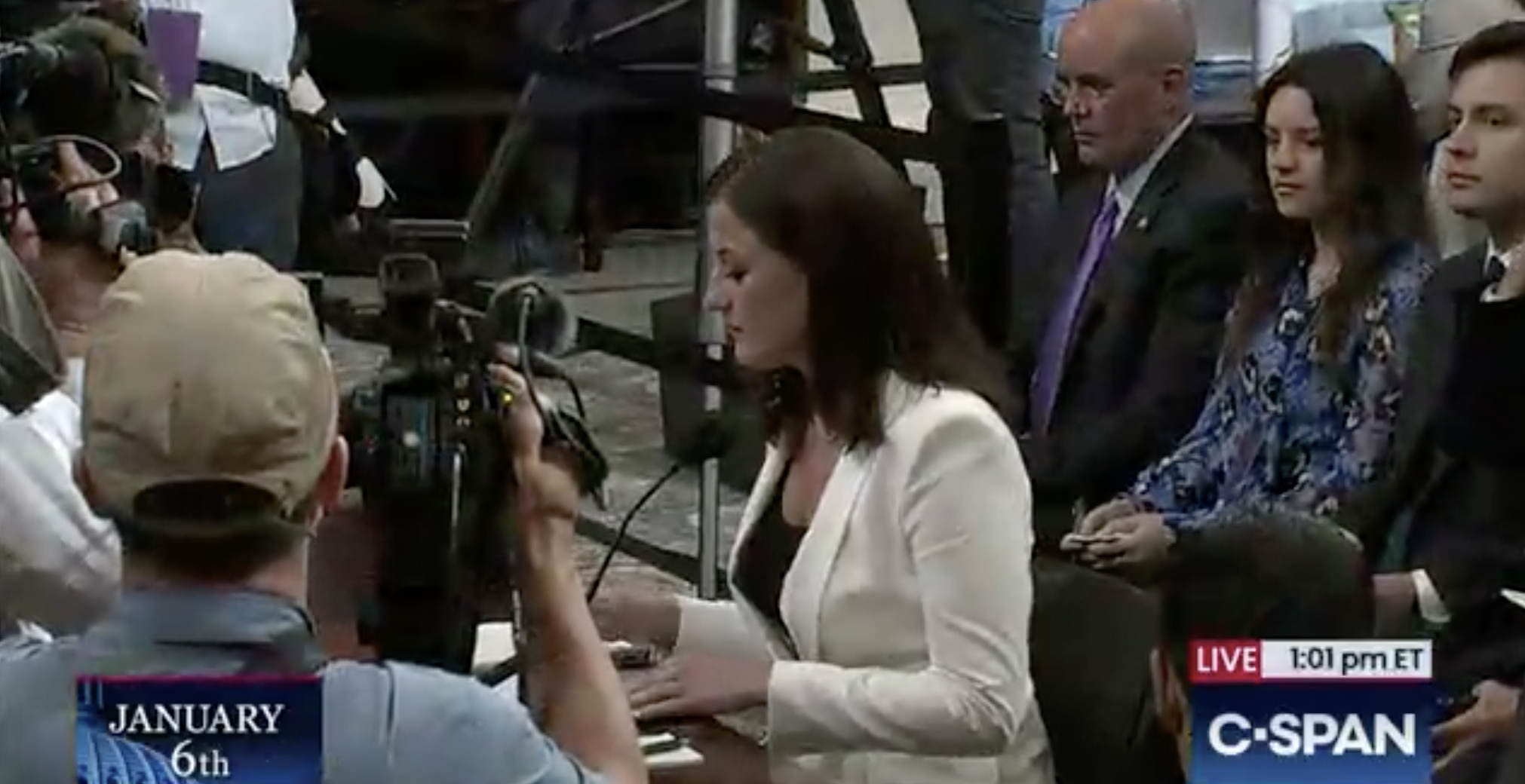 Cassidy Hutchinson Is a Superb Witness — to Get Other Witnesses against Trump
According to a CNN report of Pat Cipollone's testimony, the January 6 Committee did not ask him whether he told Cassidy Hutchinson that (as she testified), if "we" didn't prevent Trump from going to the Capitol on January 6, "we" would get charged with every charge imaginable.
Two people familiar with former Trump White House counsel Pat Cipollone's testimony Friday told CNN that the House select committee investigating January 6, 2021, did not ask him if he told then-White House aide Cassidy Hutchinson the day of the attack that they would "get charged with every crime imaginable" if they went to the US Capitol.

If asked, he would not have confirmed that particular statement, the sources said.

A separate source familiar with the committee told CNN, "The select committee sought information about Cipollone's views on Trump going to the Capitol on January 6," implying that the committee's questions were focused on Cipollone's perspective as opposed to his take on other witness' testimony.

[snip]

Cipollone told the committee on Friday that he wasn't giving legal advice to staff regarding movements on January 6. This came up during his testimony as part of a question not relating to the specific anecdote from Hutchinson.
It doesn't mean that he didn't say such a thing. Indeed, other outlets have said that he didn't contradict anything she said. It means that, thus far at least, one of the six to ten witnesses who would be important witnesses to charge Trump for crimes beyond the obstruction and conspiracy charges framework DOJ has been explicitly pursuing since August is thus far unwilling to recall some of the more damning details of Hutchinson's testimony. He may have reason to avoid it! After all, the pardons he was a party to before the insurrection — most importantly of Mike Flynn and Roger Stone — may implicate him in the later events, no matter how hard he tried on January 6 to prevent more bloodshed.
That's an important detail to keep in mind as you read this NYT story, which has led the usual suspects to claim that DOJ has done nothing to pursue a Trump investigation.
The electrifying public testimony delivered last month to the House Jan. 6 panel by Ms. Hutchinson, a former White House aide who was witness to many key moments, jolted top Justice Department officials into discussing the topic of Mr. Trump more directly, at times in the presence of Attorney General Merrick B. Garland and Deputy Attorney General Lisa O. Monaco.

In conversations at the department the day after Ms. Hutchinson's appearance, some of which included Ms. Monaco, officials talked about the pressure that the testimony created to scrutinize Mr. Trump's potential criminal culpability and whether he intended to break the law.

Ms. Hutchinson's disclosures seemed to have opened a path to broaching the most sensitive topic of all: Mr. Trump's own actions ahead of the attack.

Department officials have said Ms. Hutchinson's testimony did not alter their investigative strategy to methodically work their way from lower-level actors up to higher rungs of power. "The only pressure I feel, and the only pressure that our line prosecutors feel, is to do the right thing," Mr. Garland said this spring.

But some of her explosive assertions — that Mr. Trump knew some of his supporters at a rally on Jan. 6, 2021, were armed, that he desperately wanted to join them as they marched to the Capitol and that the White House's top lawyer feared Mr. Trump's conduct could lead to criminal charges — were largely new to them and grabbed their attention.
Even while many took from this that DOJ is not investigating, the article — written by Katie Benner, probably the journalist with the best sources at the top of DOJ across administrations, and Glenn Thrush, whose background is as a political reporter and who exhibits little understanding of DOJ matters (but who is bylined on most of the stories about AUSA Thomas Windom) — also reported that Windom was asked to lead the fake electors investigation last fall, at least a month before Lisa Monaco confirmed it and possibly much earlier than that. It also describes that Merrick Garland was briefed on an "influencer" strand of the investigation in March 2021, which is consistent with when we know DOJ obtained Brandon Straka's phone providing information on the Stop the Steal listserv, the VIP treatment, and possibly even events at the Willard.
Mr. Sherwin presented Mr. Garland with a strategy that included four teams of prosecutors, labeled A through D: "Team B," already staffed by 15 lawyers, had begun looking into "public influencers and officials" linked to the attack, according to a copy of a memo shared with The New York Times.
There are strands of the investigation not mentioned in this — such as the Sidney Powell investigation, which started no later than September 2021, the way DOJ got a privilege review for Rudy Giuliani's phones that would go through the insurrection, or the way Roger Stone has been a key focus of the Oath Keeper investigation since March 2021. And the piece doesn't describe Monaco's own public statement the day after Hutchinson's testimony, which claimed, at least, that DOJ is "deep" into its January 6 probe.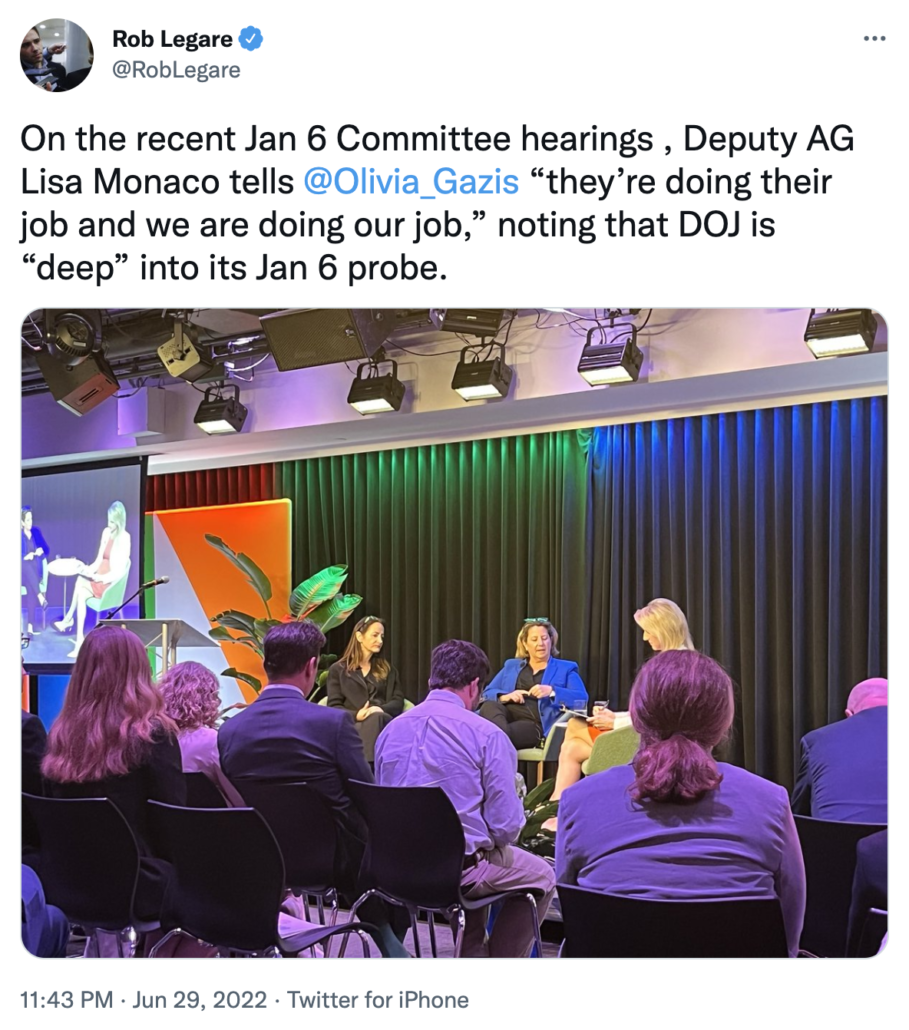 All that said, I don't doubt that Hutchinson did make DOJ consider previously unconsidered investigative next steps and I have even less doubt that former Assistant Attorney General Jody Hunt, the lawyer who shepherded Hutchinson through her more expansive testimony to the Committee in late June, has been in touch with DOJ.
But back to the Cipollone point with which I started: As I noted in my review of Hutchinson's testimony, she gave absolutely crucial firsthand testimony about Cipollone, Mark Meadows, and Tony Ornato, as well as damning comments about Rudy Giuliani and Scott Perry, but with a few exceptions, those men were and are still the ones who would have the firsthand testimony about what Trump said and did. I noted, too, that on the topic about which Hutchinson had the most important firsthand knowledge of Trump's mindset — his demand that the Secret Service take down metal detectors so his armed supporters could enter the official venue for his speech — she acknowledged his motivation stemmed in significant part from his narcissism.
Hutchinson's testimony on a really critical point includes some ambiguity. In conversations at the White House and then later at the rally, Trump saw the crowd on January 6 and was furious more of his supporters weren't inside the arena. He was aware many supporters were staying outside the arena because they didn't want to go through the magnetometers because they had weapons. He asked to ditch the magnetometers because "they weren't there to hurt him." This detail is most important because it reflect[s] knowledge on Trump's part they were armed, before he riled them up and sent them to the Capitol. But in a trial, he would excuse letting them into the rally itself by pointing to his long-standing crowd narcissism, exhibited most famously at his inauguration.
Read that post! It holds up! Including my point that her testimony will be most valuable for getting the testimony of others like Cipollone and Ornato, and it'll make whatever charges DOJ uses to coerce Meadows' cooperation more onerous and therefore more likely to be effective.
I also noted that Hutchinson's testimony would not have been available in its current form without the process she has been through since February, which has since been laid out in detail in this piece. That process not only involved replacing the lawyer Trump provided her with, Stefan Passantino, with Hunt, but also depended on growing trust with Liz Cheney.
Now unemployed and sequestered with family and a security detail, Ms. Hutchinson, 26, has developed an unlikely bond with Ms. Cheney, a Wyoming Republican and onetime aide to former Secretary of State Colin L. Powell during the George W. Bush administration — a crisis environment of another era when she learned to work among competing male egos. More recently, as someone ostracized by her party and stripped of her leadership post for her denunciations of Mr. Trump, Ms. Cheney admires the younger woman's willingness to risk her alliances and professional standing by recounting what she saw in the final days of the Trump White House, friends say.

[snip]

Over the next months, Ms. Hutchinson warmed to the idea of helping the committee's investigation, according to a friend, but she did not detect the same willingness in Mr. Passantino.

"She realized she couldn't call her attorney to say, 'Hey, I've got more information,'" said the friend, who requested anonymity. "He was there to insulate the big guy."

Mr. Passantino declined to comment.

At that point Ms. Hutchinson got in touch with Ms. Griffin, who had been cooperating with the committee herself. Ms. Griffin passed on Ms. Hutchinson's concerns to Barbara Comstock, a former Republican congresswoman and outspoken critic of Mr. Trump. In an interview, Ms. Comstock said that she could have predicted Ms. Hutchinson's predicament, recalling how she had once talked a young man out of joining the Trump administration. "I said, 'You're going to end up paying legal bills,'" Ms. Comstock recalled.

Ms. Comstock offered to start a legal-defense fund so that Ms. Hutchinson would not have to rely on a lawyer paid for by Trump affiliates. But this proved unnecessary. Jody Hunt, the former head of the Justice Department's civil division under Jeff Sessions — Mr. Trump's former attorney general and another pariah in Mr. Trump's world — offered to represent her pro bono. Mr. Hunt accompanied Ms. Hutchinson to her fourth deposition in late June, when she felt more comfortable talking about Mr. Trump's actions on Jan. 6. Everyone agreed it was time to speed up her public testimony.

Two realities have now taken hold for Ms. Hutchinson. One is that she will continue to offer information to the Jan. 6 committee, with Mr. Hunt as her counsel and Ms. Cheney as the committee's designated interlocutor to her.
For better and worse, we're all better off that Hunt will be sitting in on her DOJ interviews than Passantino, but we might not have gotten to this place without the involvement of Liz Cheney and other people, like Barbara Comstock, with whom this site has a very long contentious relationship.
So Hutchinson represents real progress — which is what the NYT story says! But the NYT story also makes clear that DOJ will continue to investigate known crimes, not people.
Days after Hutchinson's testimony, I started but never finished a post attempting to revisit this framework for how DOJ seems to be approaching the investigation, included below in italicized type. They key point is that for each "nice to have" there's the cooperation — coerced or voluntary — of a key witness who worked directly with Trump. Cassidy Hutchinson is not that witness. But she offers a way to get to those witnesses with a greater likelihood of success.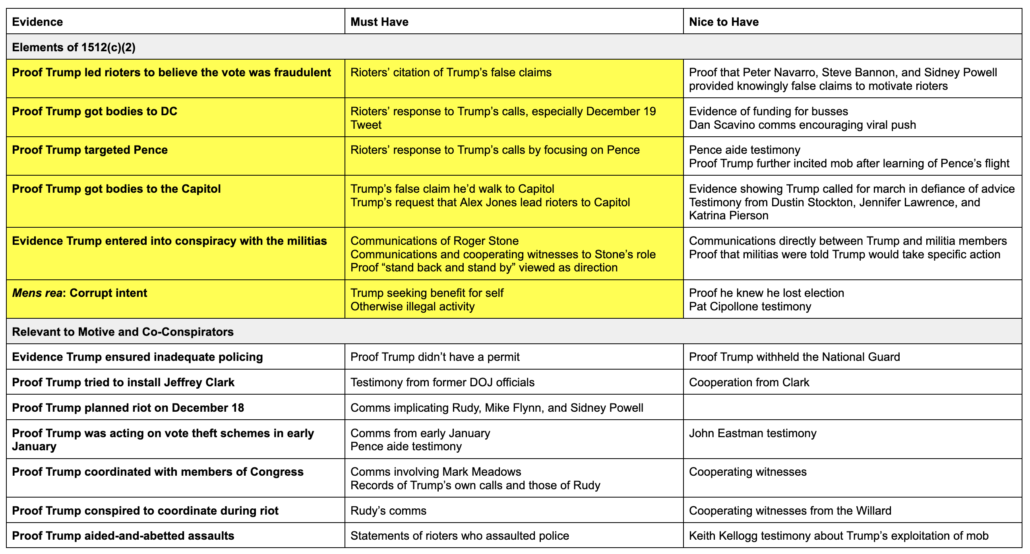 The other day, I noted that, while Cassidy Hutchinson's testimony was courageous and powerful, many of the details she provided would need additional corroboration (from people like Pat Cipollone, who has since been subpoenaed) before being used to prosecute Donald Trump. Nevertheless, her testimony has led people who haven't followed the investigation to again engage in speculation that Merrick Garland is sitting in an office somewhere pondering whether to push the "indict Trump" button or not. That misunderstands how such a decision would work.
That's true, first of all, because it would not be Garland's button to push. It would be a team of AUSAs working for DC US Attorney Matthew Graves, who would first get Graves', then Lisa Monaco's, and only then Garland's approval. If and when Trump is charged, DOJ will be able to point to some career AUSAs (including Thomas Windom, whom NYT described the other day as someone who clerked for a conservative judge) who made the initial prosecutorial decision.
At this point, too, I think the question is not whether Garland (or, rather, the AUSAs) are sure they can convict Trump et al.
Every single thing in the public record shows they're still taking steps to pursue that investigation, in part by seizing more records and in part by obtaining the witness testimony they would need. A prosecution becomes far easier if Pat Cipollone cooperates, not least because — Hutchinson's testimony revealed — he warned ahead of time that Trump was exposed with the very same crimes that DOJ has been pursuing against everyone since last summer. Cipollone could be compelled by DOJ to testify, but there's no sign yet that he has been. I presume Cassidy Hutchinson's lawyer, Jody Hunt (who was Assistant Attorney General under Trump and who saw how badly Trump treated his boss, Jeff Sessions) is already in discussions about arranging her cooperation with DOJ, and the kind of detail she provided about what Cipollone will get DOJ a step closer to where they would be ready to get Cipollone's testimony.
Everything that's public (and I'm sure there's a lot that's not) suggests DOJ is working towards five kinds of conduct that Trump would exposed on: 1) coordination — through Stone and, Tuesday's testimony confirms something I've been virtually the only one reporting since early 2021, Rudy — with the militias 2) plans with Stop the Steal that significantly involve Alex Jones' role in bringing bodies that the militias used to occupy the Capitol 3) the fake electors plot, which is the illegal manifestation of the larger Big Lie 4) pressure on Mike Pence, which includes both an illegal order and real threats of violence 5) the separate illegal request of Brad Raffensperger (which could be charged in GA as early as this week [note: This did not happen, and/but also she appears to have expanded her scope significantly]).
DOJ is making visible signs of progress with many of these prongs, but some of those visible signs suggest any charging decision would be six months away at least. The reason Garland has not pushed a button marked "indict" yet, or why AUSAs haven't presented a package for approval up a bureaucratic chain of command, is because before DOJ indicts they need to have both the comms in hand, as well as the cooperating direct witnesses to Trump's actions and intent.
https://www.emptywheel.net/wp-content/uploads/2022/06/Screen-Shot-2022-06-28-at-6.02.24-PM.png
1040
2022
emptywheel
https://www.emptywheel.net/wp-content/uploads/2016/07/Logo-Web.png
emptywheel
2022-07-12 08:54:45
2022-07-12 09:46:29
Cassidy Hutchinson Is a Superb Witness — to Get Other Witnesses against Trump