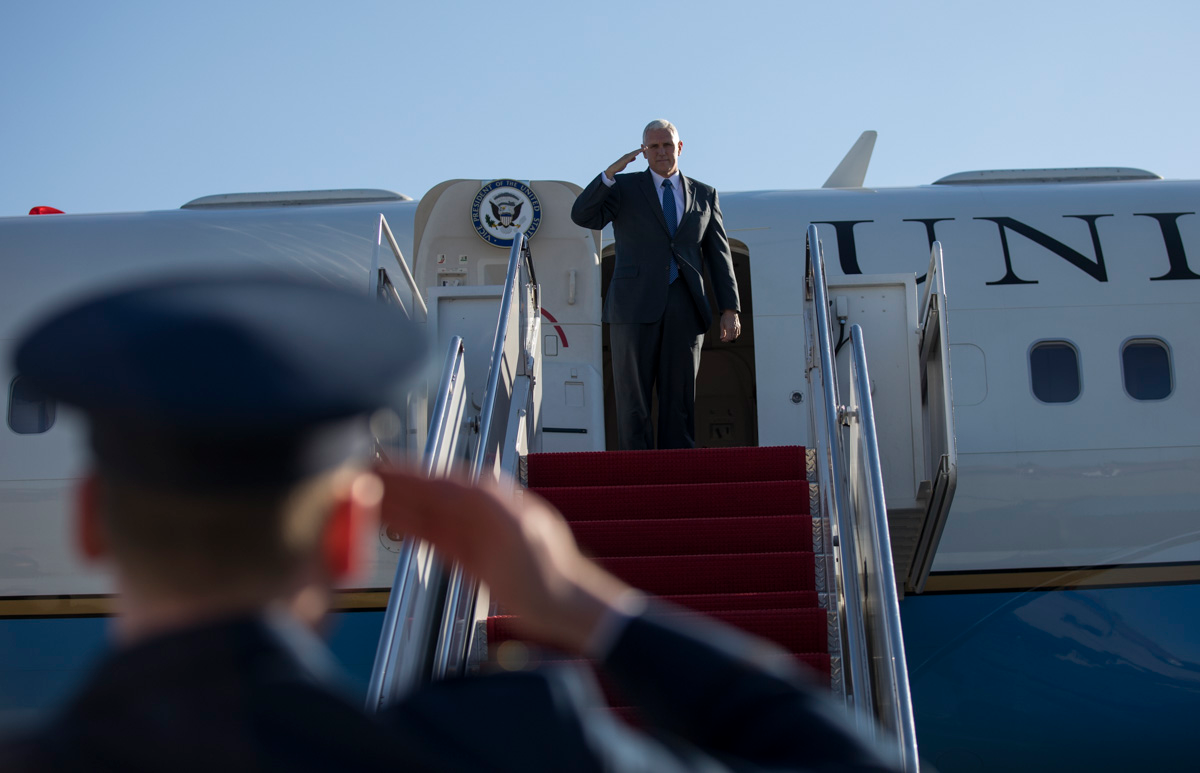 Trump's Shaky Privilege to Hide His Pence Pressure
CNN, NYT, and WaPo have now reported on why Evan Corcoran, John Rowley, and Tim Parlatore were at Prettyman Courthouse on Thursday afternoon. They were trying to support Trump's invocation of Executive Privilege to limit testimony about his own actions and words.
CNN first confirmed the reason.
Former President Donald Trump's attorneys are fighting a secret court battle to block a federal grand jury from gathering information from an expanding circle of close Trump aides about his efforts to overturn the 2020 election, people briefed on the matter told CNN.

The high-stakes legal dispute – which included the appearance of three attorneys representing Trump at the Washington, DC, federal courthouse on Thursday afternoon – is the most aggressive step taken by the former President to assert executive and attorney-client privileges in order to prevent some witnesses from sharing information in the criminal investigation events surrounding January 6, 2021.

The court fight over privilege, which has not been previously reported and is under seal, is a turning point for Trump's post-presidency legal woes.
WaPo suggests this is primarily and NYT reports it is at least in part about getting Marc Short and Greg Jacob's testimony.
One person familiar with the matter said that the dispute concerned the testimony of two top aides to former vice president Mike Pence — his former chief of staff, Marc Short, and former counsel, Greg Jacob. The men appeared before the grand jury in July and answered some, but not all, questions, based on Trump's assertion of privilege, people familiar with the matter said.
But for the five people known to be involved — Short and Jacob, plus former White House Counsels Pat Cipollone, Patrick Philbin, and Eric Herschmann — the privilege claims would be closely related. Short and Jacob have refused to disclose conversations they witnessed between Trump and Mike Pence. The Two Pats and (to a lesser extent) Herschmann have refused to tell what they said to or witnessed Trump say directly.
Based on their January 6 Committee testimony, we know some very specific details about what the men have hid via privilege claims:
Greg Jacob declined to describe precisely how, in an in-person meeting on January 4 including John Eastman, Pence rejected Trump's pressure to refuse to certify the vote certification
Pence's aides had stepped out of the room when Pence spoke to Trump by phone on the morning of January 6; numerous people witnessed (and told the Committee) about the Trump side of it, but no one is known to have shared Pence's side of it
Cipollone refused to describe how he or the other White House Counsels advised Trump to make a statement asking the rioters to leave the Capitol
None of the White House Counsels described precisely what they said to Trump about his Tweet focusing on Pence
Cipollone wouldn't describe the conversations he had with Trump about rioters chanting "hang Mike Pence"
Cipollone refused to say that Trump was among the people at the White House who didn't want rioters to leave the Capitol
There are surely other conversations of interest. If Cipollone shared directly with Trump some version of his advice that, as Cassidy Hutchinson described, if Trump went to the Capitol, "We're going to get charged with every crime imaginable if we make that movement happen," including obstruction of the vote certification and incitement, it would be crucial evidence in any obstruction charge against Trump. I'm hoping, too, that the White House Counsels get asked about Trump's offers of pardons to those who participated in his coup attempt.
Parlatore's involvement in the Prettyman event may reflect more junior staffers who invoked privilege too.
The three outlets vary about how clearly they describe something that is obvious: If DOJ is moving to overcome privilege claims invoked to protect what specific advice Trump got about the legality or illegality of his actions leading up to and on January 6, they're doing so with an eye towards charging Trump, not because they want to see whether Pat Cipollone was sufficiently alarmed about the implications of an attack on the Capitol. And just WaPo notes that this privilege claim — in the context of a criminal investigation and made within the Executive Branch, rather than (as with the January 6 Committee) between two branches of government — should be an easier question for SCOTUS than the decision authorizing the Archives to share Trump's communications with the Committee.
Three more dynamics deserve mention. First, Marc Short, the one non-counsel known to be affected by this privilege fight, is represented by Emmet Flood, perhaps the lawyer who has best protected the prerogatives of the Presidency ever since he helped Bill Clinton avoid conviction with impeachment and helped George W Bush (and Dick Cheney) close out their Administration without bigger legal consequences. Flood may not even care about Trump at this point, but he cares about protecting the Presidency.
But the shenanigans Trump engaged in — instructing witnesses to invoke Executive Privilege without formally invoking it — may shift the posture of any dispute. DOJ was always going to come back and push for more testimony. But after much haranguing, Herschmann seems to have forced Trump to do what he had not before: put something in writing. That may either force Trump to go back and do so for the others, or may allow DOJ to get a privilege waiver for Herschmann that would implicate the others. That's important because Herschmann might not wait around for any appeals of privilege waivers. All this is largely happening behind closed doors, but it may matter that at the end of this process, Herschmann forced Trump's hand and that may give DOJ something more tangible to challenge before Chief Judge Beryl Howell. I sort of suspect that may have been the point.
Finally, if and when DOJ wins this fight (it should not be a close contest, and won't be at least for Howell), it gets DOJ one step closer to considering whether they need Pence himself to testify.
DOJ is making an effort to get what — we know from public privilege invocations — includes a lot of damning evidence against Trump involving Pence. And has been clear since at least January, Trump's pressure on Pence and his efforts to get the mob to pressure Pence tie the coup attempt and the attack on the Capitol together.
https://www.emptywheel.net/wp-content/uploads/2017/05/Pence.png
773
1200
emptywheel
https://www.emptywheel.net/wp-content/uploads/2016/07/Logo-Web.png
emptywheel
2022-09-26 07:49:26
2022-09-26 17:04:51
Trump's Shaky Privilege to Hide His Pence Pressure