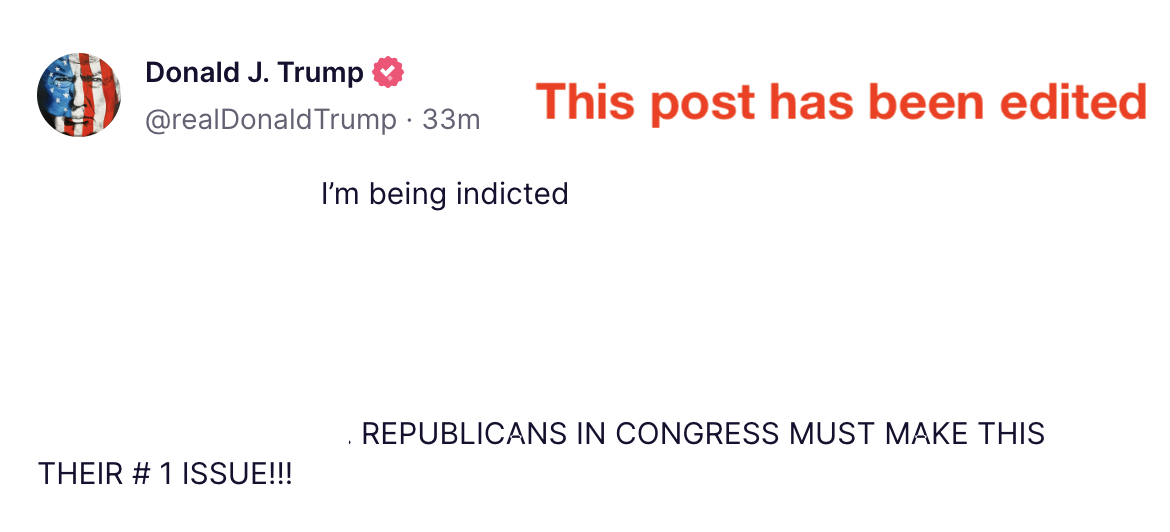 After Trump propagandaist John Solomon published that Trump had been told he was a target of the Espionage Act investigation that has targeted him since last August, Trump did a post on his failing social media site. I've edited it down to the key bits: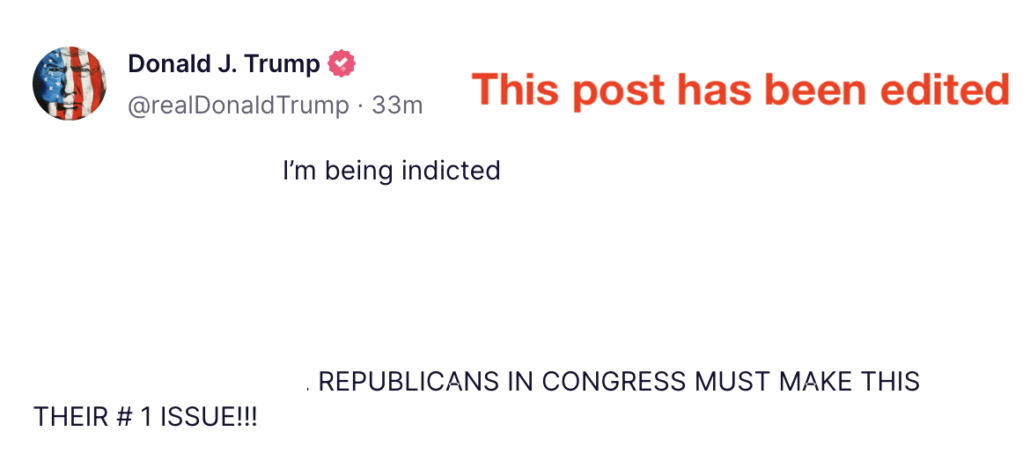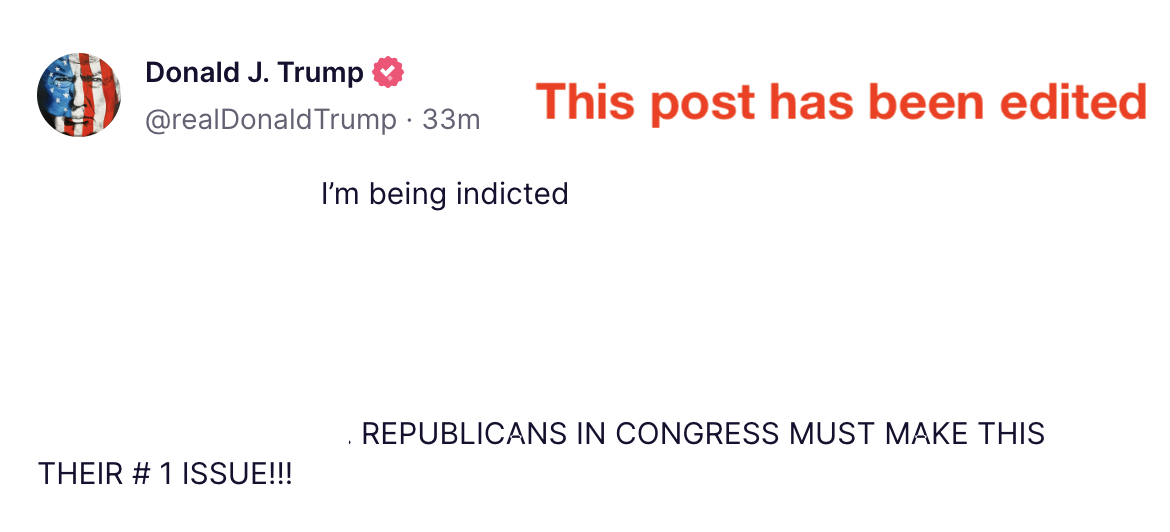 Trump's first response to the first public confirmation that he will soon be charged was not, as it turned out, to bellow, "Lock him up!" or even reconsider his past obstruction, but instead demand that the insurrectionists in Congress do something.
His first response was to demand that Republicans turn their focus — as they have for much of the last five years — on defending him at all costs, to the detriment of anything that better serves their interests (to say nothing of the interests of their constituents).
I'm not surprised. At some point, I will finally write a post describing how brilliantly Trump used the Russian investigation — assisted by a great deal of Russian disinformation — to successfully demand GOP loyalty to him over country. In the end, the Russian investigation was a tremendous tool Trump used to accrue power, all the while doing grave damage to the US.
His response to the public report he'll soon be indicted was to attempt to do the same thing: make his own legal woes those of the entire GOP.
But this indictment — if it indeed gets filed in the next two weeks or so — may come too early for Trump.
That's because, as I laid out here, there's still plenty of time in the GOP primary for other Republicans to take advantage of Trump's legal woes. Republicans seem to be sensing this opportunity. Chris Christie kicked off his undoubtedly doomed presidential race by focusing on Trump's epic corruption. Mike Pence kicked off his equally doomed presidential run by emphasizing that he did his duty on January 6, unlike Trump (the presence of his brother Greg at the event undermined that message, because even after Trump almost got both he and the Vice President killed, Greg still challenged the election and voted against impeaching Trump). Asa Hutchinson called on Trump to step aside, noting he may be charged with Espionage [Act violations].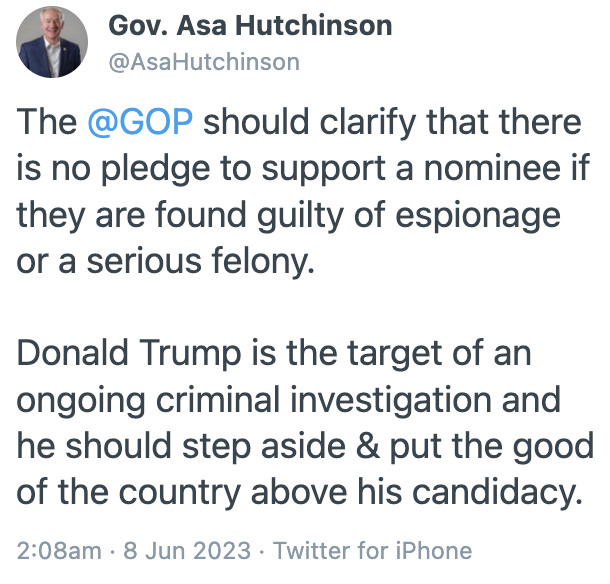 The point is not that these men will win the election. It's that they're using their candidacy to oppose Trump at a time when Christie and Pence and Hutchinson can anticipate that Jack Smith will soon give each a lot of material to work with. Many — not most, but many — Republicans are looking for permission to break with Trump and the timing of a potential indictment and the primary may give a way to do it.
Meanwhile, Joe Biden's success at giving Kevin McCarthy a way out of the hostage situation he was forced to create just before the US credit rating was affected is having a remarkable effect on the House GOP.
Insurrectionists in Congress, who briefly considered trying to replace McCarthy, seem to have realized they don't have the votes, and so have been trying to do something — anything — to look like they are tough. But it has only made them, and Republicans, look more ridiculous.
There are increasing reports that less radical Republicans want nothing to do with this chaos.
Greg Sargent wrote up what he describes as Biden's deliberate attempt to marginalize the MAGAts, which is a good way of understanding it.
[I]n promising to restore "the soul of the nation" in the face of this threat, Biden has continually distinguished between MAGA Republicans and more conventional ones. This approach has been criticized by those of us who see much of the GOP as extreme and dangerous — after all, many elected Republicans helped whitewash Trump's insurrection — and think Biden's characterization of non-MAGA Republicans plays down that broader threat.

But Biden's reading served him well in the debt limit standoff. Contrary to much criticism, Bidenworld believes that refusing to negotiate at the outset was key: It forced Republicans to offer their own budget, which created an opening to attack the savage spending cuts in it.

Notably, Biden and other Democrats relentlessly characterized those cuts as destructive and dangerous in the MAGA vein. Bidenworld did believe that some MAGA Republicans were willing to default and force global economic cataclysm to harm the president's reelection, a senior Biden adviser tells me, but also that many non-MAGA Republicans ultimately could be induced not to go that far.
There's no guarantee it'll work. There's no way to prevent some of the damage that Marjorie Taylor Greene, Matt Gaetz, Jim Jordan, and James Comer intend to do.
But there's always the threat that if ten Republicans decide they've had enough of this chaos, it creates the opportunity for a Fred Upton or similar to come in to lead a House that will function as a legislative body again.
If Trump weren't indicted until September or October — still a realistic timeline for January 6, particularly if interim charges must occur first — Trump might have had an opportunity to seal the GOP primary and force the GOP to defend whatever crimes he gets charged with, to own and normalize those crimes as their own, as the GOP has chosen to do for the past six years.
But at the moment, there are hints of a mood change, one in which at least a critical handful of Republicans will choose against the chaos they've been gripped by for six years.
Update: Added the Hutchinson tweet. h/t.
https://www.emptywheel.net/wp-content/uploads/2023/06/Screen-Shot-2023-06-07-at-9.00.34-PM.png
532
1170
emptywheel
https://www.emptywheel.net/wp-content/uploads/2016/07/Logo-Web.png
emptywheel
2023-06-08 04:42:13
2023-06-08 05:20:48
This Indictment Will Likely Come Too Early for Trump to Consolidate the Party