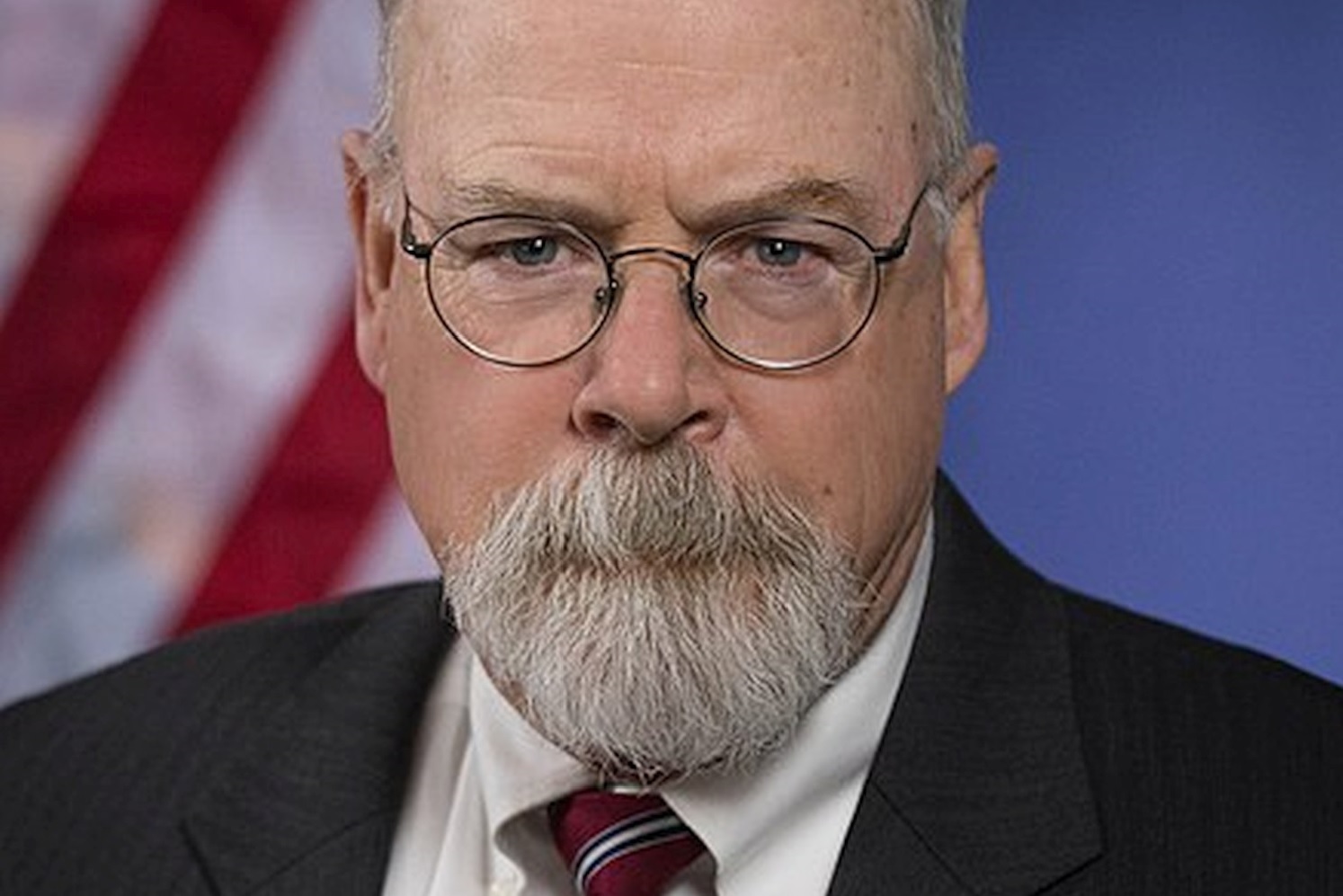 There were a number of things not said at yesterday's hearing on the Democrats' privilege claims in the Michael Sussmann case. The importance of having Russian-speaking experts when representing a client getting systematically attacked by Russia, for example, was not mentioned. Nor was the amount of research that Fusion did that was never released to the press. Nor were Durham's two cheap stunts — falsely claiming an FEC settlement was not "public" in time to introduce it as part of the initial filings, and presenting exhibits without correcting for a time anomaly and thereby falsely suggesting Fusion sent a previously unpublished link to Tea Leaves' postings to Eric Lichtblau — which made Durham's case to pierce the Democrats' privilege claims look stronger than it was.
Even on the issue of whether communications can have more than one purpose — an issue that Robert Trout, representing Hillary's campaign, addressed directly — the argument could have been stronger. And when Judge Christopher Cooper asked if there were specific emails "that might support [the Democrats'] position that Fusion's internal communications on these issues were for the purpose of providing legal support as opposed to pure opposition research and dissemination that is not covered by the privilege?," Trout was caught flat-footed. Which is to say that the Democrats may not have presented their case as well as they could have.
It likely didn't matter. Even before ruling that he will review the documents over which Democrats invoked privilege, Judge Christopher Cooper made it clear he was pretty skeptical of their privilege claims.
But there were a number of other things that were mentioned that may limit how much value Durham gets from this decision, even if Cooper determines that most of the Fusion documents were not privileged. Most importantly, both before and after Cooper had clearly decided he was going to review the documents, he raised the other procedural issues — which I raised in this post — that will dictate whether or not Durham can use them at trial.
The defense has raised some procedural objections to I think the use and introduction of the emails; namely, that you have waited too long after the assertion of the privilege — on the eve of trial now — to bring the issue to me.

I take it you're saying that even if I were to agree with them about the specific emails that have been withheld, I would still have to deal with the privilege issue with respect to Ms. Seago's testimony.

[snip]

That still leaves the relevance issues as well as the prejudice issues and the knock-on effects from the defense from the introduction and use of the emails, but I think that I'm probably going to have to deal with this issue nonetheless because of what the government may plan to ask Ms. Seago about. All right?
That is, even if Cooper agrees that the 38 documents Durham wants unsealed are not privileged, it may not mean Durham can use them at trial. The following are all possibilities, of greater or lesser likelihood:
Cooper rules that one purpose of the emails was legal advice and so are privileged
Cooper decides some or all of the emails are not privileged, but rules, based on representations made yesterday, that Durham violated local rules in his attempt to obtain them and so cannot get them
Cooper rules that some or all of the emails are not privileged but rules that they are prejudicial, irrelevant, or hearsay to the charge against Sussmann, so Durham can have the emails, he just can't use them at trial
Cooper determines that Durham's claims about the necessity or relevance of Laura Seago's testimony are not only false, but Durham knew them to be false when he made them and, given that Durham has used as his excuse to pierce privilege at this late date, cannot introduce them at trial
Cooper rules that the communications involving Rodney Joffe are privileged, even if the internal Fusion emails are not, adding further problems with Seago's role as a witness
Cooper rules the Fusion emails aren't privileged, but at least some of them end up disproving Durham's conspiracy theories
If I had to guess, I'd say a combination of 3, 5, and 6 are most likely. I'll explain why, but if that turns out to be the case, it may mean that Durham finds a way to access the other 1,500 Fusion emails he says he wants to use in "other investigations," but still can't use many of the 38 emails at issue here in the trial against Sussmann. Durham's conspiracy theories might live on, but his case against Sussmann might not.
As a reminder, Sussmann argued that Durham broke a number of rules by bypassing Beryl Howell and waiting until the last minute to try to get these emails — the procedural objections Cooper alluded to above. Cooper can't be that impressed with the argument, or he wouldn't have agreed to review the emails at all. But he did seem rather interested in Steven Tyrell's assertion that he had made it clear there was never a way Durham was going to get the emails involving Joffe without litigation.
MR. TYRRELL: So if they wanted to challenge our assertion of privilege as to this limited universe of documents — again, which is separate from the other larger piece with regard to HFA — they should have done so months ago. I don't know why they waited until now, Your Honor, but I want to be clear. I want to say without hesitation that it's not because there was ever any discussion with us about resolving this issue without court intervention.

THE COURT: That was my question. Were you adamant a year ago?

MR. TYRRELL: Pardon me?

THE COURT: Were you adamant a year ago that —

MR. TYRRELL: Yes. We've been throughout. We were not willing to entertain resolution of this without court intervention.

THE COURT: Very well.
This is important because it supports Sussmann's contention that this late bid for the emails is just an improper means of bypassing local rules and discovery deadlines. The same is not as true for Fusion, though, because they did make some concessions to Durham along the way.
Joffe's intransigence about his privilege claims are all the more problematic for Durham, because (contrary to all my predictions!) Cooper seems far more convinced of Joffe's privilege claims than the those of the Democrats.
With respect to the Joffe/Sussmann/Seago emails, I am dubious that the government has met its burden to pierce the privilege, but I will take a look at the emails nonetheless.
Indeed, at one point, Cooper noted that Durham's entire theory of the case assumes, "Sussmann was in the [September 19, 2016 James Baker] meeting representing Joffe," which would mean there was a privileged relationship between Sussmann and Joffe, and so therefore assumes Sussmann's communications with Joffe about the topic would be privileged. If Joffe's communications with Sussmann and Laura Seago aren't privileged, then it's proof that Sussmann was not representing a client. If they are privileged, then Durham can't have them.
Catch-22.
Given what Cooper said in last week's hearing, in which he repeatedly suggested that Joffe's testimony might be central, the possibility that Durham may not pierce Joffe's privilege may dictate other evidentiary (though not privilege) decisions. All the more so given how Durham excused his late bid to pierce privilege based off a late recognition they were going to immunize and call Seago.
In addition, over the course of months, and until recently, the Government has been receiving voluminous rolling productions of documents and privilege logs from numerous parties. The Government carefully analyzed such productions in order assess and re-assess the potential legal theories that might support the parties' various privilege assertions. In connection with that process, the Special Counsel's Office reached out to each of those parties' counsel numerous times, directing their attention to specific documents where possible and communicating over email and phone in an effort to obtain non-privileged explanations for the relevant privilege determinations.2 The Government also supplied multiple counsel with relevant caselaw and pointed them to documents and information in the public domain that it believed bore on these issues. The Government was transparent at every step of these discussions in stating that it was contemplating seeking the Court's intervention and guidance. Unfortunately, despite the Government's best efforts and numerous phone calls, it was not able to obtain meaningful, substantive explanations to support these continuing broad assertions of privilege and/or work product protections.

It was only recently, when the Government determined it would need to call an employee of Fusion GPS as a trial witness (the "Fusion Witness"), that the Government concluded these issues could not be resolved without the Court's attention. Because all or nearly all of the Fusion Witness's expected testimony on these matters concern work carried out under an arrangement that the privilege holders now contend was established for the purpose of providing legal advice, it is essential to resolve the parties' potential disputes about the appropriate bounds of such testimony (and the redaction or withholding of related documents).
As of yesterday, Sussmann had not received a 302 from Seago, so it's not clear whether Durham has even interviewed her yet. But with one exception, Sussmann, Fusion lawyer Joshua Levy, and Joffe say she'll be of limited value for Durham. Last week Sean Berkowitz said that Seago did not recall knowing Christopher Steele, much less being aware of the dossier project.
The only person from Fusion on their witness list is Laura Seago, who either I think has been immunized or will be immunized, and we understand that she would say she doesn't recall that she even knows Mr. Steele or is able to talk about what he did. And so we don't know that they actually are able to get anything in about what Mr. Steele did or didn't do. Certainly there's no evidence that Mr. Sussmann was aware of what Mr. Steele was doing. No evidence of that.
Levy noted that — as proven by the transcript of her Alfa Bank deposition, which the government has — Seago will testify she has no knowledge of either Sussmann's meeting with the FBI or of the white paper Fusion did on Alfa Bank.
[I]n its brief, the government says that Ms. Seago has unique possession of knowledge as to what the government tries to characterize as the core issue in the case. But the government mischaracterizes that core issue. The government says that the core issue in this case is whether the defendant was representing any client in 2016 with regard to the Russian Bank 1 allegations.

That's not the core issue in the case, respectfully. The core issue in the case is whether the defendant knowingly made a false and misleading statement to the government when he met with the government about whether he was there on behalf of a client or not that day. And as to that issue, Your Honor, Ms. Seago, the Fusion witness, has no knowledge. And the government knows this.

In parallel to the government's investigation of this case, Russian Bank 1, Alfa-Bank, was pursuing its own discovery in a civil case. They subpoenaed and deposed Ms. Seago last year. There's a transcript of that deposition. It's in the public record. The government's made clear to counsel that it has that deposition transcript, and we can furnish a copy of it to the Court.

And at the same time the government knows that Ms. Seago has no knowledge of the meeting between Mr. Sussmann and the FBI, and that's at Pages 151 to 152 of that transcript.

THE COURT: All right. If you could file the — not file it, but provide it to the Court.

[snip]

And it's very clear that she has no knowledge about the meeting, that she doesn't recall any discussions about the meeting, that she didn't work on this white paper that allegedly was provided to the government by Mr. Sussmann.

This is the memo that, again, the government has talked about today in its papers as to why it's so important to pierce this privilege. Ms. Seago didn't contribute to it, doesn't know who did, doesn't know who researched it, doesn't know who wrote it, doesn't know its purpose; and the government's aware of all that.
As Sean Berkowitz followed up, Seago also does not recall knowing about the late July meeting involving Joffe, Sussmann, and Marc Elias.
And the question that was asked was: "So were you aware of this July 28th meeting between Sussmann and personnel of Fusion?

"ANSWER: Not that I recall.

"QUESTION: Were you aware of the meeting after it happened?

"ANSWER: Not that I recall.
Importantly, Durham knew (because he has been operating as a parasite on the lawfare project that Vladimir Putin probably ordered to make America less safe) that Seago would testify she didn't know about the July meeting with Perkins Coie and Joffe or Sussmann's meeting with James Baker or the Fusion-drafted white paper when Durham said she would be the pivotal witness to represent the relationship between Joffe and Fusion. This foreknowledge, which is incompatible with Durham's claim that Seago's testimony, "may be necessary to the public interest," undermines both his relevance arguments and his excuse for the belated bid to pierce privilege.
As to Joffe, Tyrrell represented that at least some of the emails between him and Seago were the exchange of PGP keys.
MR. TYRRELL: Well, there are — Mr. Joffe is a cyber security expert, and he was trying to exchange something called PGP keys with Ms. Seago —

THE COURT: Okay.

MR. TYRRELL: — so that their communications would be secure and encrypted. So some of the attachments are actually just simply an exchange of PGP keys. But there is at least one or — there's one or two attachments that's not that, and I'm really not — I'd be happy to answer that in camera ex parte.
It's the other communications that might be of value to Durham, but if they're not privileged via Sussmann's representation of Joffe, then his entire argument that Sussmann was representing a client may fall apart.
So Seago has, per those who know her involvement, little to offer in useful testimony (and Durham knew this). That's a problem for Durham, because per Jonathan Algor, she was the way they planned to introduce the emails as evidence.
THE COURT: Okay. And obviously you haven't seen these emails. You don't know what they say. But you think there is a possibility, based on the descriptions in the privilege log, that they would be relevant and admissible through Ms. Seago for that purpose?

MR. ALGOR: Yes, Your Honor.
If Seago doesn't know about the key issues necessary to validate the documents in question, then Durham may have a problem introducing them at trial at all.
As noted above, there are a number of possible ways Cooper resolves this, and it's most likely he makes decisions that will displease both sides.
But given what he said yesterday, I think it quite likely Cooper will rule at least some of the Fusion emails are not privileged, even while making other rulings that will prevent them from coming into the trial as evidence.
If that happens, Durham may be able to use that ruling to get access (this time via proper methods) to that pool of 1,500 emails — many presumably of more interest to the Igor Danchenko case — that will let him spin his conspiracy theories for years to come. It might take losing the case against Sussmann, though, to continue his war of conspiracies.
https://www.emptywheel.net/wp-content/uploads/2021/10/John_H._Durham_magazine-1500pxw.jpg
997
1494
emptywheel
https://www.emptywheel.net/wp-content/uploads/2016/07/Logo-Web.png
emptywheel
2022-05-05 08:17:56
2022-05-05 08:23:28
John Durham May Lose His Battle But Gain New Ammunition to Fight His War