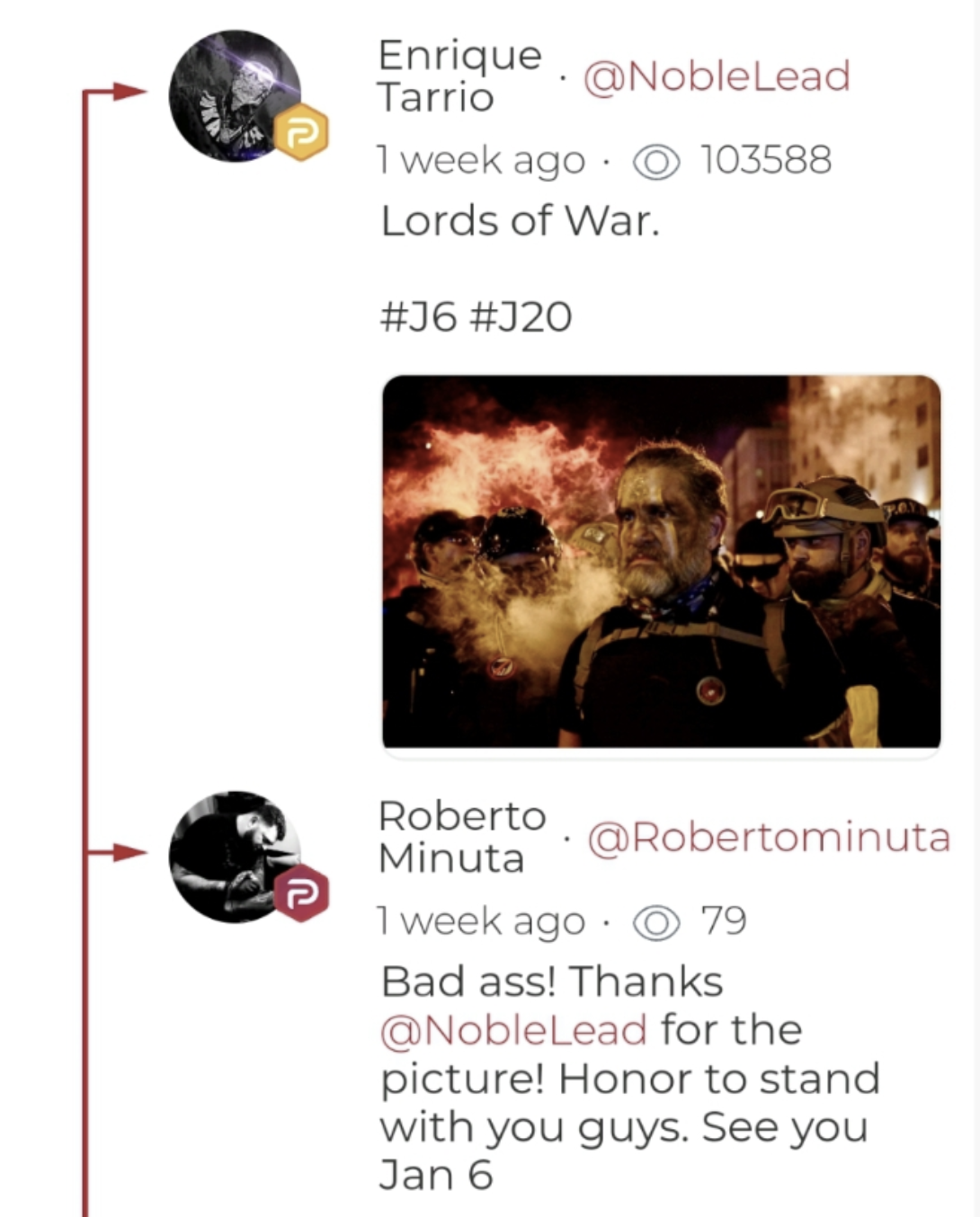 A Wednesday filing in the Proud Boy leadership conspiracy revealed that, between cracking his password and conducting a filter review, DOJ had not been able to access Enrique Tarrio's phone — which was seized even before the riot he allegedly had a central role in planning — until mid-January.
On January 4, 2021, Tarrio was arrested in Washington, D.C., and charged with destruction of property for his December 12, 2020, burning of a #BLACKLIVESMATTER banner and possession of two large capacity magazines. At the time of his arrest, Tarrio's phone was seized by law enforcement. The government promptly sought a search warrant for that device in this investigation. Despite diligence, the government was not able to obtain access to Tarrio's phone until December 2021. Thereafter, a filter team was utilized to ensure that only non-privileged materials were provided to the investigative team. The investigative team did not gain access to the materials on the phone until mid-January 2022, and it has worked expeditiously since that time to review these materials.
I can think of just a few other phones that have been this difficult for FBI to access (those of Zachary Alam and Brandon Fellows are others). The delay means that the very first phone DOJ seized pertaining to the January 6 investigation was one that, to date, has taken the longest to access.
This is the kind of delay — presumably due to the physics involved in cracking a complex password and the due process of a privilege review — that is unavoidable. Yet it stalled DOJ's efforts in the most pivotal conspiracy case as it tries to move from rioters at the Capitol through organizer-inciters to Trump himself.
The delay in accessing Tarrio's phone is one thing to keep in mind as you read the multiple reports that DOJ has sent out subpoenas to people who organized the rallies. WaPo reported that these subpoenas first started going out two months ago — so late January, shortly after the time DOJ accessed Tarrio's phone content. NYT reported that the subpoenas focus on the rallies and the fake electors.
One of the subpoenas, which was reviewed by The New York Times, sought information about people "classified as VIP attendees" at Mr. Trump's Jan. 6 rally.

It also sought information about members of the executive and legislative branches who had been involved in the "planning or execution of any rally or any attempt to obstruct, influence, impede or delay" the certification of the 2020 election.

And it asked about the effort by Trump supporters to put forward alternate slates of electors as Mr. Trump and his allies were seeking to challenge the certification of the Electoral College outcome by Congress on Jan. 6.

Another person briefed on the grand jury investigation said at least one person involved in the logistics of the Jan. 6 rally had been asked to appear.
None of this is a surprise or unexpected. Dana Nessel formally referred Michigan's fake electors to DOJ for investigation (the kind of referral that may have been important to DOJ assuming jurisdiction in state elections) on January 18, and Lisa Monaco confirmed DOJ was investigating the fake electors on January 25.
As to the organizers, on December 16, I wrote a piece describing that DOJ would need to turn to "organizer-inciters" next — people like Alex Jones, who had a central role in turning rally-goers who imagined themselves to be peaceful protestors into an occupying force. We know of several other pieces of evidence that would have been important, if not necessary, to lock down before DOJ moved to those organizer-inciters.
For example, DOJ likely first obtained direct information about tensions involving VIPs in Brandon Straka's first and second FBI interviews in February and March of last year, information that the government claimed during his sentencing provided valuable new leads. Straka was one of those VIPs who expected to have a speaking slot on January 6 only to discover all he was getting was a seat at the front, next to Mike Flynn. Access to his phone would have provided the government comms depicting growing tensions tied to the extremism of Nick Fuentes and Ali Alexander described in this ProPublica article.
"Is Nick Fuentes now a prominent figure in Stop the Steal?" asked Brandon Straka, an openly gay conservative activist, in a November text message, obtained exclusively by ProPublica. "I find him disgusting," Straka said, pointing to Fuentes' vehemently anti-LGBT views.

Alexander saw more people and more power. He wrote that Fuentes was "very valuable" at "putting bodies in places," and that both Jones and Fuentes were "willing to push bodies … where we point."

Straka, Fuentes and Jones did not respond to requests for comment.
Straka was part of a Stop the Steal listserv on which Michael Courdrey and Alexander were on the day of the riot.
The Stop the Steal group chat shows a reckoning with these events in real time.

"They stormed the capital," wrote Stop the Steal national coordinator Michael Coudrey in a text message at 2:33 p.m. "Our event is on delay."

"I'm at the Capitol and just joined the breach!!!" texted Straka, who months earlier had raised concerns about allying with white nationalists. "I just got gassed! Never felt so fucking alive in my life!!!"

Alexander and Coudrey advised the group to leave.

"Everyone get out of there," Alexander wrote. "The FBI is coming hunting."
The government described learning new information about Straka as recently as December 8 followed up in a January 2022 interview. Some of this appears to have been a late discovery of his own grift and, possibly, his role in inciting a riot at the TCF center in Michigan. But at sentencing, prosecutors reaffirmed that the sealed contents of his cooperation remained valuable.
Some other existing defendants whose phone and/or cooperation could provide such insight are Simone Gold (who pled guilty in early March but who had not yet done her FBI interview) and Alan Hostetter and Russell Taylor; prosecutors described still providing primary discovery in the latter case the other day, meaning they're still getting phone contents there, too.
Tarrio's phone would include comms with many of the people DOJ has turned its focus to; he had known communications with Alex Jones, Ali Alexander, and Cindy Chafian, to say nothing of his close ties to Roger Stone.
In addition to Tarrio's phone, exploiting that of Stewart Rhodes — seized in May — took some time because he had so many Signal texts that it was an extended process sorting through the inculpatory and exculpatory ones.
The hold up on Rhodes' phone is one of the things that held up his own arrest and charges for Seditious Conspiracy. In that superseding indictment, DOJ completely hid what new information they had learned about the Oath Keeper ties with the Willard planners.  But the seditious conspiracy charge (along with the cooperation of Mark Grods) appears to have persuaded Joshua James to flip. James' cooperation would provide lots of new testimony about what Stone and other VIPs were doing on January 5 and 6, including an explanation as to why James felt he needed to call into Mike Simmons to report on what is almost certainly Stone's anger about the sidelining of his extremist group at the main rally, something clearly at issue in these recent subpoenas.

James would have proffered before he pled guilty (meaning prosecutors would have know what he would say if he did plead), but they would hold off on using his testimony for legal process until he testified before a grand jury in conjunction with his plea on March 2.
Public reporting has revealed that both the January 6 and DOJ investigations have obtained at least some of the documentary footage implicating Tarrio and Stone from the day of the riot.
And if the January 6 committee works like the SSCI investigation into Russia, it could share transcripts from obviously problematic testimony with DOJ. Ali Alexander spent most of day telling a story to the committee that had already been debunked by DOJ.
On the anniversary of January 6, Merrick Garland explained that all of the arrests from the first year had laid the foundation for more complex cases.
We build investigations by laying a foundation. We resolve more straightforward cases first because they provide the evidentiary foundation for more complex cases.

Investigating the more overt crimes generates linkages to less overt ones. Overt actors and the evidence they provide can lead us to others who may also have been involved. And that evidence can serve as the foundation for further investigative leads and techniques.

In circumstances like those of January 6th, a full accounting does not suddenly materialize. To ensure that all those criminally responsible are held accountable, we must collect the evidence.

We follow the physical evidence. We follow the digital evidence. We follow the money.
This is the kind of thing he was talking about: working your way up through Mark Grods to Joshua James to Stewart Rhodes to Roger Stone, taking the time to crack and exploit Tarrio's phone, exploiting early access to Straka's comms to get to the organizers. The investigation "aperture" hasn't changed; what has changed is DOJ has acquired information it needed before it could take the next step.
https://www.emptywheel.net/wp-content/uploads/2022/04/Screen-Shot-2022-04-01-at-1.03.01-PM.png
1354
1090
emptywheel
https://www.emptywheel.net/wp-content/uploads/2016/07/Logo-Web.png
emptywheel
2022-04-01 08:04:48
2022-04-01 08:09:58
On Enrique Tarrio's Complex Password and Other Reasons the January 6 Investigation Can Now Move to Organizer-Inciters