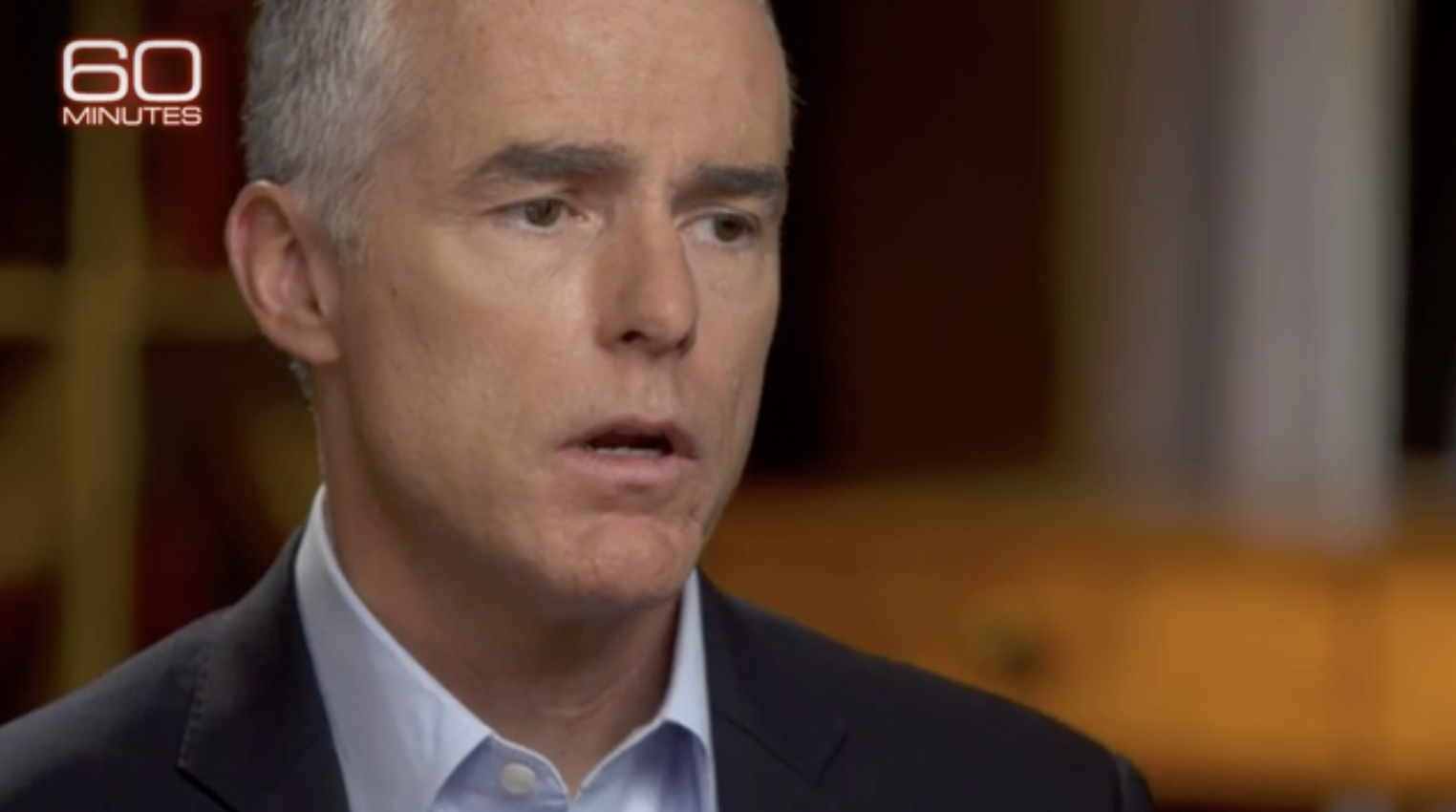 The effort to figure out precisely why moderate Merrick Garland and career DOJ employee Lisa Monaco are having the Department of Justice sustain shitty positions adopted under Bill Barr has reached a fever pitch. In my piece on Monaco, I noted one thing — her presumed approval, on her first day in the job, of a raid on Rudy Giuliani — that suggests some people are mistaking a likely effort to sustain DOJ as an institution for an effort to protect Trump.
I'd like to point to another tea leaf — something that happened (perhaps coincidentally) on Monaco's third full day on the job. That's when the two sides in Andrew McCabe's lawsuit moved to stay discovery pending an effort to settle the case.
The parties jointly move this Court to stay all discovery in this proceeding, for 45 days after this motion is granted, and to extend all previously set case deadlines and events by 45 days. The parties request this relief so that they may explore the possibility of settlement.

Good cause exists for the requested relief, because the stay and extension would allow the parties to focus their efforts on discussing settlement expeditiously, free from any competing obligations and ongoing disputes related to discovery, and without burdening the Court with potentially unnecessary discovery disputes. The parties propose to update the Court two business days before the stay's expiration about whether a further stay and extension is warranted.
On its face, a settlement with McCabe would look like a stark reversal of a Trump policy. Top levels of Trump's DOJ signed declarations swearing that McCabe's firing was for cause. At that level, the interest in settling the lawsuit looks like a pretty serious reversal.
That said, depending on how broadly Judge Randolph Moss ruled discovery must extend (an issue that is still pending), McCabe's lawsuit could seriously embarrass DOJ. Even just his case in chief, in which DOJ IG and OPR ignored the testimony of key witness, FBI press person Michael Kortan (with whom McCabe's office worked on the story that DOJ claims he was trying to hide), full discovery could badly embarrass DOJ. Still more so if the extent to which DOJ pushed to indict McCabe, allegedly after the grand jury rejected charges against him, became public. By the end of Barr's tenure, DOJ had altered a McCabe document and submitted it to Emmet Sullivan, another potentially damaging revelation (though one probably outside any imaginable scope of discovery).
And that's just what we know about. In the weeks leading up to McCabe's testimony before the Senate Judiciary Committee, DOJ was refusing to share documents that McCabe needed to adequately prep for his appearance.
I'm not sure what this particular move suggests about DOJ. But I know that full exposure of the witch hunt against McCabe would badly damage DOJ, including some career employees who served Barr's whims. But a settlement would also damage the Trump DOJ, because it would prove that Trump politicized his entire DOJ to take out perceived enemies.
That is, amid all the other tea leaves, what happens with the McCabe suit may indicate which damage to DOJ the Garland-Monaco DOJ seems most intent on avoiding.
Update: The two sides just filed an update: No settlement has been reached, but they remain in talks.
Consistent with their April 23, 2021 Joint Motion to Stay Discovery and Extend All Case Deadlines (Dkt. 56), the parties submit this joint notice regarding the current stay of litigation.

On April 27, 2021, this Court granted the parties' joint motion for a 45-day stay of all discovery so that the Parties could focus on exploring the possibility of settlement. No settlement has been reached, but the parties are continuing their discussions. In the event that they agree that a further stay is warranted, they will so notify the Court by filing another joint motion to extend the stay and related deadlines.
https://www.emptywheel.net/wp-content/uploads/2019/02/Screen-Shot-2019-02-18-at-9.26.06-PM.png
850
1524
emptywheel
https://www.emptywheel.net/wp-content/uploads/2016/07/Logo-Web.png
emptywheel
2021-06-09 09:00:53
2021-06-09 14:28:12
Tea Leaves on the Garland-Monaco DOJ and the Stay in Andrew McCabe's Lawsuit