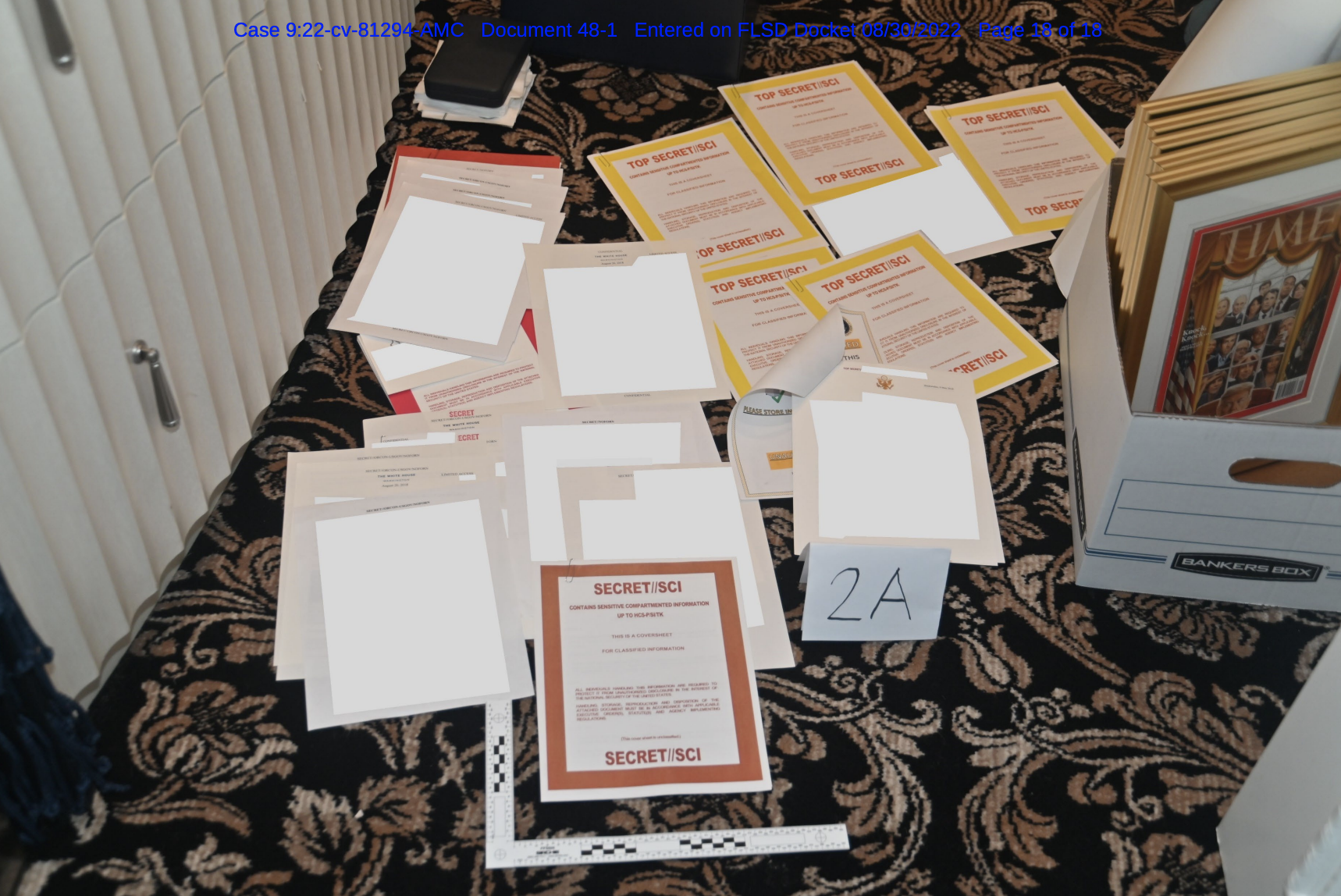 A number of people have observed that the language in the newly unsealed parts of the Trump search warrant about what Evan Corcoran told Jay Bratt and others on June 3 emphasizes that "he was advised" certain things that (we now know) turned out to be false.
During receipt of the production, FPOTUS COUNSEL 1 stated he was advised all the records that came from the White House were stored in one location within Mar-a-Lago, the STORAGE ROOM, and the boxes of records in the STORAGE ROOM were "the remaining repository" of records from the White House. FPOTUS COUNSEL 1 further stated he was not advised there were any records in any private office space or other location in Mar-a-Lago. The agents and DOJ COUNSEL were permitted to see the STORAGE ROOM and observed that approximately fifty to fifty-five boxes remained in the STORAGE ROOM. [5 lines redacted] Other items were also present in the STORAGE ROOM, including a coat rack with suit jackets, as well as interior decor items such as wall art and frames. [my emphasis]
For comparison, here's how that exchange was described in DOJ's response to Trump's motion for a stay.
After producing the Redweld, counsel for the former President represented that all the records that had come from the White House were stored in one location—a storage room at the Premises (hereinafter, the "Storage Room"), and the boxes of records in the Storage Room were "the remaining repository" of records from the White House. Counsel further represented that there were no other records stored in any private office space or other location at the Premises and that all available boxes were searched. As the former President's filing indicates, the FBI agents and DOJ attorney were permitted to visit the storage room. See D.E. 1 at 5-6. Critically, however, the former President's counsel explicitly prohibited government personnel from opening or looking inside any of the boxes that remained in the storage room, giving no opportunity for the government to confirm that no documents with classification markings remained. [my emphasis]
On August 8, FBI emphasized that Corcoran was simply describing what "he was advised." By August 30, DOJ summarized what Trump, in the person of his attorney, "represented."
The earlier emphasis on what Corcoran was told lends weight to the interpretation that DOJ believes he is a witness, not a subject, to an obstruction investigation. Yes, if he genuinely was lied to, then he's probably safe from any criminal exposure himself, but will likely, eventually, have to explain that to investigators.
But that's not the only thing notable about the newly unsealed sections, as pertains to Corcoran.
For example, his prohibition on searching boxes was not unsealed. Neither in that passage nor in any other place in the unsealed affidavit does the description of how Corcoran refused to let Bratt and the three FBI agents open any boxes appear (I've bolded how it appeared in DOJ's response). Some of the five redacted lines of the paragraph describing the storage room likely describe all the reasons why the storage room doesn't comply with the CFR on storing classified documents. The coat rack and the wall art are likely included as evidence that the storage room was not exclusively available to those with a Need to Know the classified information Trump was storing in the room. But somewhere, in that paragraph or in another one, the affidavit almost certainly describes that Corcoran prohibited the FBI from opening the boxes. It would be pertinent to FBI's request to search what was really in those boxes. So a description that Corcoran prohibited the FBI from looking is almost certainly in the affidavit, but remains redacted, even though DOJ's claim that Corcoran prohibited the FBI from looking inside the boxes was made public in DOJ's response.
If that's right, it suggests the FBI must still consider that refusal to be of investigative interest, and so redacted it.
It's a third reference to Corcoran, though, where the newly unsealed language provides most interesting new context.
51. DOJ has advised me that, on May 11, 2022 an attorney representing FPOTUS, "FPOTUS COUNSEL 1," agreed to accept service of a grand jury subpoena from a grand jury sitting in the District of Columbia sent to him via email by one of the prosecutors handling this matter for DOJ "DOJ COUNSEL." The subpoena was directed to the custodian of records for the Office of Donald J. Trump and it requested the following materials:

Any and all documents or writings in the custody or control of Donald J. Trump and/or the Office of Donald J. Trump bearing classification markings including but not limited to the following: Top Secret Secret Confidential Top Secret/SIG/NOFORN/ORCON Top Secret/SI-G/NOFORN Top Secret/HCSO/NOFORN/ORCON Top Secret/HCS-O/NOFORN Top Secret/HCSP/NOFORN/ORCON, Top Secret/HCS-P/NOFORN Top Secret/TK/NOFORN/ORCON Top Secret/TK/NOFORN, Secret/NOFORN, Confidential/NOFORN TS TS/SAP TS/SI-G/NF/OC TS/SI-G/NF TS/HCSO/NF/OC TS/HCS-O/NF TS/HCS-P/NF/OC TS/HCS-P/NF, TS/HCS-P/SI-G TS/HCS-P/SI/TK TS/TKINF/OC, TS/TK/NF S/NF, S/FRD S/NATO S/SI, C, and C/NF.

The return date of the subpoena was May 24, 2022. DOJ COUNSEL also sent FPOTUS COUNSEL 1 a letter that permitted alternative compliance with the subpoena by "providing any responsive documents to the FBI at the place of their location" and by providing from the custodian a "sworn certification that the documents represent all responsive records. " The letter further stated that if no responsive documents existed, the custodian should provide a sworn certification to that effect.

52. On May 25, 2022, while negotiating for an extension of the subpoena, FPOTUS COUNSEL 1 sent two letters to DOJ COUNSEL. In the second such letter, which is attached as Exhibit 1, FPOTUS COUNSEL 1 asked DOJ to consider a few "principles," which include FPOTUS COUNSEL 1 's claim that a President has absolute authority to declassify documents. In this letter, FPOTUS COUNSEL 1 requested, among other things, that "DOJ provide this letter to any judicial officer who is asked to rule on any motion pertaining to this investigation, or on any application made in connection with any investigative request concerning this investigation." [my emphasis]
The description of the May 11 subpoena and Jay Bratt letter accompanying it got unsealed with this release. None of that description is new, though the fact that this is the first mention of both Bratt and Corcoran in the affidavit means the following earlier discussions, including an April 29 explanation from NSD — probably Bratt — about the national security urgency of reviewing the documents returned in January would not have appeared before that in the affidavit (though could later in it).
April 11, 2022: FBI letterhead memorandum asks NARA for access to Trump documents

April 12, 2022: NARA informs Trump of access request

April 29, 2022: NSD to Evan Corcoran letter laying out NatSec urgency (not public)

April 29, 2022: Evan Corcoran letter to NARA asking for further delay (not public)

May 1, 2022: Evan Corcoran letter to NARA asking for further delay (not public)

May 5, 2022: Evan Corcoran asks for access to the Trump records for representatives (not public)

May 10, 2022: Steidel Wall to Corcoran advising him she would give FBI access starting May 12
The May 10 letter from Steidel Wall to Corcoran was included in the government's response to Trump's Special Master request but not among the items that DOJ asked Chief Judge Beryl Howell to unseal as grand jury material. It appears that it has become a focus of the public discussion because John Solomon made it one.
The passage above also unsealed the first sentence of paragraph 25 (the rest of that paragraph was unsealed in the first release). We already knew about one May 25 letter from Corcoran — DOJ diligently included it with the affidavit, as instructed by Corcoran, and so it was unsealed in the first unsealing.
That Corcoran actually sent two letters that day was already made public in this letter to Beryl Howell, though probably few other people noticed. This is probably the first that most people will realize Corcoran sent two letters that day. More importantly, the newly unsealed sentence makes its relation to the subpoena more obvious.
The subpoena deadline was May 24. By that day, document custodians from all of Trump's properties should have shown up at their local FBI office with the remaining classified documents Trump retained. If they had, we might never have heard of all this. But on May 25 — the day after the subpoena deadline — Corcoran, after having stalled the FBI's access to the 15 boxes for a month, was still asking for more time to respond to the subpoena issued two weeks earlier. All the while he was making false claims that this aspect of the investigation had leaked.
It's against that background that Corcoran sent not one but two letters. This one is the second he sent that day. It doesn't mention the pending subpoena, at all. Rather, it did the following:
Argue that because public trust is low (thanks to Donald Trump) any actions by DOJ must not involve politics
Complain that the news of the NARA referral (which NARA shared with Congress after warning Trump for months they might resort to doing so) was publicly reported
Claim falsely there were, "Leaks about an investigation that involve the residence of a former President"
Assert that the President has absolute authority to declassify things (without claiming that Trump had declassified things)
Lay out the (IMO) most catastrophically shitty legal advice made public this year, that Corcoran believed only 18 USC 1924 was implicated in this investigation
Cite an IG Report stating that DOJ has to remain free of political influence
Include two paragraphs that, Corcoran requested, be shared with any judge ruling on a motion or application in connection with this investigation.
Here's what those paragraphs say:
Long-standing DOJ policy requires that DOJ attorneys be candid in representations made to judges. Pursuant to those policies, we request that DOJ provide this letter to any judicial officer who is asked to rule on any motion pertaining to this investigation, or on any application made in connection with any investigative request concerning this investigation.

The official policy ofDOJ further requires that prosecutors present exculpatory evidence to a grand jury. Pursuant to that policy, we request that DOJ provide this letter to any grand jury considering evidence in connection with this matter, or any grand jury asked to issue a subpoena for testimony or documents in connection with this matter. [my emphasis]
Effectively, the entire letter — written at a time when Corcoran was trying to negotiate a delayed response to a subpoena — was a pitch to a judge that there could be no probable cause that Trump had committed a crime, because 18 USC 1924 didn't apply to him (remember, this is the statute Trump made a felony in response to Hillary's home server) and because he hypothetically could have declassified all the most sensitive secrets.
The reference to Kash Patel, immediately following the mention of this letter, makes more sense now; it might explain that when Debra Steidel Wall told Corcoran on May 10 that no one could review Trump's papers without proper clearance, he acceded to that.
What's interesting about this letter (aside from how catastrophically bad that 1924 advice was) is its audience. Corcoran would have known that a judge was already involved; Beryl Howell oversees grand juries in DC, including the one that issued a subpoena to the former President. But he didn't ask that the letter be shared with any judges who already reviewed subpoenas. Rather, he was asking that it be shared in case of some motion or application.
Corcoran envisioned — at a time he was stalling on compliance with a subpoena — that DOJ might soon go before a judge with some kind of application, something like a search warrant, in hand.
They were playing a game of chicken.
That suggests that DOJ was already threatening to come get the stolen classified documents they knew to remain at Mar-a-Lago. It suggests that this letter, with its catastrophically bad 1924 advice, was an attempt to stave off that, when in fact it instead ensured that DOJ would include a footnote explaining that the Espionage Act (unlike 1924) pertained to National Defense Information, not classified information, which would also make Corcoran's nod to Trump's unlimited declassification powers pointless as well.
I continue to get some satisfaction that during the period Corcoran was giving Trump such catastrophically bad legal advice pertaining to stolen classified documents, he was helping write 30-page filings in the Bannon misdemeanor case that also didn't work, not even with Carl Nichols. But I'm perverse like that.
Anyway, that detail — that Corcoran wrote a letter to a hypothetical judge reviewing a warrant application even while he was negotiating an extension to the already passed subpoena deadline — is important background to whatever search Corcoran did and whatever representations he made on June 3, all a stunt that (he probably assumed) would stave off any search, including his refusal to let the FBI look in the boxes that he claimed to have searched.
I have no idea what Corcoran knew on May 25 and what he knew on June 3. But the fact he sent a letter envisioning a hypothetical judicial review of a search warrant application suggests he knew that he had to stave off a search even before the FBI showed up on June 3, when he refused to permit a consensual search.
Go to emptywheel resource page on Trump Espionage Investigation.
https://www.emptywheel.net/wp-content/uploads/2022/08/Screen-Shot-2022-08-31-at-6.40.53-AM.png
1148
1718
emptywheel
https://www.emptywheel.net/wp-content/uploads/2016/07/Logo-Web.png
emptywheel
2022-09-15 07:07:46
2022-09-15 16:23:51
Evan Corcoran's Two May 25 Stall Letters